As if you didn't already know: We're really into our collaboration with Lazy Oaf. It's not just because the clothes are so damn good or the inspiration so totally spot-on. Nope, it all starts with this little lady: LO's founder and the brains behind their so-zany operation, Gemma Shiel. We couldn't leave well enough alone (it's really not a major part of our repertoire), so we barged in on the Lazy Oaf workplace, took a lot of photos and asked too many questions. It was great. Take a look after the jump!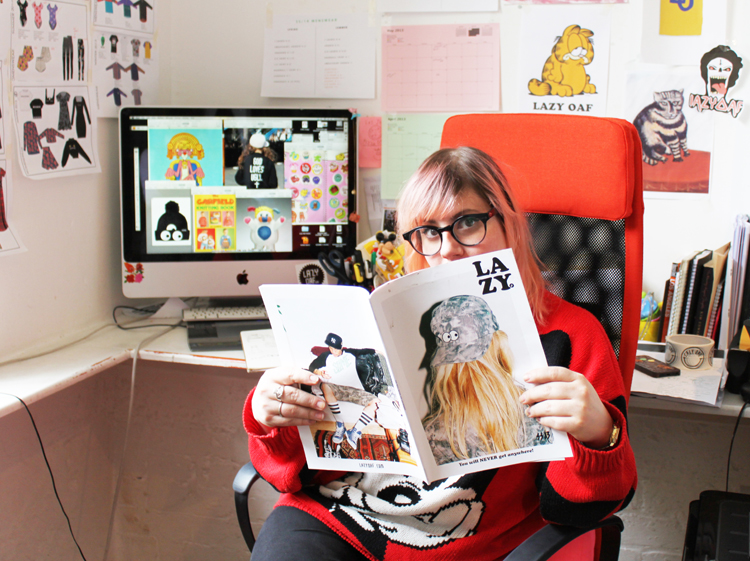 How and when did you start Lazy Oaf? Were you more of an illustrator or a designer first—and how did you decide to bring one to the other?
I started Lazy Oaf straight out of university in 2001. I was a frustrated illustrator studying the wrong course. I studied textile design and was really into print making and was hand screen printing my illustrations onto T-shirts for friends. When I left I really didn't know what kind of job I wanted, so I made my own and started Lazy Oaf. It was a very tough start, I was hand-printing T-shirts in my dad's garage and working 2 jobs, it was 24/7 for a long time. I was lucky and very determined to make it work! I think at the very beginning I was coming from the direction of being an illustrator as everything was very reliant on my graphics and this is what I loved most about creating, however as the label has grown I feel that I am more of a designer as everything has evolved so much and we are keen on creating a unique look. Our prints are the key to everything we do so I will always be doodling.
Any standout pieces from the LO archives, items that make you say "Hell yeah, I made that!"?
There are a few, but I always change my mind. I love the Shut Your Mouth sweatshirt with a zip mouth from AW10, it was pretty nuts. The Watermelon Skirt is still a firm favourite as it is such a recognisable piece. My current favourite is the Bear Bra, it's kinda ridiculous and originated from the worst drawing—then Aimee our Production Coordinator made it a reality for me! I still get excited when I see anyone wearing Lazy Oaf, it never gets old.
 What are you the most inspired by?
I am inspired by lots of things, but mostly it's anything that feels nostalgic to me. I was a teen in the 90's and this is normally my go-to era as it's when I made lots of fashion mistakes and had fun with it. I get inspired by weird movies, sci-fi books and I am obsessed with food and Tokyo.
 Who do you see as the typical Lazy Oaf girl—what's she like and what's she into? Is she you or someone else?
I like to think that there are a few Lazy Oaf girls. I probably embody a few of them as I always design with me or people I know in mind. The Lazy Oaf girl is someone who doesn't give a fuck about getting it right all the time, she watches cartoons, eats pizza and has chipped nail varnish, she probably dyes her hair in the bathroom, she's irreverent, a goofball and can tell a dirty joke.
Who's your style hero?
Honey Boo Boo Child
What was it like working with Nasty Gal on this collaboration? Did you switch up your process at all?
The collab was super easy. I had some ideas knocking around and Nasty Gal sent me over a mood board of what they were thinking which pretty much collided with what I had in mind! Great minds… I spent a few weeks drawing up print ideas and concepts and went to town on sticker graphics!
How does this capsule differ from LO's signature collections? How did you deal with and incorporate two different brand identities into one cohesive collection?
Working with Nasty Gal has meant that we got the opportunity to go more feminine with the collection and sex it up a little too. I think it was important to rep our brand with bold and witty prints whilst twinning it with shapes that we think the Nasty Gal would love. 
How is the LO x NG girl different from the classic Lazy Oaf girl and Nasty Gal—what would they all do if they hung out together?
Wow, this is going to be some collision! I think she would be cool to hang out with, probably that really cool girl at school that always had that glint of trouble in her eye and had a tattoo at 5. If we hung out we would probably braid each others hair and eat Doritos.