Illustration has forever been an influential storytelling tool, standing as on outlay for self-expression, as well as placing the spotlight on some of the most important and relevant topics of today. Phillidephia-based artist Gabriella Grimes, aka ggggrimes, stands at the forefront of LGBTIQ artistry. Ggggrimes centres their artwork around queer people of color; addressing subjects around intimacy, vulnerability and gender transitioning. From exploring sexuality to finding self-recognition, each of their boldly beautiful illustrations come with a different anecdote, showcasing queer people being loved, accepted and validated. Ultimately, ggggrimes platform acts as both a safe space and positive source of inspiration for others to be unapologetically themselves.
We sat down to chat about finding validation through illustration, the upsides and downsides of social media, and the transition from creating art to commissioning it.
Tell us about yourself.
I'm ggggrimes, and I'm a 26 year old Black queer artist from the Bronx. I've made colorful artwork starring queer people for a little over 3 years now.
Let's talk about your journey into artistry. When did you first realize you wanted to be an artist?
When I was growing up I always called myself an artist. I tried so many different mediums over the years, from acrylics to markers. As a teenager, I created abstract watercolor paintings. By the time I was finishing college in 2018, I realized I didn't want anything to do with my music degree. I was already painting more consistently and getting better, so I asked my mom (who I still lived with at the time) to give me a year to figure it out. A year later I actually had a successful life as an artist.
Your art features people of color and different gender identities. In other interviews, you touched on the fact that growing up you found it hard to find other creators you could relate to. Can you explain a little bit more about the story behind your art?
I grew up incredibly closeted. I knew from the time I was a small child that I was non-binary but didn't have the language to describe myself. All it took was me seeing a little bit of representation on tumblr for me to discover who I am. Even as we got a little bit more queer representation in media, I found that the queer people didn't look or act like me, or any of the queer people I knew throughout my life. Media isn't a necessity for us to understand more about who we are and accept ourselves, but media influences us in profound ways that we may not understand for many years to come. I wanted to be a positive influence for young queer people around the world. It's been a blessing that I've had people tell me that my artwork helped them figure themselves out or validated them in ways they've been looking for.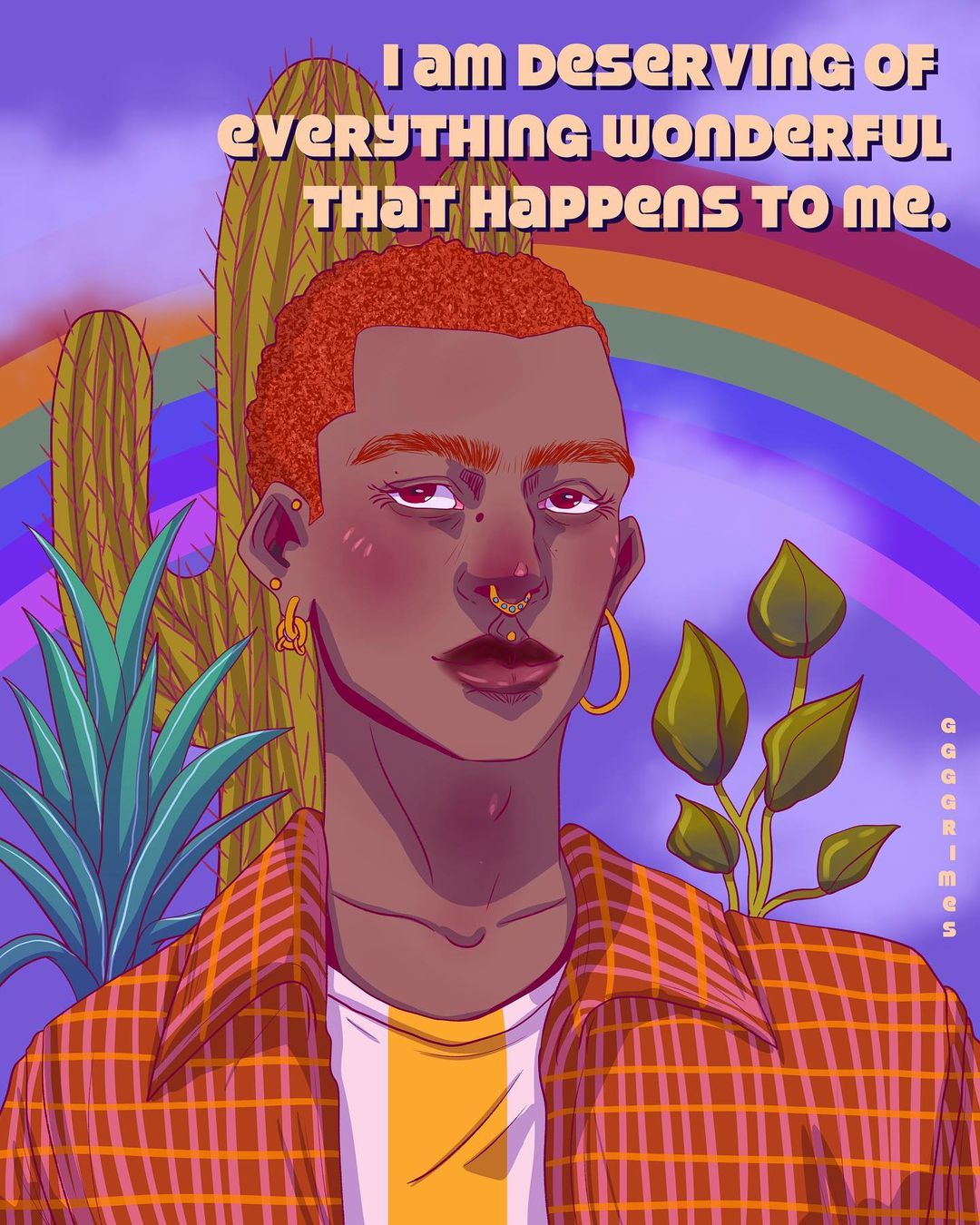 As a non-binary creative – how has your work helped you connect with yourself?
My work has helped me tell my story. I didn't feel safe talking about my experience for most of my life. I had all these feelings inside me and no outlet for them. My artwork has given me a way to describe the complexities of my queerness boldly on a large platform. I get to scream to the heavens everyday how queer I am when most times I don't get that same safety in real life.
As well as using Instagram to showcase your pieces, you use it to talk about your sexuality, gender identity and mental health. What in your opinion are the highs and lows of social media?
It's much easier to talk about myself like this online because I can set boundaries in ways which are comfortable for me. If someone doesn't think you can be non-binary as well as a lesbian and feels the need to let you know? Blocked! Someone doesn't think transmasc people are allowed to call themselves dykes? Blocked! Someone has some TERF bullshit to spew? BLOCKED! I also have my comments limited to people who follow me. I've done a really great job at making my page a great safe space.
One of the biggest downsides to social media is that people make assumptions about me. I have a large platform, and with that comes the assumption that I have a large personality. It takes a really long time to respond to messages when you're an introvert with a full workload and over a hundred message requests on a daily basis. Sometimes people think I'm purposely ignoring them, when I'm just trying to live my life one day at a time. I also have people trauma dumping on me a lot, sending me triggering things without warning and demanding I share those things with my followers. I have way more positive interactions on Instagram than negative ones, but the negative ones definitely hurt a lot. I think sometimes people forget or ignore that there's a person behind large accounts, and that many of us struggle everyday.
There is a distinct influence of anime, manga and manhwa throughout your work. Who and what influences your artwork the most?
I don't have any specific influences! Manga and manhwa have been incredibly helpful in teaching me how to make an illustration vibrant, exciting, and powerful. I just consume way too much for me to say I get an influence from anywhere specific. Some titles that have moved me in the last couple of years though include To Your Eternity, SKET Dance, Hoozuki's Coolheadedness, If It's for My Daughter, I'd Even Defeat a Demon Lord, BJ Alex, Heesu in Class 2, Cherry Blossoms After Winter, and Joou to Shitateya. I could keep going, but I just really love fantasy, comedy, and messy gay love stories.
You use such vibrant and expressive bold colors. Do you have a favorite color palette to use?
Here's a direct link to my current favorite color palette!
What is the most important element of your work to get right? Which part of an illustration would you say you spend the most time on?
I spend the most time on my outline. My linework is really important to me, and I see a noticeable difference when I don't spend enough time on creating dimension through line thickness variation.
What would you say is your favorite illustrations you have made to date? And what inspired it?
I love 'Eyes on Me' because I took a drawing my partner created of me and made it into a full illustration. They didn't want to draw my face, so they drew only my eyes, and I thought it was hilarious and cute, so I painted it!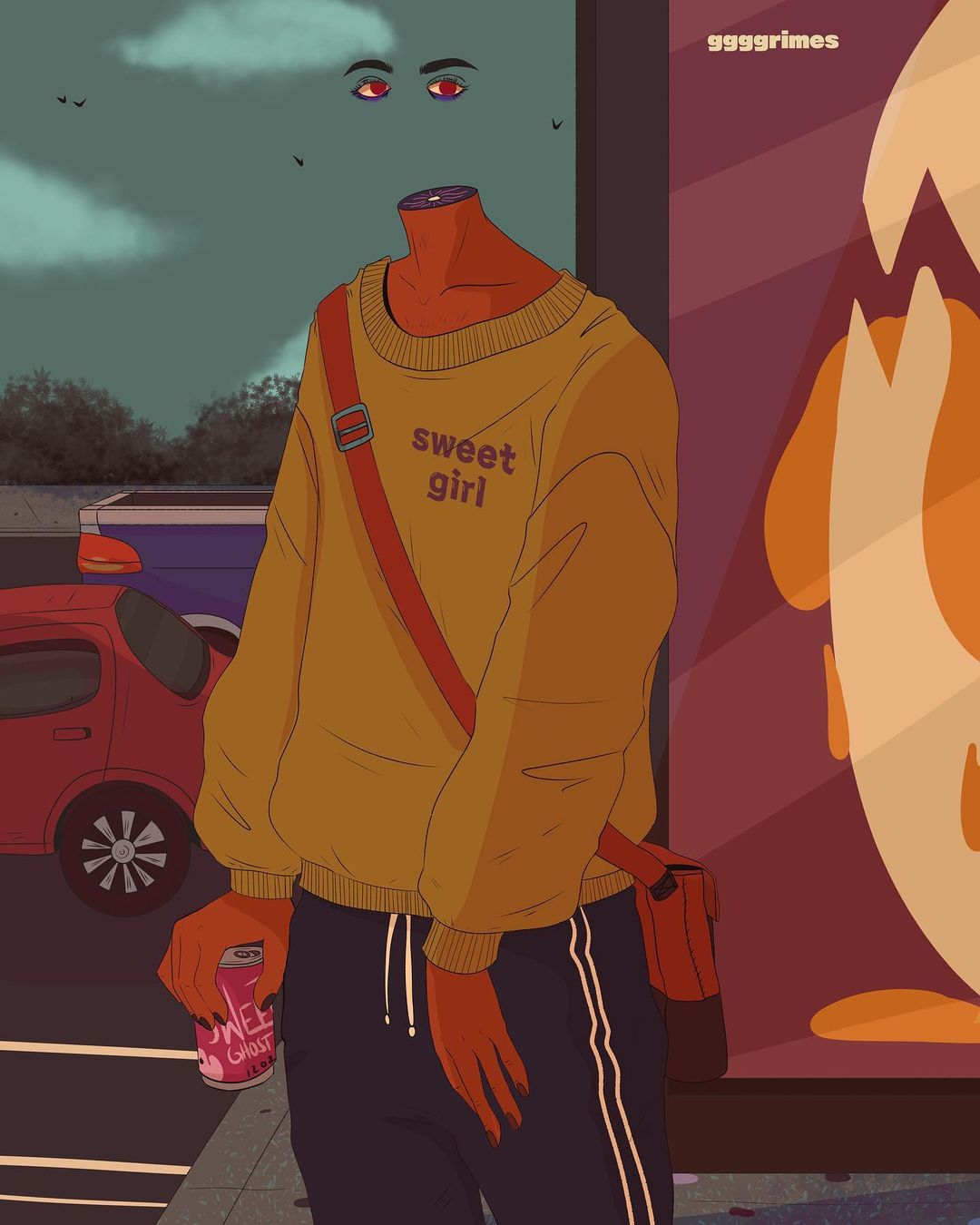 I also really love On the first day of spring. It was my first time blurring the background of one of my paintings, and it made for an even more tender close up.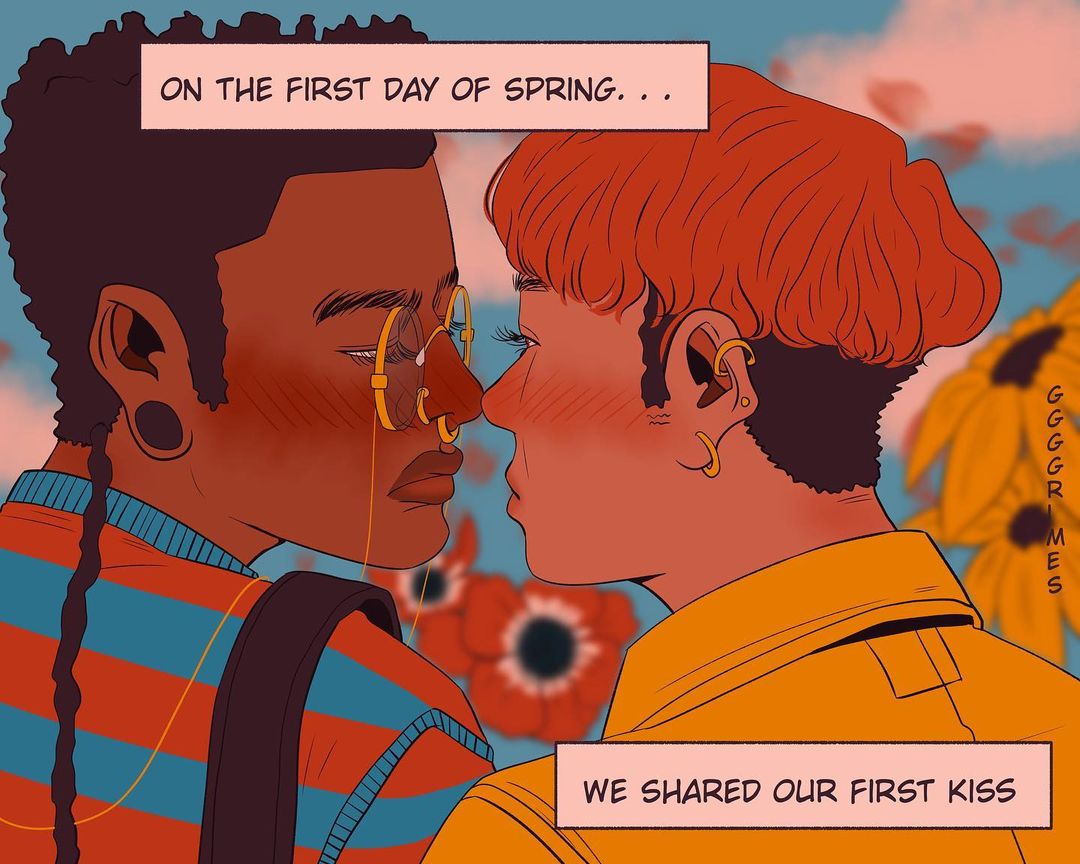 What have been some of the most rewarding outcomes of your artwork?
The most rewarding outcome is having my artwork in the homes of so many queer people globally, and every single time someone messages me telling me that my artwork helped them figure out who they are.
Following on from this, what would you say was your biggest career or life win?
I worked with @saveartspace to create a billboard dedicated to Black trans people in the Bronx. This meant so much to me as a black trans person from the Bronx.
What advice would you give to young artists starting out? What have you learned about the art world and the transition from creating art to commissioning it?
I reference this article often, but one of the most life changing things I've read is Fran Tirado's "The Queer Guide to Getting Paid. This guide is the reason I started expecting more out of the companies and organizations that reach out to me.
When I started charging people for my artwork, I felt so guilty. I told myself that I would never do that, and convinced myself that by selling art, I'm selling out. I think this is a weird fucked up capitalism thing convincing us that we don't deserve to get paid for being creative, and that if we are paid from it, we're not honoring our creativity. Charging people for my artwork has only strengthened the bond I have with my art. I learned to only accept commissions that are meaningful to me. A really great piece of advice is learn to say no as much as you say yes. Saying yes to work that you actually want to do only strengthens the artistic part of you that needs to think of ideas quickly. Since I do so many commissions, it's become easier for me thinking of ideas for artwork. When I say yes to commissions I didn't really want to take to begin with, it feels dishonest to myself, and it's harder to come up with an idea and execute it well. This isn't to say to say no to everything even if you need the money. If you need the money, definitely go get it! If you have the ability to say no to a job you hate, you're allowed to refuse the job.
Are there any other creative fields you would like to explore?
I really want to get into tattooing and hope I can take physical classes rather than learning online. I also want to get into more fashion.
Any hidden talents?
I can say the alphabet backwards, my shoulders are double jointed, I can make a three leaf clover with my tongue, and I can do the worm with my index fingers.
Which other creatives do you wanna shout out to?
Here are a few!
https://www.instagram.com/growmija/
https://www.instagram.com/mythsooka/
https://www.instagram.com/zachgrear/
https://www.instagram.com/artbyjar/
https://www.instagram.com/gardenbyeden/
https://www.instagram.com/lucianocarlitos/
https://www.instagram.com/rociomarie__/
https://www.instagram.com/mediabymoon/