Throughout time, we've counted on a small number of community leaders to push things forward, break perceptions, and bring change. And ladies, the past two years have been pivotal. We've seen–and struggled with, and spoken out against, and called shit out on–issues that have been pressing, and still continue to press, womenkind. It's change that we want to champion throughout this month, while celebrating those who are propelling us into a far better future. So throughout March, we are focusing what matters to us most, right now: groundbreaking, culture-shifting, era-defying, and straight up goals women.
Photos by Maya Fuhr
There are some women who walk around with an intensity that's equally inspiring and intimidating. The first time I saw Gloria Noto doing makeup at the Nasty Gal studios over four years ago, I saw her embody that spirit completely. She walked in with a leather cap, tons of incredible tats, her signature short haircut, and all of the confidence in the world. A few years later, I got to know the NOTO Botanics founder and she turned out to be just as cool as I thought—with literally zero ego. She's a hard worker, she makes things that seem impossible happen, and she has the type of drive you rarely see. What makes Gloria and her work so amazing is her attention to detail—she handmakes every single product from her gender fluid, all natural full body cosmetic line, and contributes a portion of our favorite Agender Oil to charity regularly. She's all about purpose, drive, and passion—and her razor sharp focus is a serious inspiration to us every single day.
You're such a boss—between being the owner of NOTO Botanics and a killer makeup artist, how do you balance it all?
I don't believe in balance, I believe in the work to attempt it—it's about being aware when you are swaying into one extreme and focusing on swinging the other way.
Do you make time for self care? If so, how?
Ironically, at times I forget to do this for myself until it gets to the point to where I'm in an urgency to do so.  Often it's in the form of shutting off from others and connecting with myself by painting or writing. I'm a total ambivert, so I feed off of personal alone time.
Tell us about starting NOTO Botanics, where did the idea come about?
The idea came from necessity and a deep growth period in my life. I felt that I wasn't contributing to society in a way that felt I was making any positive change, except through aesthetics. I wanted to be a part of something that I felt was a reflection of things that needed growth—like the ideas of beauty standards. I wanted to be a part of changing and growing them by showing different facets of beauty and identity. Also, I started NOTO at a time in my life when I was questioning what mattered most to me. My sister was diagnosed with stage 4 cancer, and it send me down a path of asking myself what mattered, whose life was I living, and what was I giving back.
You started by making each product by hand. What was that like? Making that choice versus going an easier route?
In my world, I try to attempt to live a life where I can avoid buying thing by making them instead. I was questioning everything in my life when I started NOTO and asking myself what felt authentic to me. What was it that I really wanted to be doing with my life? I knew I wanted to play more of a part in what wellness looked like, and what self care and self love looked and felt like. I felt that in society, there were missing gaps in wellness, such as sharing the stories or faces of multi-racial, trans and queer groups, and sharing the stories of different people who where out there doing incredible things for change.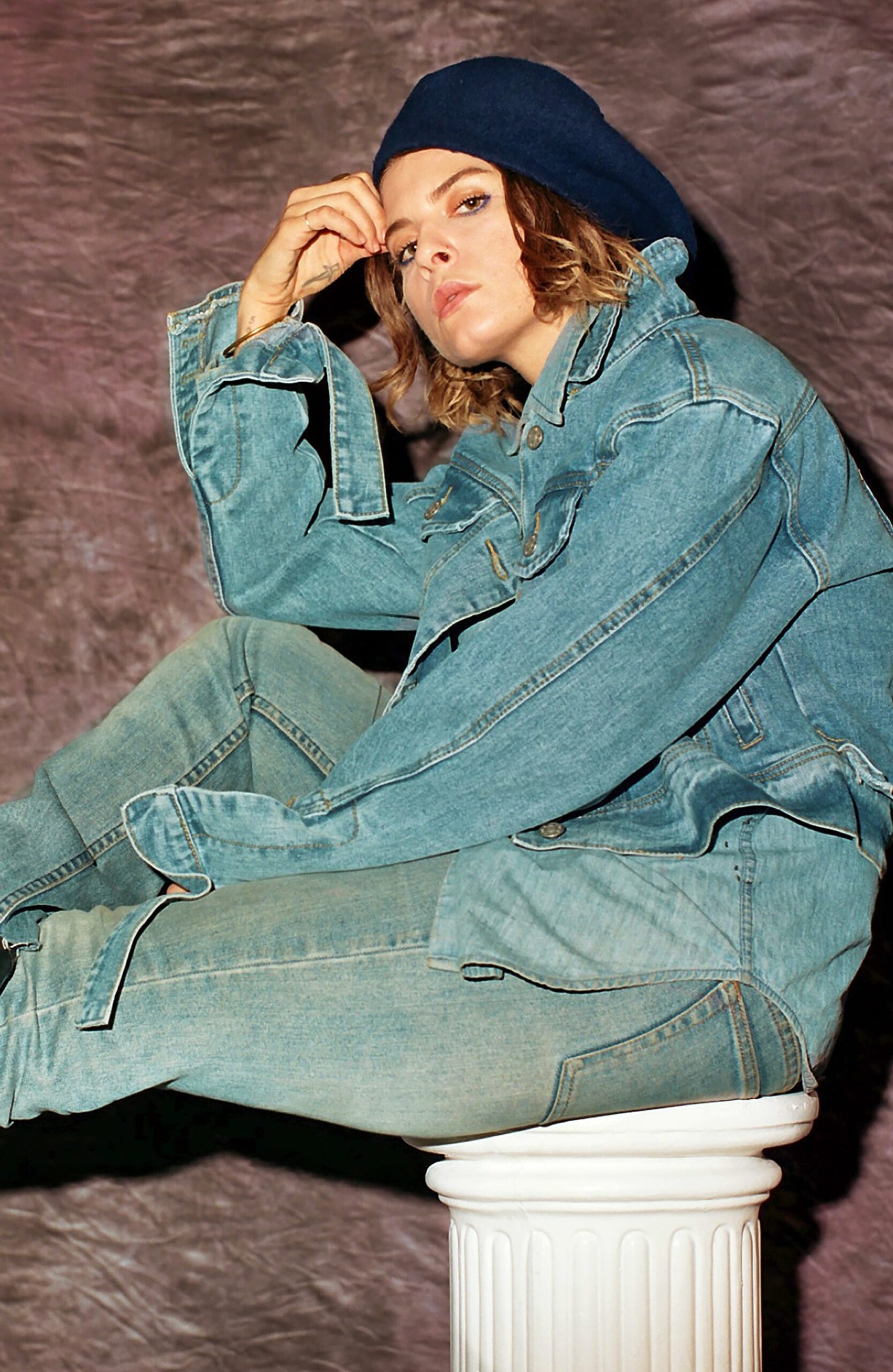 Can you tell us more about the gender fluidity component of the brand and why that was so important to you?
This was so important because Otherness is a huge part of my life and many other's lives.  I think we're in a time right now where we are being more and more inclusive and opening up ideas on what the word gender is—a manmade word to put a person into the binary—but not everyone fits in one box. I know I don't, as a queer woman, and I have many friends—gay, straight, etc.—that also don't. I wanted to create a brand that I believed in because of a product that was so good, so pure, and worked so well—but I wanted it to have a face of many colors and concepts, so it could be a part of the shifting and growing world of progress, and the celebration of otherness.
Favorite NOTO Botanics product?
All of them! I love discovering new ways of using them, too. Today I used the glow stick in my hair to highlight my grays and act as a styling balm—it's amazing!
Tell us the biggest perks and hardships of being the founder of a company.
The hardships are the fears—the fear of failure, the fear of relevancy, and the fear of leadership or business skills. The perks are being able to grow with my company and working and collaborating with incredible people.
Tell us more about your all female team! Was that a conscious decision?
It actually was yes and no—I put out the call and all woman applied or contacted me. NOTO is a gender fluid brand, yes, but also female strong and positive. If I can employ womxn (cis and non cis) first, I will.
Why do you believe it's important for women to support other women?
Look at what support for one another has done, even in the last two years. I think we have begun to realize the power women have, not only in a singular setting, but especially in numbers. Take a look at what the #MeToo movement has done in changing things—women have come forward with support of other woman in telling their stories and that has completely turned the film industry on its head.
I think today is the best time to be a woman in the last few hundred years. The extreme is starting to sway in a new direction and it's only just begun. We are in a very special time that still needs a lot of growth but is happening.
Why do you love what you do? What brings you the most joy in all of it?
I love what I do because I'm able to tell a story, and share stories. I'm able to create a product that I believe in and is cruelty free, socially conscious, and aesthetically pleasing. I also love making a product and brand that is multi-sensorial—I love reaching every part of you, from your nose to your toes and your soul.