Photos by Maya Fuhr
Throughout time, we've counted on a small number of community leaders to push things forward, break perceptions, and bring change. And ladies, the past two years have been pivotal. We've seen–and struggled with, and spoken out against, and called shit out on–issues that have been pressing, and still continue to press, womenkind. It's change that we want to champion throughout this month, while celebrating those who are propelling us into a far better future. So throughout March, we are focusing what matters to us most, right now: groundbreaking, culture-shifting, era-defying, and straight up goals women.
The art world has been off-limits to a flock of young, under-the-radar artists whose pockets don't run as deep as big-name galleries and collectors. Brooklyn-based artist and curator Grace Miceli has changed that game. What began as a post-grad side project for the New York artist metamorphosed into a world that has provided an entirely new way to access art. Today, her online gallery Art Baby Girl brings collectors and artists together, nurturing young talent through a virtual safe space. In addition to her impressive curatorial work, she's an incredible illustrator herself (she's with Nike, MTV, SZA, and of course, us). At the end of the day, Grace is on a mission to give up-and-comers a platform, connecting people through art virtually everywhere. We sat down with the super-ambitious artist to talk online art, the complexities of being a teenage girl, and her dreamy illustrations.
When did you know you wanted to be an artist?
I've been making art my whole life, but it wasn't until college when I was able to create full-time that I realized art was THE thing. It made me feel different and excited in a way that nothing else had before.
How did you get into the art world? 
When I first moved to NYC, I worked in a few galleries and for fine artists, but I didn't really find myself fitting in. I was drawn to other young artists who were posting work online and meeting there. I started to work in retail full-time to pay rent, but I was spending all of my free time drawing and organizing pop-up exhibitions and connecting with my peers. That led me to slowly acquire more exposure which led to editorial and commercial clients. It's only been a few years that I've been able to support myself from illustration commissions, merchandise sales, and curatorial fees and it's still challenging. I think a lot of the "art world" likes to stay mysterious and seem glamorous but that's not reality.
How did your online gallery Art Baby Girl begin?
I had just graduated from college and was living at home saving up money to move to NYC. I missed the community of art school and wanted to continue to interact with new art, meet artists, and at the time, it was my dream to open up my own gallery. Not having any money, I turned to the internet to start a gallery. I treated it as a fun side project where I'd feature a new artist every month. It was a way for me to share art that I found special with an audience.
How do you feel about online art? Do you see it as progressive or more of a hindrance?
I think the internet is the only place a lot of us have to share our art. It's amazing the access it provides and it's beautiful how many people can just stumble upon your work. Sharing my work online and finding other artists when I was younger is a big reason why I didn't give up. That being said, I think the way that social media has evolved has led to a lot of increased anxiety and addictive usage. I'm working on figuring out a better way to use the internet for all of its benefits without feeling completely dependent and wrapped up in it.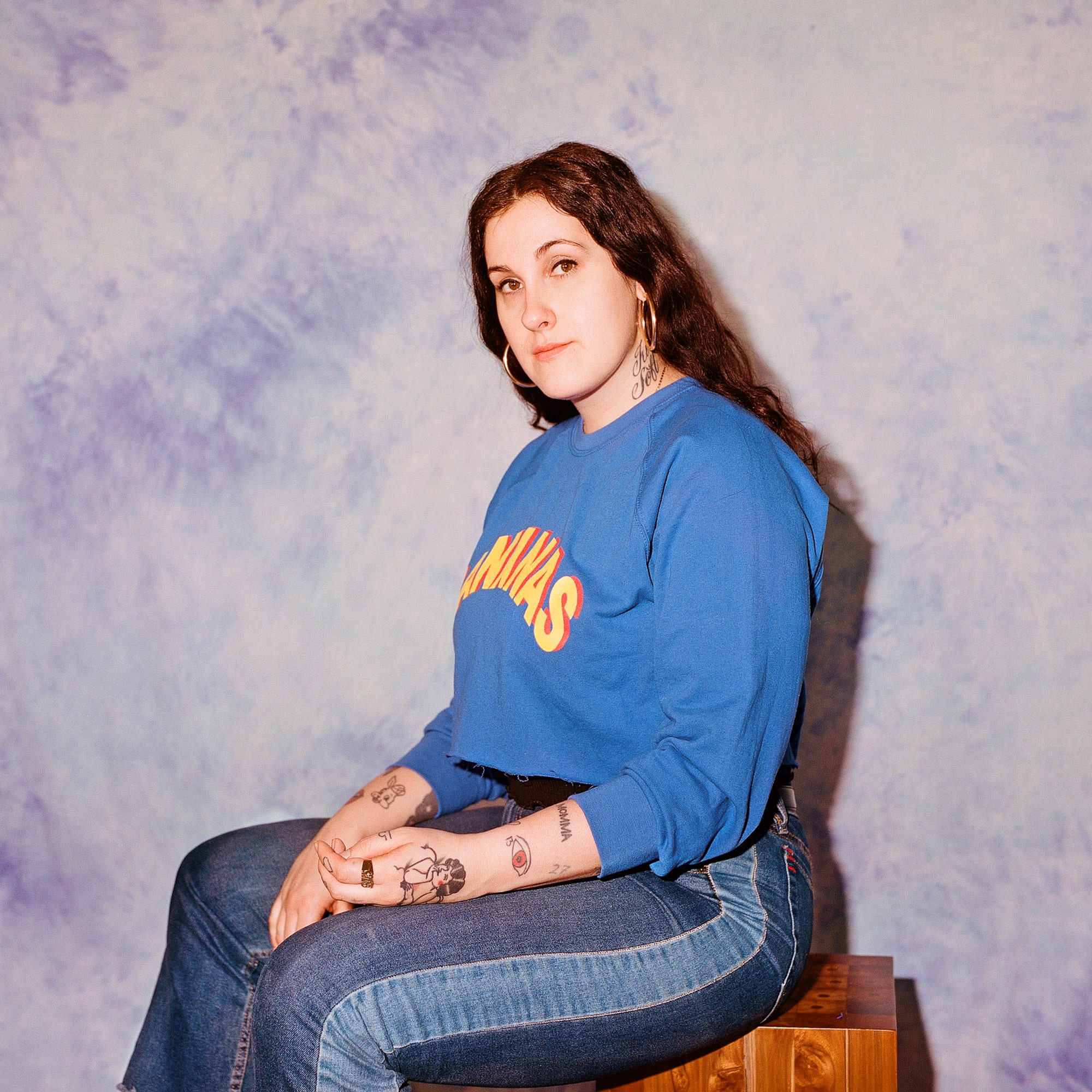 Your work is reminiscent of the beauty and complexities of being a teenage girl. Can you tell us about it?
I think now as an adult, I can finally look back and try to understand who I was and what I felt when I was younger. It helps me figure out who I am becoming. With my work, I'm often dealing with my current issues, thoughts, and anxieties through the lens of nostalgic imagery because it feels like a safe space to explore that.
What were your own teen years like?
I spent a lot of time alone watching Buffy the Vampire Slayer and reading fantasy novels, but I also played guitar in pop-punk bands with my friends and took way too many serious black and white photos.
Best part of your job?
Getting to work with artists and brands I've admired for years—and stickers!
Why do you think celebrating women is so important right now?
Because we're all amazing in so many ways but society has convinced a lot of us to think otherwise.
What's your mission?
I want to build confidence in the younger artists who follow me and make people laugh and feel connected. It's such a great thing to feel like someone sees and understands you—I want to give that to people who interact with my work.
What women inspire you?
All of my friends, my mom, Amy Sedaris, Ursula K. Le Guin, Rihanna, Lisa Frank, and Lola Bunny.
What's next for you?
I have so many exciting ideas I want to make a reality like an animated series, a sticker book, and giant stuffed animals.