Your new favorite lady-fronted band talks music, jumpsuits, and HPV.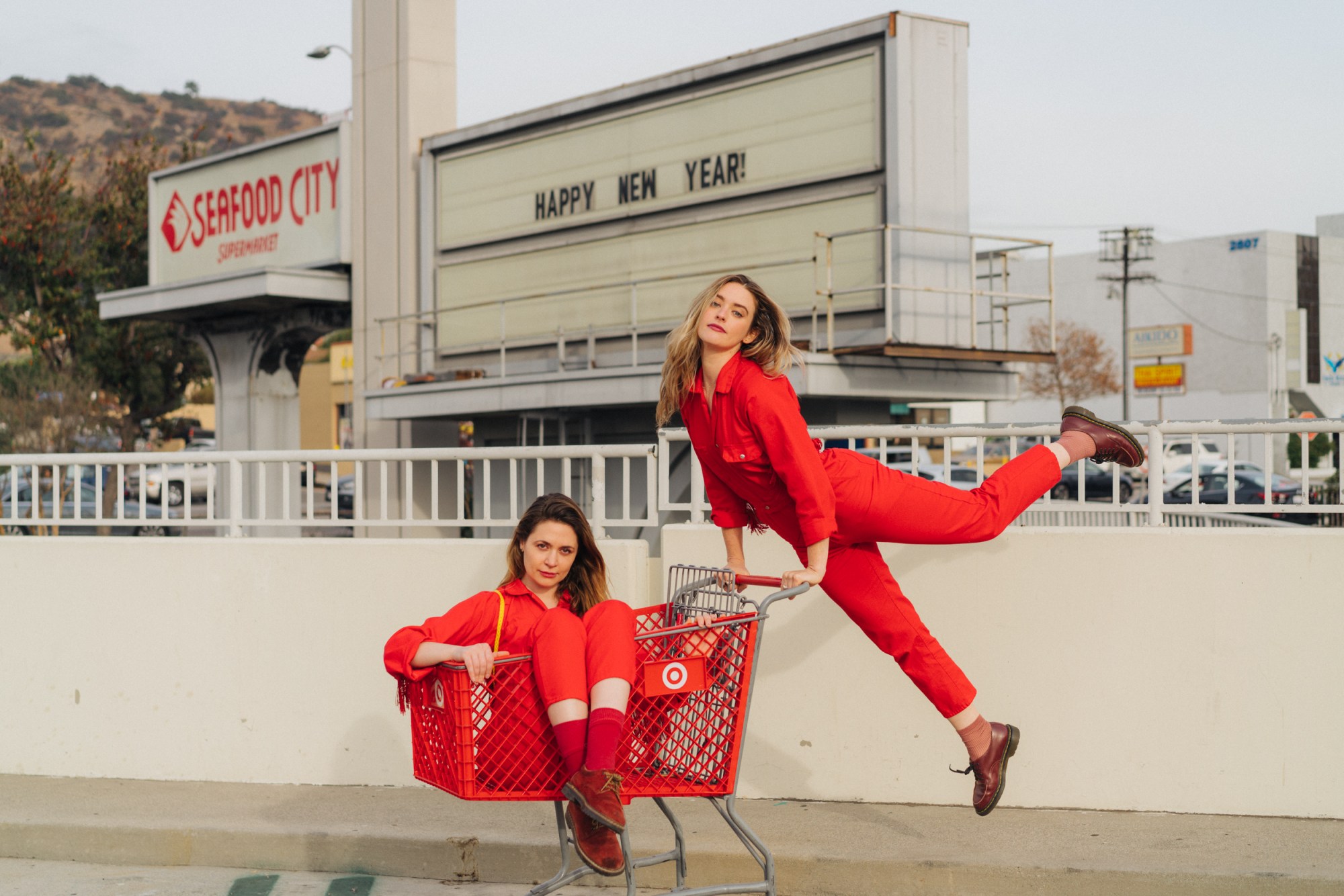 By Nada Alic
I can't think of a better way to start off 2018 than by introducing you to Slut Island: an LA-based band made up of Kate Hollowell and Penelope Gazin (they also have a bassist named Daniel, more on him soon). I guess I didn't so much discover Slut Island as Slut Island happened to me—one night at Zebulon, moments after I ordered some dry sausage and hummus at the bar and noticed that all of my friends had left me. I soon found them watching two girls dancing manically in matching blue jumpsuits on stage, performing baptisms and polling the room to find out who had HPV.
My cross-armed-whatever-I'm-old-I-want-a-chair attitude had momentarily left my body and I was transfixed. The whole thing felt like a ceremony; a memorial for any fucks that had ever been given. And something about that was really fun to watch. It was as if it hadn't occurred to them that any of us were even watching; as if they'd continue to roll around on the floor and slap each other in the face long after everyone had left and the lights were on. I soon learned that Slut Island is just one of the many, many things Kate and Penelope are working on, which includes dancing in a dance troupe, writing tv shows, founding a tech startup, running an art business, art directing, modeling, and then I think at that point I zoned out and thought about how it took me until just this year to learn how to use caps lock on my iPhone.
I'm so glad that Slut Island happened to me; they reminded me about the power of just being yourself and not giving a shit and letting your friend slap you in the face to feel what it feels like to be alive. And if this interview is any indication, they will happen to you too, and it will be entirely consensual.
Ok, so how did you guys meet?
P -Through the LA City Municipal Dance Squad.
What's that?
P – LA City Municipal Dance Squad was founded by Angela Trimbur and it's a dance squad and we are both very serious and very silly. We are all funny but and we all have training except for Kate who is a fluke who for some reason really good at dancing. I had 12 years of serious ballet and we're on the same level, so it's messed up! I've always been a dancer and sort of goofy and funny and it blew my mind when I saw adult women combining the two.
K – I joined the squad a year before you and I was doing photography on a shoot and was dancing really weird and this girl was like, "my really good friend runs a dance squad that performs at like women's basketball league half time shows, you should audition." I just sent a tape. Penelope sent in a tape also the captain, Angela was like "do you like this girl [Penelope]? I could see you guys being partners" I looked at all her stuff and was like, "I love her."
K – The whole thing about the dance squad is we do it because it is fun. That attitude translates into Slut Island I think: we're doing it for ourselves and we're empowered women and we don't really give a shit, we're not doing it to be hot for dudes.
K – so we met on the dance squad and I remember saying "we should start a band", because I play guitar and we would always say that, and then I got out of this 7 year relationship…
P – I know, thank god you were heartbroken!
"We don't really give a shit, we're not doing it to be hot for dudes."
That is the best time to start a creative project!
K – I swear, breakups are the best thing in the world. You get a fire under your butt. So Penelope and I would just go out and dance, we got in such good shape!
P – and so we were both single ready to tingle.
Where did the name, Slut Island come from?
P – It started out as a joke name kind of mocking/paying homage to trendy band names. But no shade since we love a lot of those bands and also we take our name very serious now. I was like "okay if you combine something beach related with something that lets people know we are female we will have a hit band name on our hands".
K – And there's this photographer that I work with all the time and he's a quiet Asian boy who plays bass but we work well together.
P – And he also plays for his church band. He's this sweet guy, very reserved, but very supportive and he never gets weirded out by us.
K – Which is perfect because you and I like being outrageous and he's always in the back. He's always like super down.
Did you have any reservations about naming it Slut Island that people would misjudge the name?
P – It was kind of a joke at first, because you know it's kind of referential, because it's got the whole surf rock element and because it's a girl band. Even with my old band, the fact that we were girls is not reflected in the band name, it wasn't like, "the butt girls!" so in some ways the name is sort of making fun of other band names but we're also paying homage to other bands.
How much of your music is satire, because I remember at your show when you performed that HPV song you guys were like, "who here has HPV?" It's almost like social commentary but you're approaching it from a comedic angle.
K – I was just making HPV jokes all the time and then Penelope started coming up with the melody and we were both like, this could be a really cool song! I'm all about making jokes of things that people are really sensitive about.
P – Someone came up to me after the show and was like, "I've never felt cool or fine about having HPV and now I feel totally fine." And I'd see all of the girls in the audience raising their hand when I'd ask who' has HPV (including myself)? HPV sounds so dramatic at first and then it's like, really not the biggest deal and you can handle it.
How did you get to that point though, because what came across to me was that you seemed so confident and self assured on stage.
P – I think our identity isn't wrapped around being musicians.
K – We don't take it that seriously. And it's always fun first and foremost. Our philosophy is if you're having fun, other people are having fun watching you. I think that's the same with dance, and with everything else you're doing in life.
P – I joke that it's very trendy to have two women just being goofy and having fun together. Women actually go out and have fun and make things together and they're not just talking about boys and being catty. For some men, that's like a whole new side of women that they've never seen.
"HPV sounds so dramatic at first and then it's like, really not the biggest deal and you can handle it."
When I saw you, you guys were wearing these blue jumpsuits and I noticed that's a thing, like you'll wear costume-type stuff, is that important to you to dress the part?
K – I think it's cool to be called Slut Island and show up dressed like The Beastie Boys, with like a bucket hat. I think a huge part of it is we want to be excited about doing something so we want to keep evolving, and I think that's a natural thing for creatives. We're always thinking of ways to make what we do a performance. Like when we play Church Boy, I baptized Penelope. We like to write a song and then figure out how can we make this weirder and add more levels.
P- But then we had our song "Daniel, you're out of the band" and that was almost too performative. We have this song where we kick Daniel out of the band and he leaves the stage and he's like, really sad and goes to the bar and we play a thing by ourselves and then we're like, "Daniel come back in the band, we're just two girls and we need a man!" and then he runs back up on stage again and everyone cheers.
K – I want us to be a band where there's a comedy element to it but it's not so overpowering that it feels like a parody or a crutch.
P – Oh! I do want to talk about our secret to getting pumped up before shows!
K – Oh, where we choke each other and slap each other?
P – Honestly, this is the secret. I mean, we were doing fine before but this is our new ritual. We were about to play a show and we were so tired and low energy, so we ran around the block two times and we started slapping each other in the face and choking each other.
K – And then it started going too far, where onlookers were like… I mean, you were telling me to hit you harder.
P – It just gets your energy up and reminds you you're alive. I don't know what it is, it's like this secret ingredient to us just being like in the moment fully.
K- Totally, and I feel like I don't get nervous when we play, that's partly my personality but I feel like, we're together.
P – Yeah, I mean, to me you're the coolest person in the world.
K – Me too.
What other jobs do you guys do?
K – I'm an art director and a photographer and do freelance stuff like direct videos and I just acted, I did a video for this brand and some skate brand just asked to shoot me this week.
P – Oh yeah, she's a really good skater!
How long have you been skating for?
K- I mean, I used to skate as a kid. And then when I moved to LA I just started skating again, so only a couple of years. I'll skate at skate parks or I'll skate at work on set a lot and someone actually complained about me and was like "She needs to be more professional she's always skating" and I was like, "fuck you!"
It's gotta be extra fulfilling to be able to create with your friend, that's not always the case.
P – Yeah, it's so fun to create stuff together. I don't like talking shit too much, because I'm not a fucking bitch! haha. We connect by creating stuff.
K – To have a friendship where you can get together and create things, it makes it next level, as opposed to just getting together and being like, "can you believe Cheryl?"
P – "Oh fucking Cheryl!"
K – Like who gives a shit. We get together get high off each others creativity.
P- I think people always think we are on something. Either coke because of our energy or alcohol because of uninhibitedness. But we almost never do. We're not against it we just don't need it ever.
Penelope, what are your other projects?
P – "I'm a famous artist."
K – (laughing)
P- I've actually never said that before, should I start doing that? I make my living as an artist, through painting, animation and then I also have a brand where I sell like, pins and prints.
K- and then you also own a company!
P- then I'm also the cofounder of this tech start up called Witchsy.
"I think people always think we are on something. Either coke because of our energy or alcohol because of uninhibitedness. But we almost never do. We're not against it we just don't need it ever."
Oh my god! I just bought something from there the other day!
P – Yeah! So me and my other best friend Kate (it's very confusing) we're flying up to SF tomorrow and we're doing a panel on women in tech.
That's so cool, I love that site.
P – Yeah, so we're both professional creatives.
So a big part of working together is that you have an ally, you get to experience this with your best friend.
P – I feel like you and I are both having our renaissance, like I was shy in high school. Now I'm doing acting stuff and screaming on stage which I would've never imagined.
K – I think it's something that comes as you get older, but yeah I do think that we're both having a renaissance and I think that Slut Island is part of that. It's one of those things were you can manifest, we even wrote a song about manifesting your destiny, "Oprah was right, The Secret is real, manifest your destiny, manifest inside of me." I kind of started a band in New York 8 years ago but it never went anywhere and I just wasn't ready. I don't think you and I have expectations about where it's gonna go, I think as long as we're still having fun and it's something that we love, then I think that, wherever it goes, it doesn't really matter.
P- If it wasn't for Kate, I don't know that I would be in a band. It has to be so dang fun for me to invest the time and effort to be in a band and it is so dang fun.
Photos by: Jon Chu
Jumpsuits by Penelope Gazin