We teamed up with Scottish model, designer, and all-round babe, Emma Louise Connolly, on our latest collab of killer summertime looks, and frankly, we couldn't be more obsessed (if we do say so ourselves). Think romantic, floaty silhouettes, pretty florals, vintage-inspired denim, shredded details, and the 26-year-old's personally designed (and cute AF) slogan tees. Gorgeous worn against swoon-worthy views and poolside hangs, this collection is a dreamy way to take on your summer and future vacations. Emma gives us the LD about the collab, her style evolution, and getting over her fears below. Go ahead and shop the look.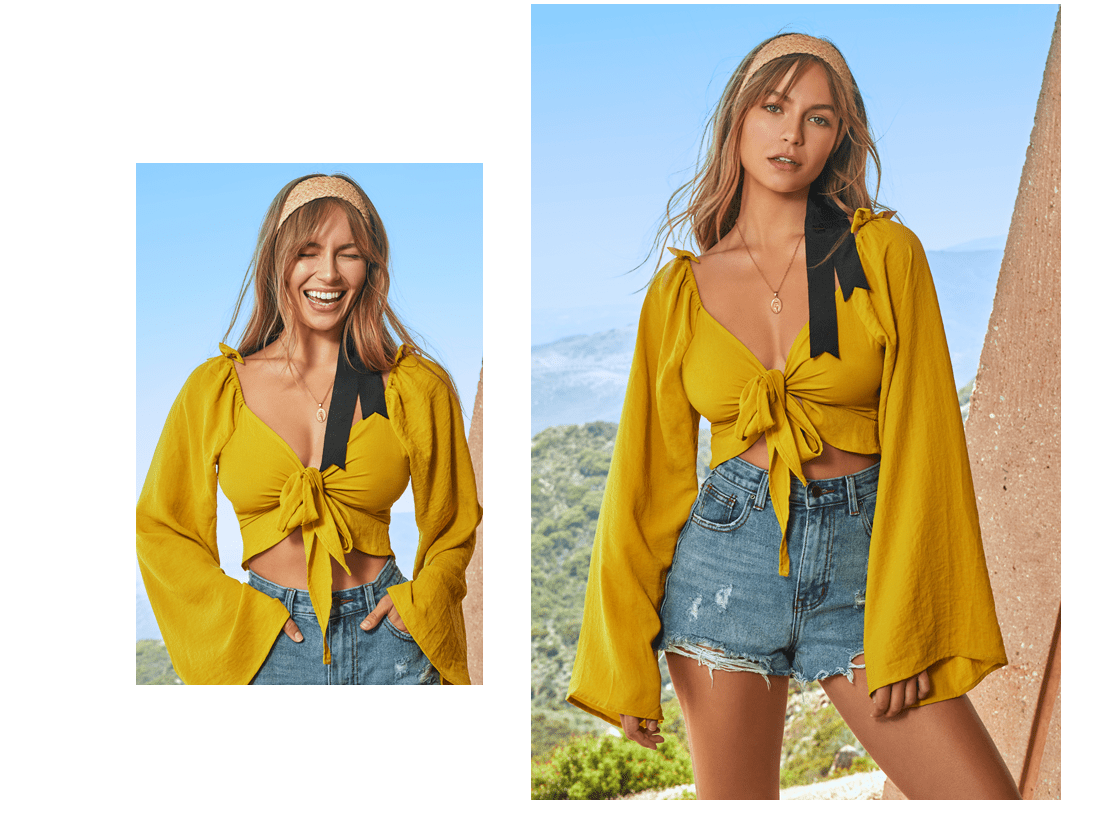 How long have you been a fan of Nasty Gal?
I've been a fan of the brand for about 8 years when I used to buy my Jeffrey Campbell shoes on NastyGal.com. Now I shop the site because it's so affordable and the pieces are cool and really suit me.
What are you favorite pieces from the new collection?
I love the leather shorts because I think you can wear them with an oversized shirt or a tee and dress them up or down. I also love the red silky dress because again it's so flexible in terms of how you style it. I wore it on the campaign with these amazing white cowboy boots but equally you could wear it with a pair of stilettos and it would look just as heavenly. And then of course I love the slogan tees I designed.
Speaking of, how did you go about picking the slogans?  And what was the inspiration behind them?
The slogan 'You are gold baby, solid gold' I had read ages ago, can't remember where but it's stuck with me ever since. The other slogan, 'It's all good baby baby' is my fave Biggy Smalls song. Honestly creating my own slogan tees for this edit was a dream come true and I'm very grateful to Nasty Gal for allowing this to happen.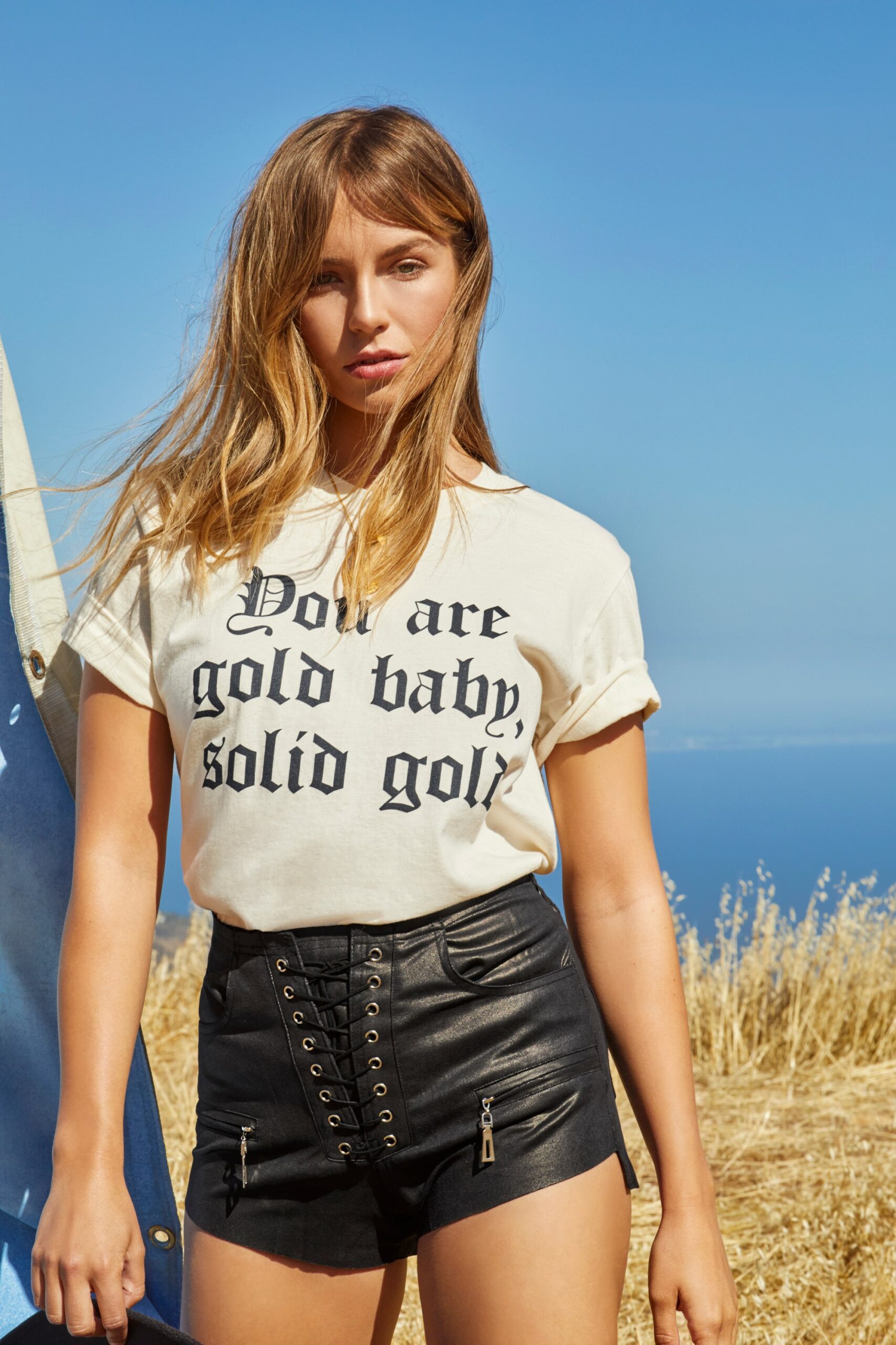 Your followers love your style. Is there anything you've learned from them?
They always surprise me, there are outfits I will wear and post on Instagram and my followers will go nuts for even though to me the outfit isn't my best look or not something I find particularly enthusing. Then I will wear an outfit I am obsessed with and no one will react. That's 100% taught me to keep experimenting with my style and not just stick to what I know.
You flew to LA for the shoot, what did you get up to while you were there?
The shoot day was insane. We shot in Malibu in this gorge abandoned house. We had so much fun and it's a day I will remember forever. In my downtime post shoot, I was super productive – I ate a lot of food, drank hundreds of margaritas and watched a trillion episodes on the Food Network, pretty dreamy.
How would you describe your personal style?
I would say it's lazy but thought about, if that makes sense. I like to be comfortable, but I will always accessorize mostly with my jewelry which is such a staple for me. Either that or I'll wear one insane statement piece.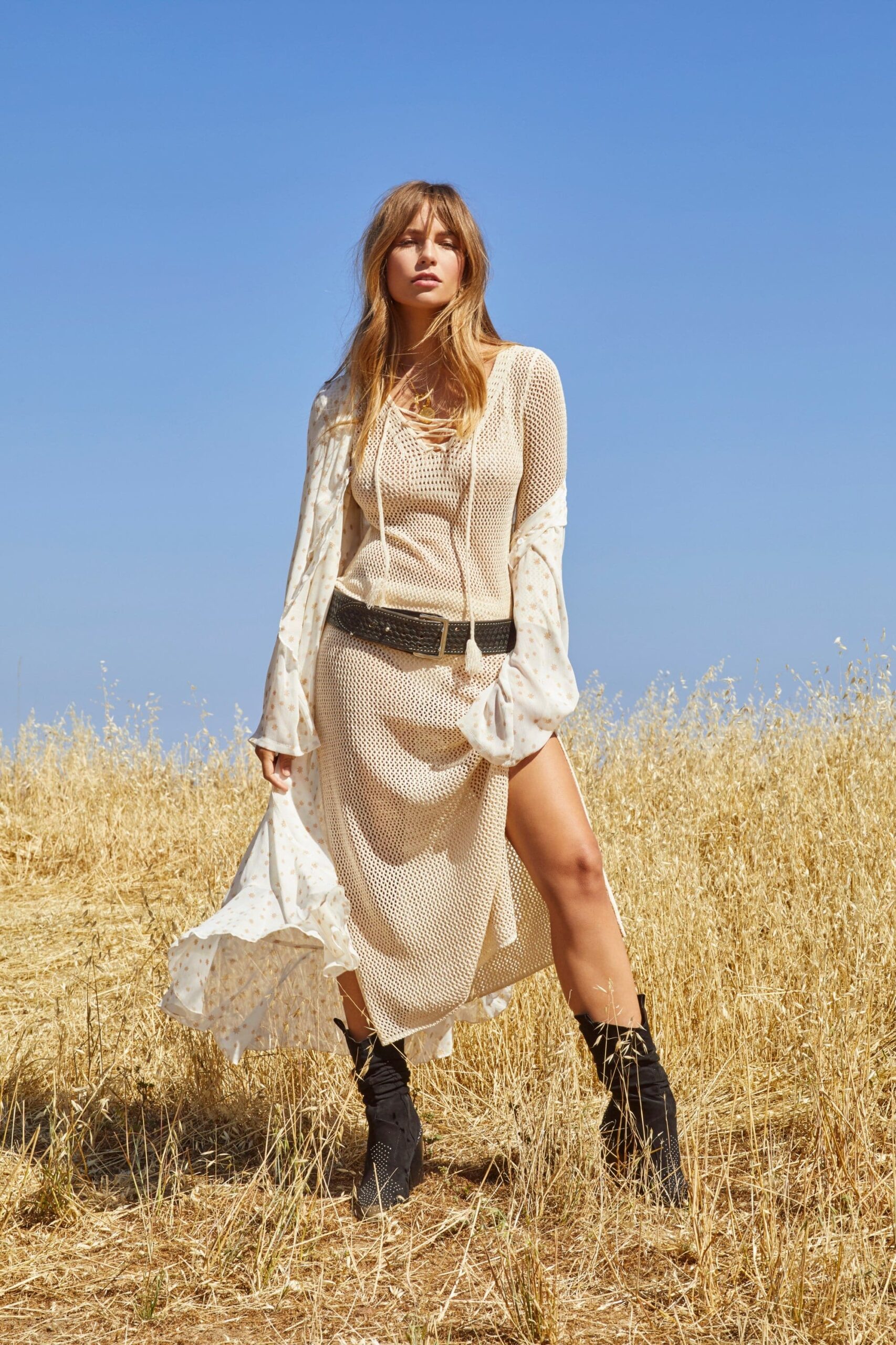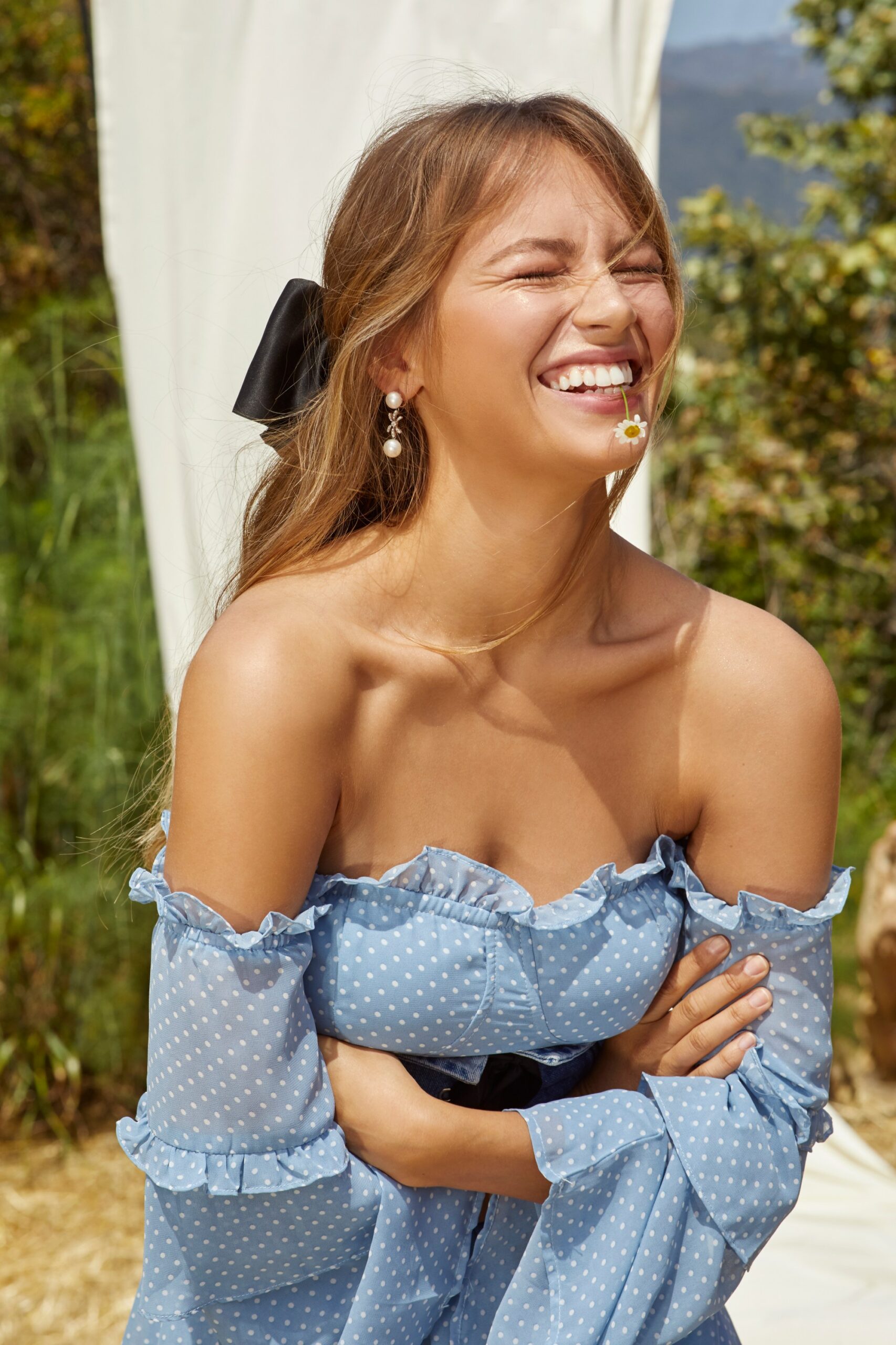 Has your style evolved over recent years?
My style has definitely become more refined, I used to just pull everything on whatever the style and think that was fashion. I still don't really have a set style, it totally depends on my mood, some days I want to dress like a lady and some days I don't, but I know what I like and what I don't and that helps.
Who is your most unconventional fashion icon?
'90s Nicole Richie.
What's your fail safe look for vacation?
Probably ripped shorts, slogan tee and slides, super easy.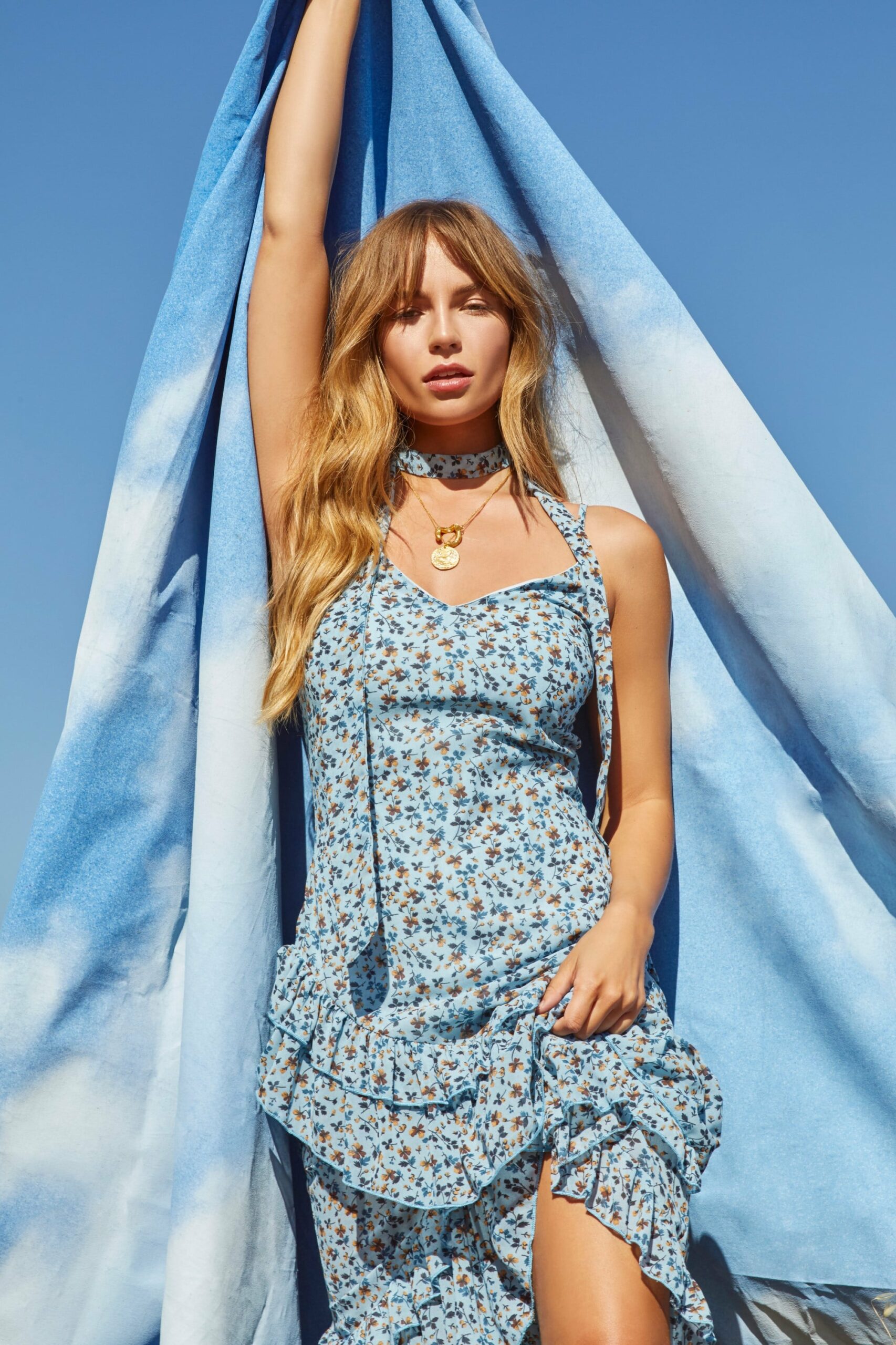 What's the best advice you've ever been given?
I think advice that I have picked up over the years from various people close to me and also from my experiences, is to not be scared and just do it – to me that is so important and I know there are hundreds of things I wouldn't have completed or taken part in if I hadn't been preaching this mantra over and over.
Let us in on your pop culture must haves… What are you watching? Who are you listening to?
I am watching Love Island obviously and then I am obsessed with Netflix's Queer Eye and screamed when I found out that Jonathan Van Ness follows me on Instagram, hi Jonathan! Listening wise, I have Jorja Smith on repeat.
What's next?
I have a lot of fun work projects coming up and lots of travel which I am thrilled about. I am just so happy with how everything is going at the moment and I am super excited for what's to come.