Halloween is upon us, and while you might be the type who loves to dress up head to toe in a detailed costume you've been dreaming up for weeks, we appreciate not everyone has the time/money/energy for that. But who says you can't Halloween with the outfits already hanging in your closet? Whether it's an LBD or a floral maxi, there's a bunch of spooky possibilities just waiting to be uncovered with the right imagination. These easy last minute Halloween costumes are also a much more sustainable route, which is a big bonus. Below, we've put together a few low effort Halloween costume suggestions to get you going. Oh, and don't worry, no clothes were harmed in the making of this guide. Unless you spill your spooky spritzer while busting a move (or five) out on a dance floor.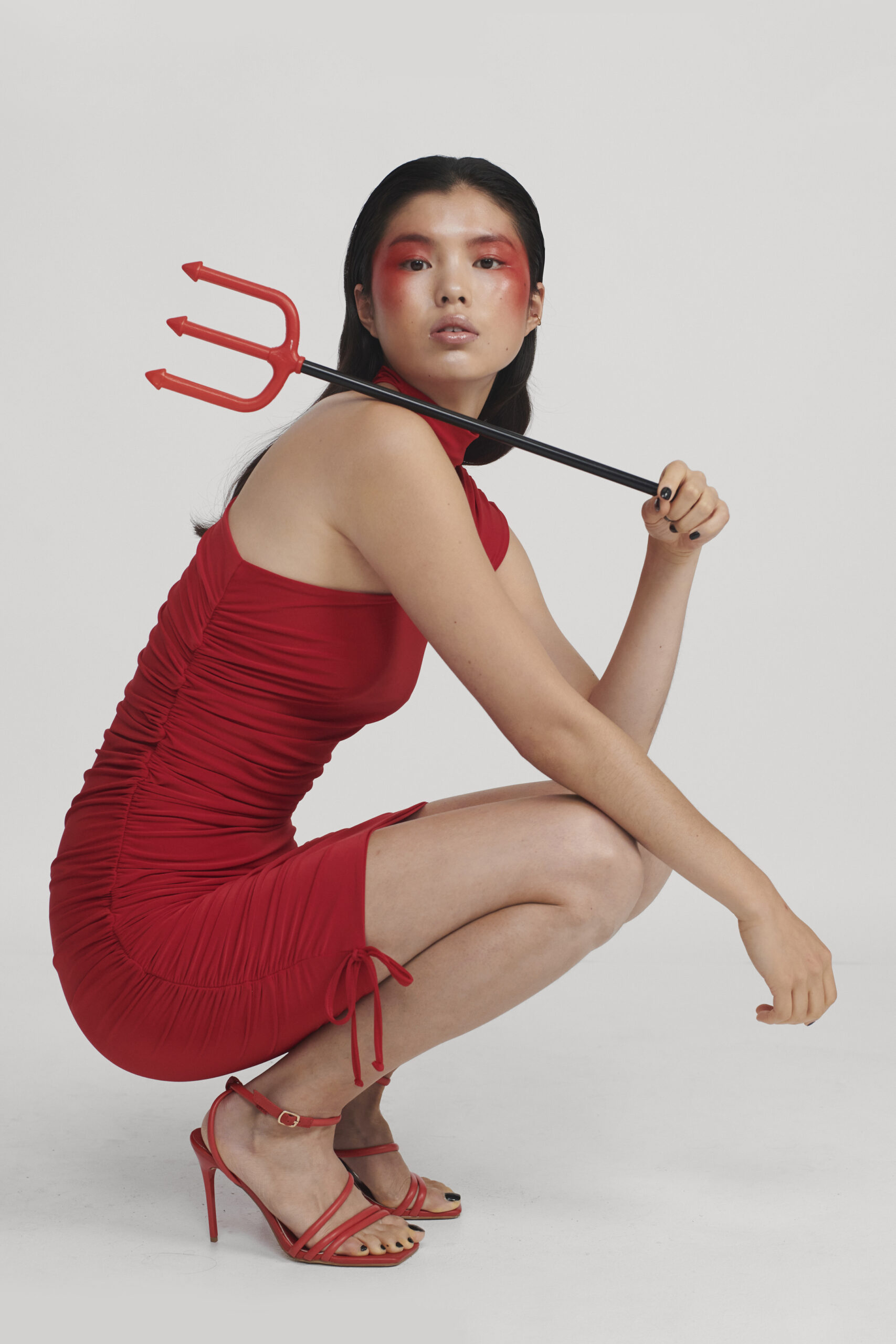 Devil – The Red Dress
The perfect opportunity to rock the dress you bought for Valentine's. Ultra sensual, ensure you feel good and look even better in this easy Halloween costume – a devilish red dress. A key effortless and low maintenance look, all it takes is a red dress and lip combo and, boo, everyone knows who you are, no more said. Dial up the look with hot and heavy accessories, from cheeky devil forks to mini horn headbands and a long red wig. The devil's in the details.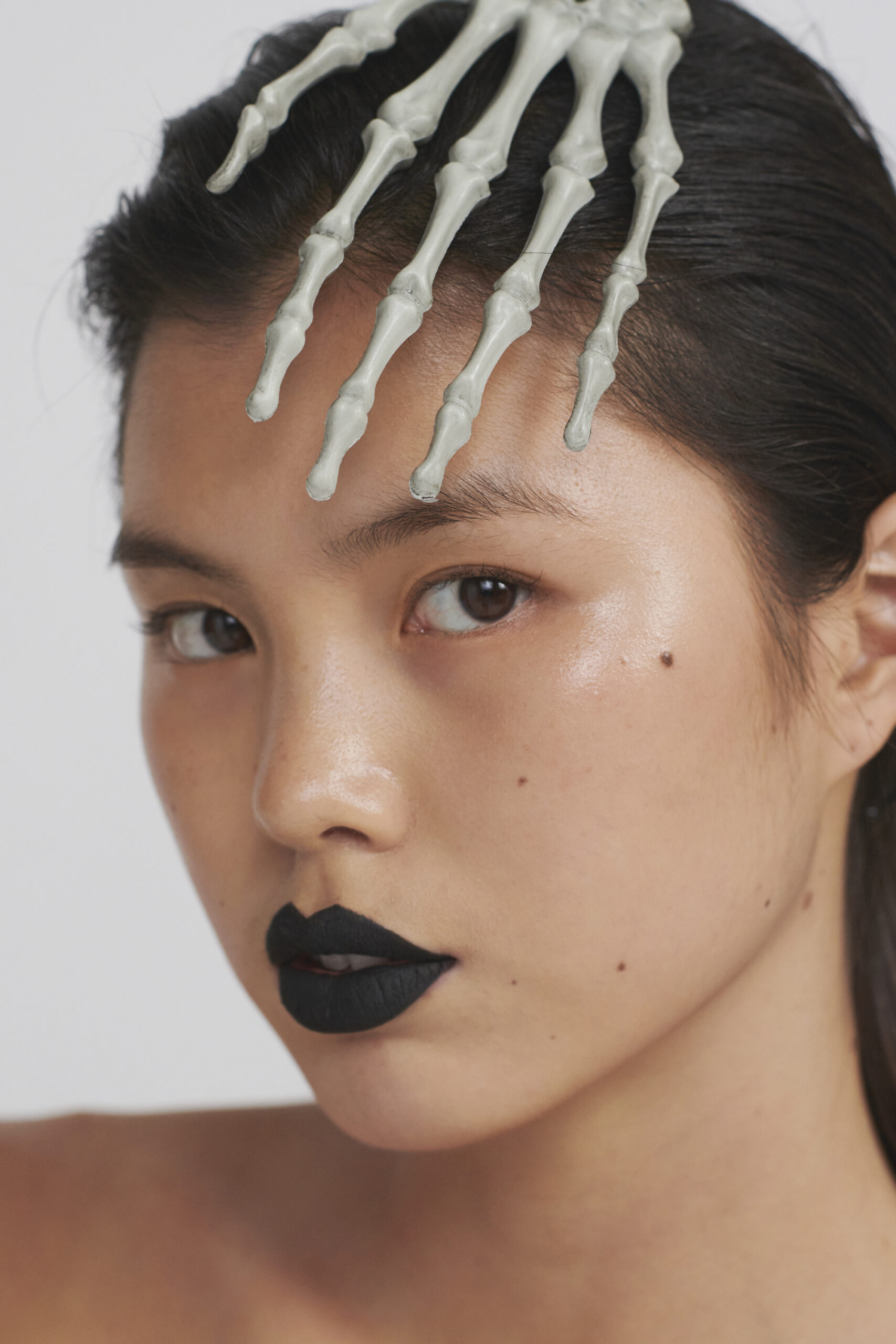 Skeleton – The Black Dress
Dust off that LBD, because it's about to come in real handy. For another easy costume idea, you can't go wrong with a classic skeleton Halloween look. Even better? All it requires is a black dress and a little imagination. Open your closet, grab your day one black bodycon and reach the nearest black eyeshadow palette. There are tutorials all over YouTube for the perfect skeleton makeup, so rely on your art skills to transform your look (for inspo, check out our post on How to Do Simple Skull Makeup).
As if we needed more of an excuse to use the '90s as our go-to style inspiration, you can always swap out the makeup and use the little black dress to become our forever muse, Posh Spice. An easy costume, Just style your black mini dress with black strappy heels, black nail varnish, and a touch of eyeliner. The perfect low effort option.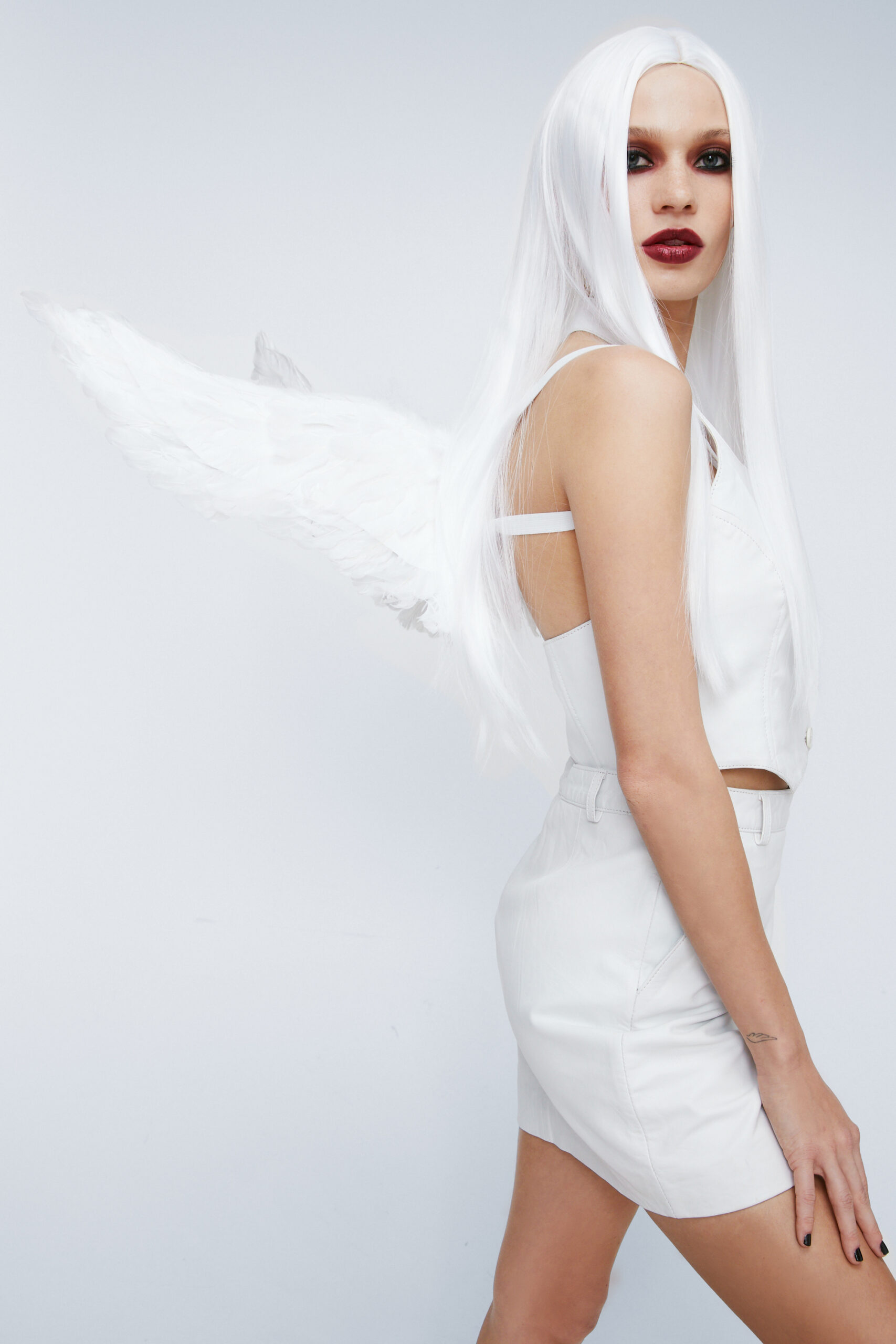 Angel – The White Dress
And for our Nasty (good) Gals, an angel costume can be the only last-minute look you need, pulled together with your closet's summer dresses. Dust off your white 4th July number and go wild on the accessories, from fantastical angel wings to a cute white feather halo. Keep the base of your makeup light and glossy and find a devil best friend to turn up with. For a fun alternative, ditch the wings and halo for a veil and garter and say 'I do' to a corpse bride look.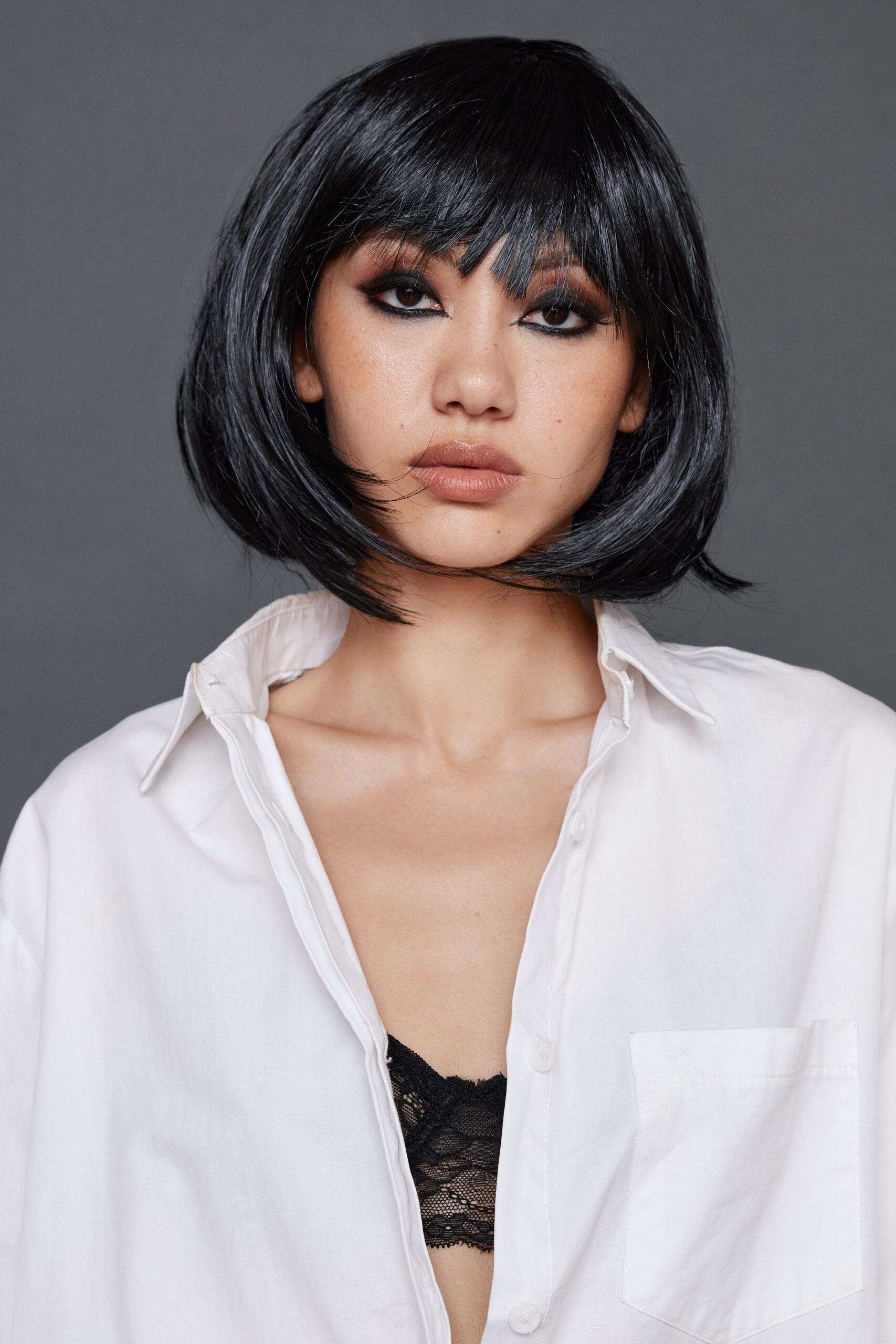 Mia Wallace – The White Shirt
If your costume party isn't solely spooky-themed, channel everyone's favorite Tarantino socialite in a Mia Wallace-inspired look. An easy costume with normal clothes, it's simple but always effective. Just grab your statement bralette, (the one you keep for special occasions), press that tailored shirt, and style with black skinny jeans. We even have the perfect wig if you're not already rocking the blunt black bob. Dab a little red lipstick underneath your nose and your homemade costume is good to go. Done and done.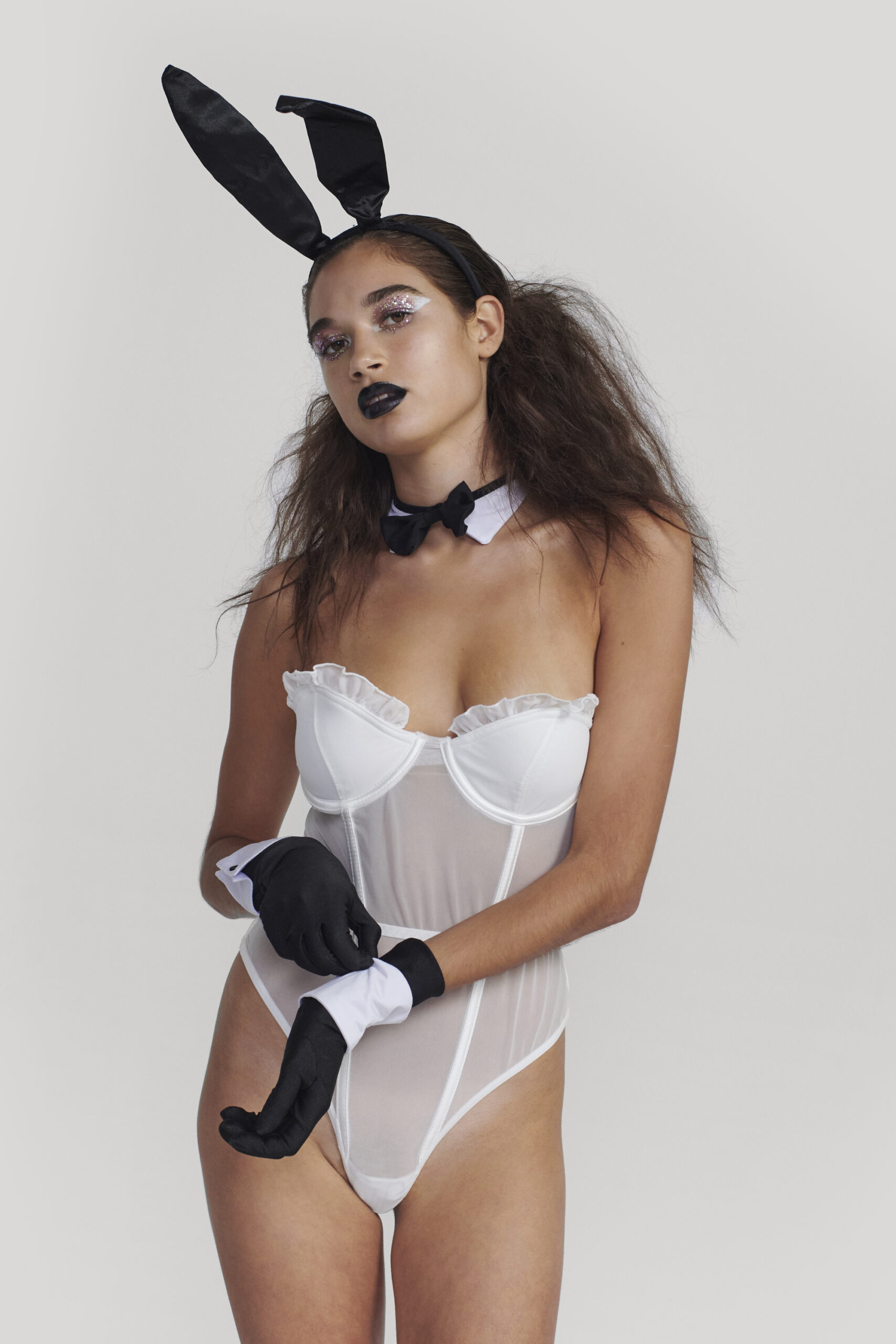 Bunny – Lingerie Bodysuit
Take your lingerie on a trip outside the bedroom… Hop over to that costume party and channel Elle Woods as a sexy, stylish bunny. And how better to do it than in a stellar lingerie bodysuit you bought when you were feeling freaky? Attract all the eyes and wear with fishnets and heels – you won't struggle finding some bunny to dance with. Or, for more conservative coverage, style your bodysuit with thick tights and throw on a boxy leather jacket. Just don't forget your bunny ears (don't worry, we have plenty…).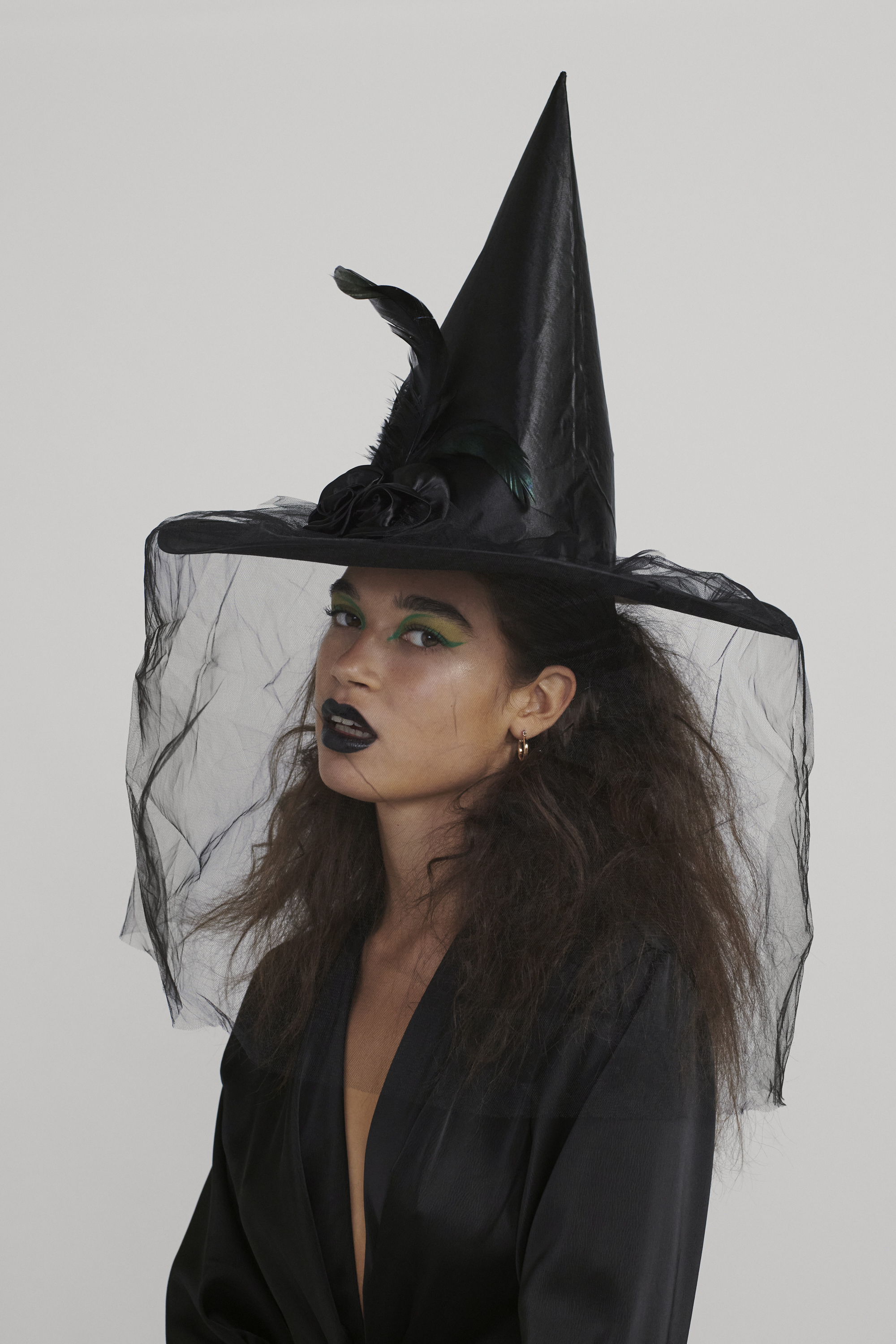 The Accessories
When you've got it, haunt it. Sometimes you don't need a full new look, you've just got to let the accessories do the talking. This is especially the case for those easy last minute costumes. From maleficent horns perfectly pair with a black dress, to a cat woman worthy cat mask, or a classic witches hat, we have accessories to turn heads all the way. There's even cute Halloween-themed hair clips for our minimalists who think less is more. Invest in timeless Halloween accessories so you can switch up the base of your look with whatever's in your closet, and always have a costume option. Shop our full range of extras in our Halloween Accessories page below.