There are sunny days on the horizon, so it's time to get your summer closet in order, and grab some updated pieces. Whether you're jetting off to tropical beaches or hitting up the local lake, your summer bikini needs to turn heads and make you feel as good as you look. But buying bikinis isn't as simple as it once was. What type of bikini do you even reach for? Which bikini type do you need for your body? Wonder no longer! We are here to break down all of the major bikini styles available to you, and show you how they can work for you.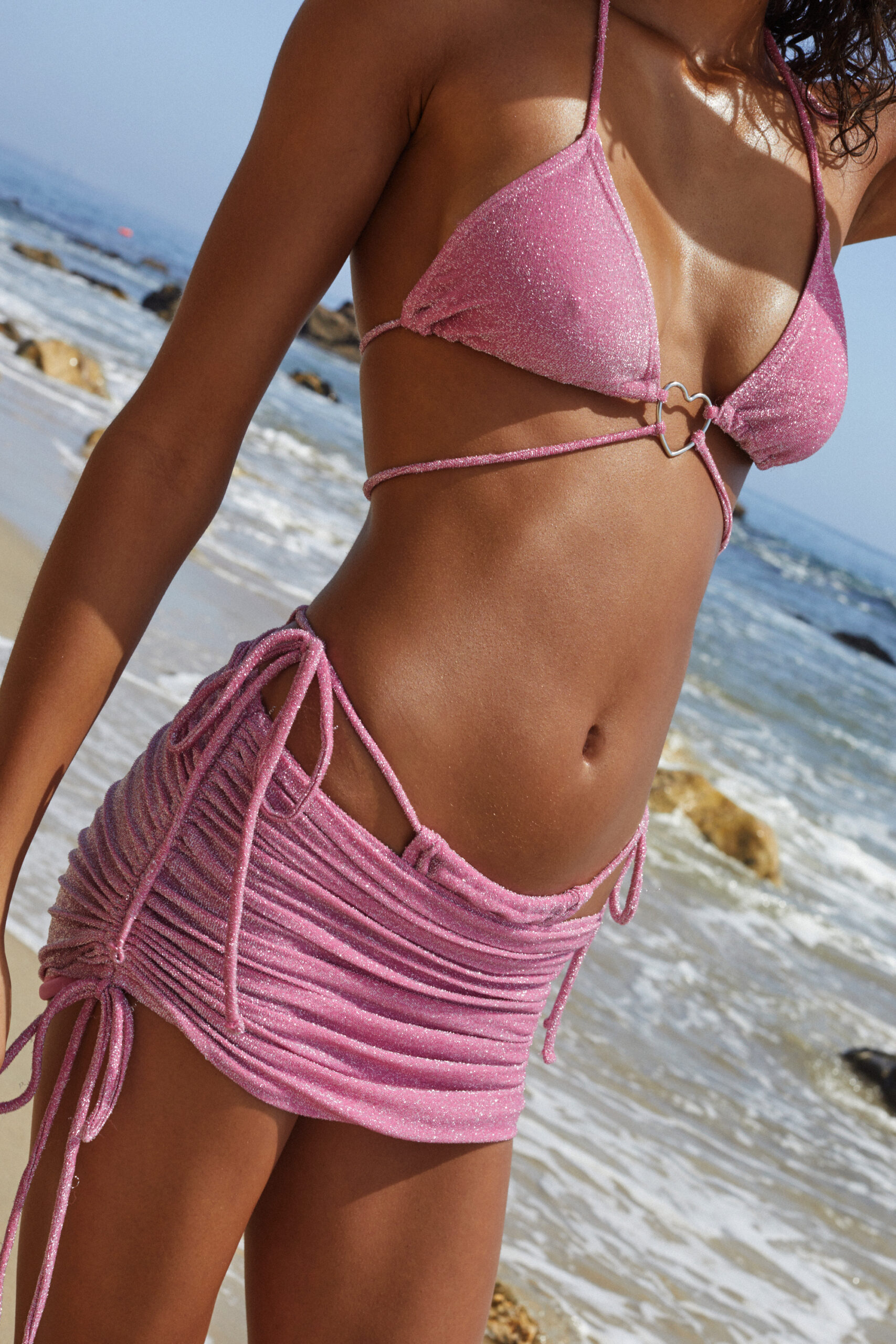 Bikini Types
We're breaking down the best bikini types:
Strappy Bikinis

Bandeau Bikinis

Underwired Bikinis

Triangle Bikinis

Crop Bikinis

High Waist Bikinis

High Leg Bikinis
No matter your body type or your style preferences, within this list there is definitely a bikini perfect for you and your plans. Going to play water sports on the lake? Underwired or high waisted bikinis are ideal for this. Lounging in the sun? Opt for a bandeau bikini for a seamless tan.
Types of Bikinis
Strappy Bikinis
True head turners, strappy bikinis are certain to draw attention whether you're catching rays or catching footballs. Their glance-catching designs don't come without their downfalls though, as the straps will leave you with intense tan lines, and the cups are often without underwired support.
Despite this, you'll never feel more iconic than when you tie your strappy bikini. When it comes to types of bikinis, these are certainly the most flashy – they scream "I'm on vacation!" They're showstoppers for a reason. Take a look at some of our faves below.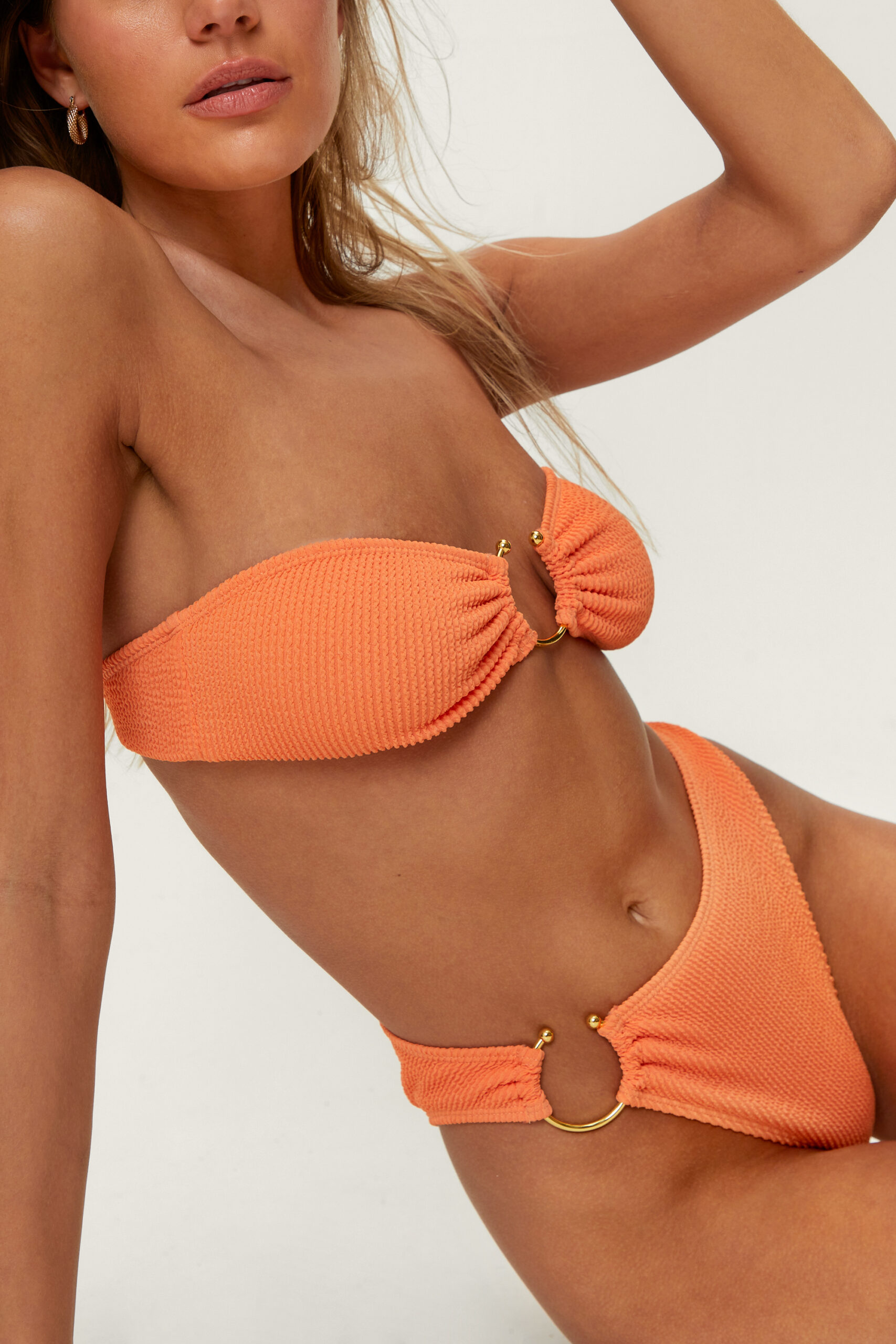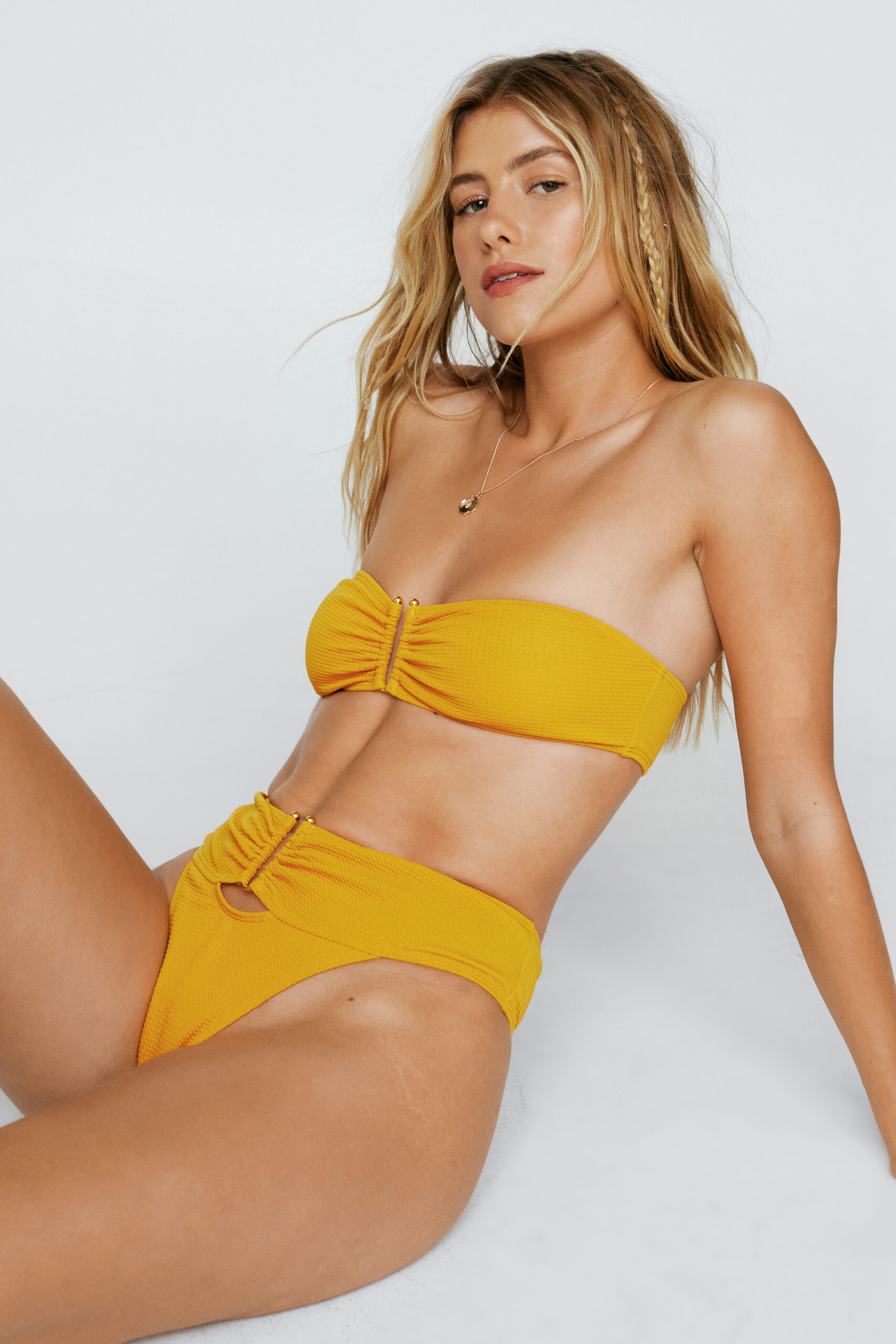 Bandeau Bikinis
Tan lines where?
Bandeau bikinis, or strapless bikinis, are ideal for lounging by the pool and catching rays all day. With no straps and super sleek designs, there's no better type of bikini to tan in than a bandeau bikini.
There is a huge range of prints available, with flirty cut out details and bottoms ranging from thong style to high leg to full coverage high waist, so this bikini style is certain to provide you with the vacation style you're looking for. It's worth noting, however, that bandeau bikinis do not offer much support in the bust, and almost always fasten in the back, so may not be ideal if you prefer an underwired design or if you aren't able to tie or clasp them closed independently.
If your vacation agenda includes tanning, lounging, and sipping cocktails in the sun, a bandeau bikini is perfect for you.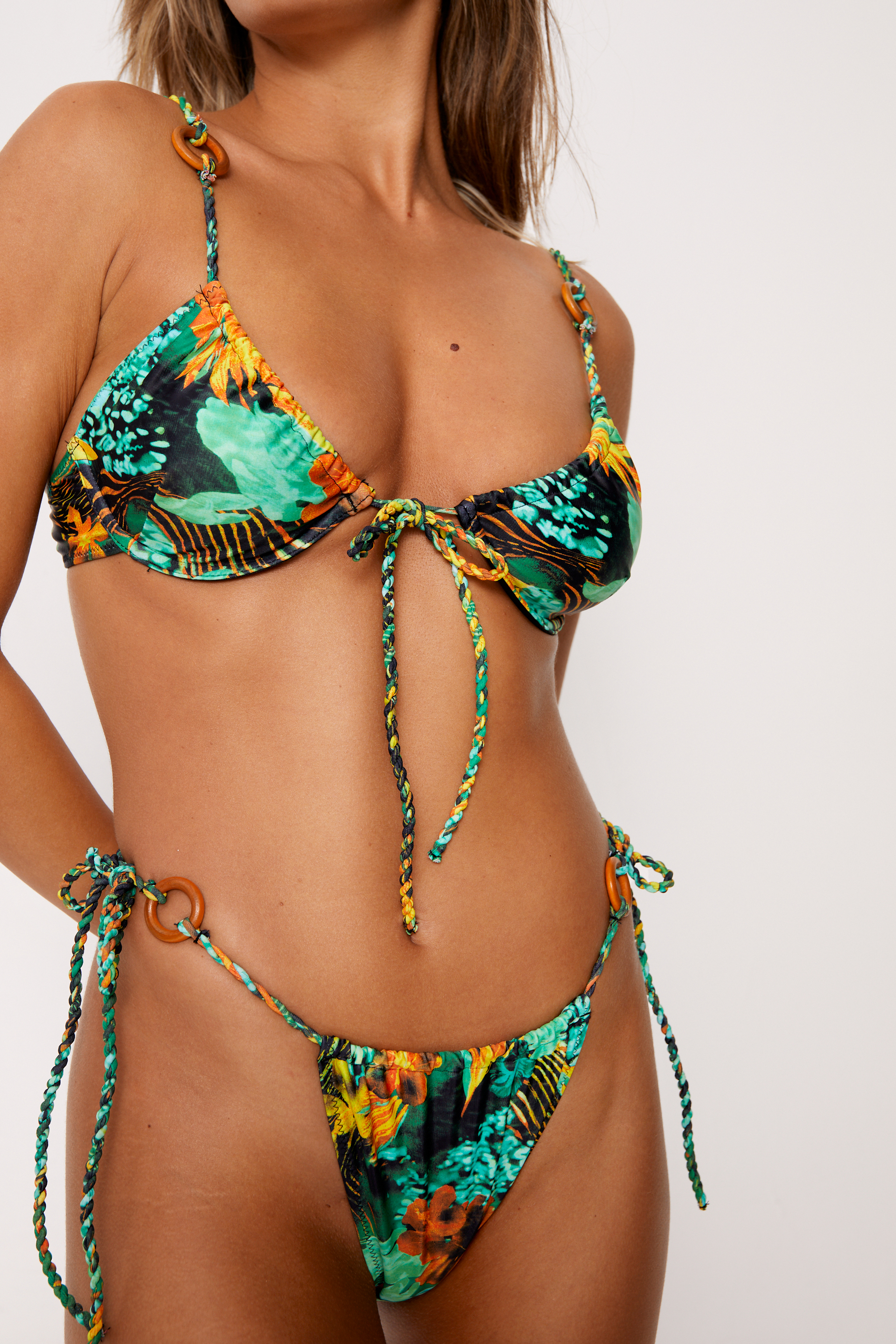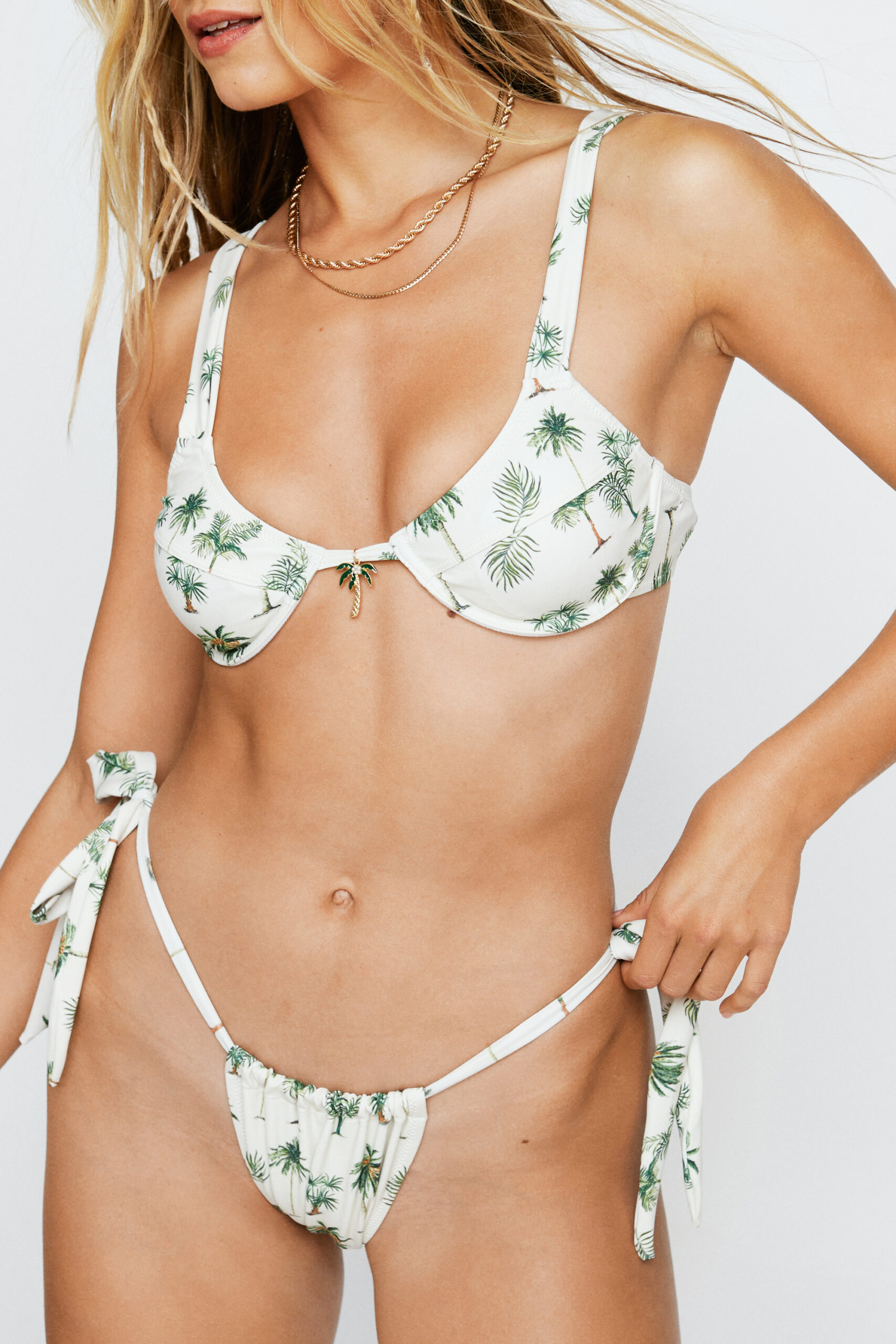 Underwired Bikinis
Prefer something a little more supportive?
Underwired bikinis are the perfect type of bikini for someone who prefers – or requires – some support in the bust department.
Whether you're playing volleyball, jumping on a jet ski, or going diving, underwired bikinis are the bikini top style you're looking for. With a supportive design and generally fuller coverage, underwired bikinis are great for someone who will be on the go this summer.
They're also great for tanning, especially as you can shrug the straps off to avoid tan lines and pull them back up to wander to the bar or dip in the pool. Ideal for water parks, beach games, or someone who just prefers to have some support, underwired bikinis could be the best type of bikini for you.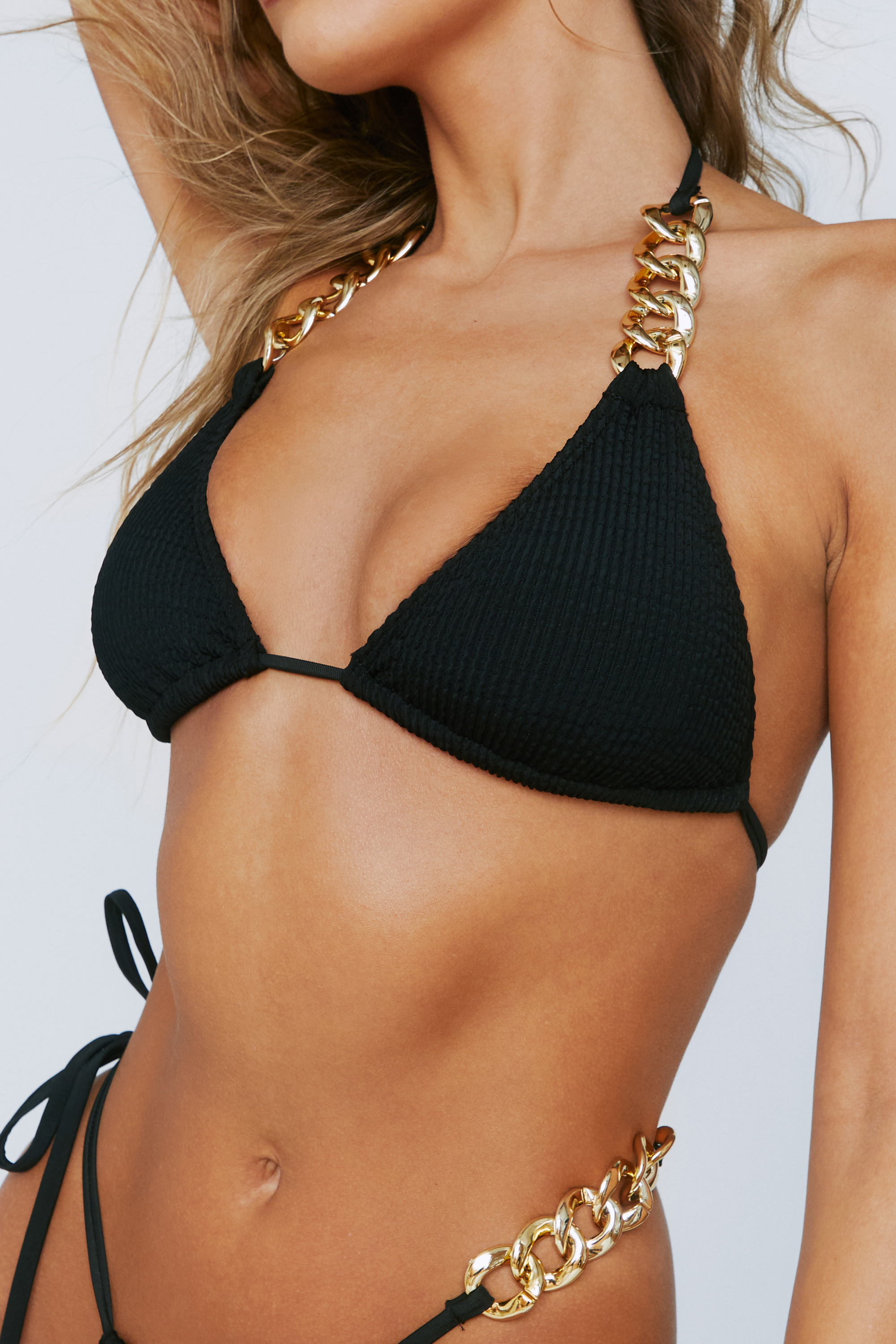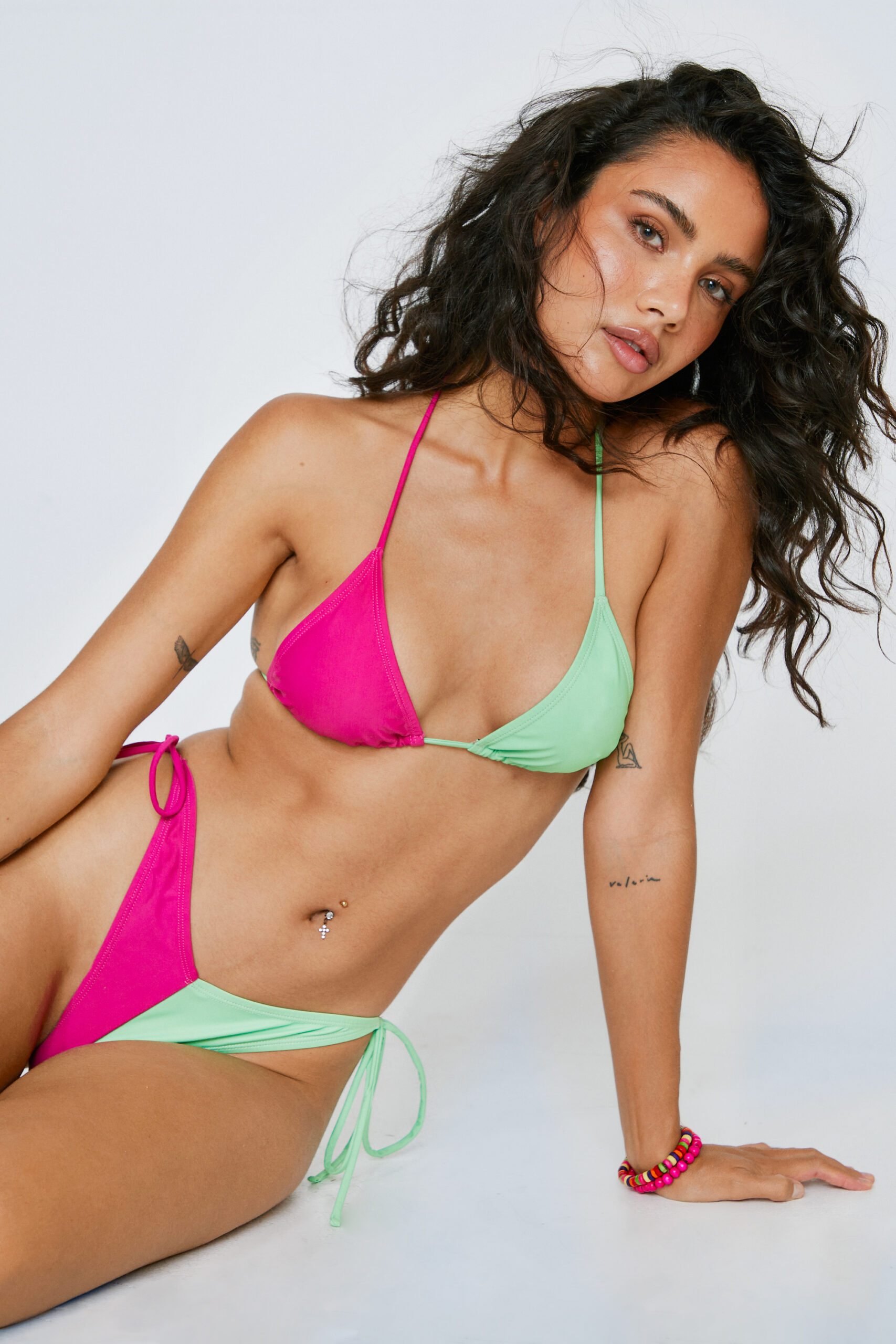 Triangle Bikinis
It's a classic.
Triangle bikinis are the most basic, stripped back style of bikini, made up of two triangle pieces connected to a thin band. They are ultra flattering in shape, but offer very little support. Triangle bikini top styles are great for tanning as the unstructured design means that the straps can be moved easily to avoid tan lines, and tied tighter for beach games and water sports.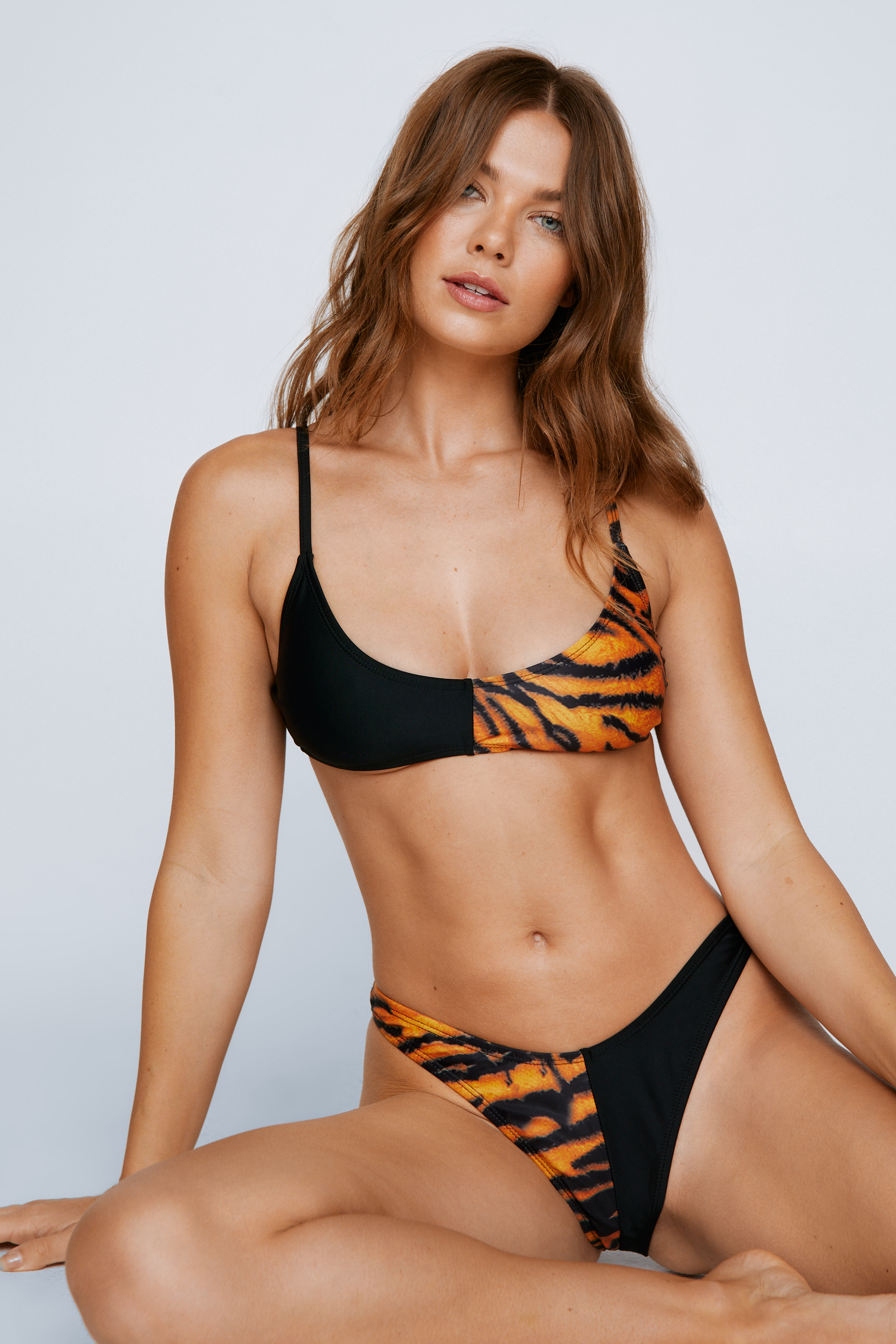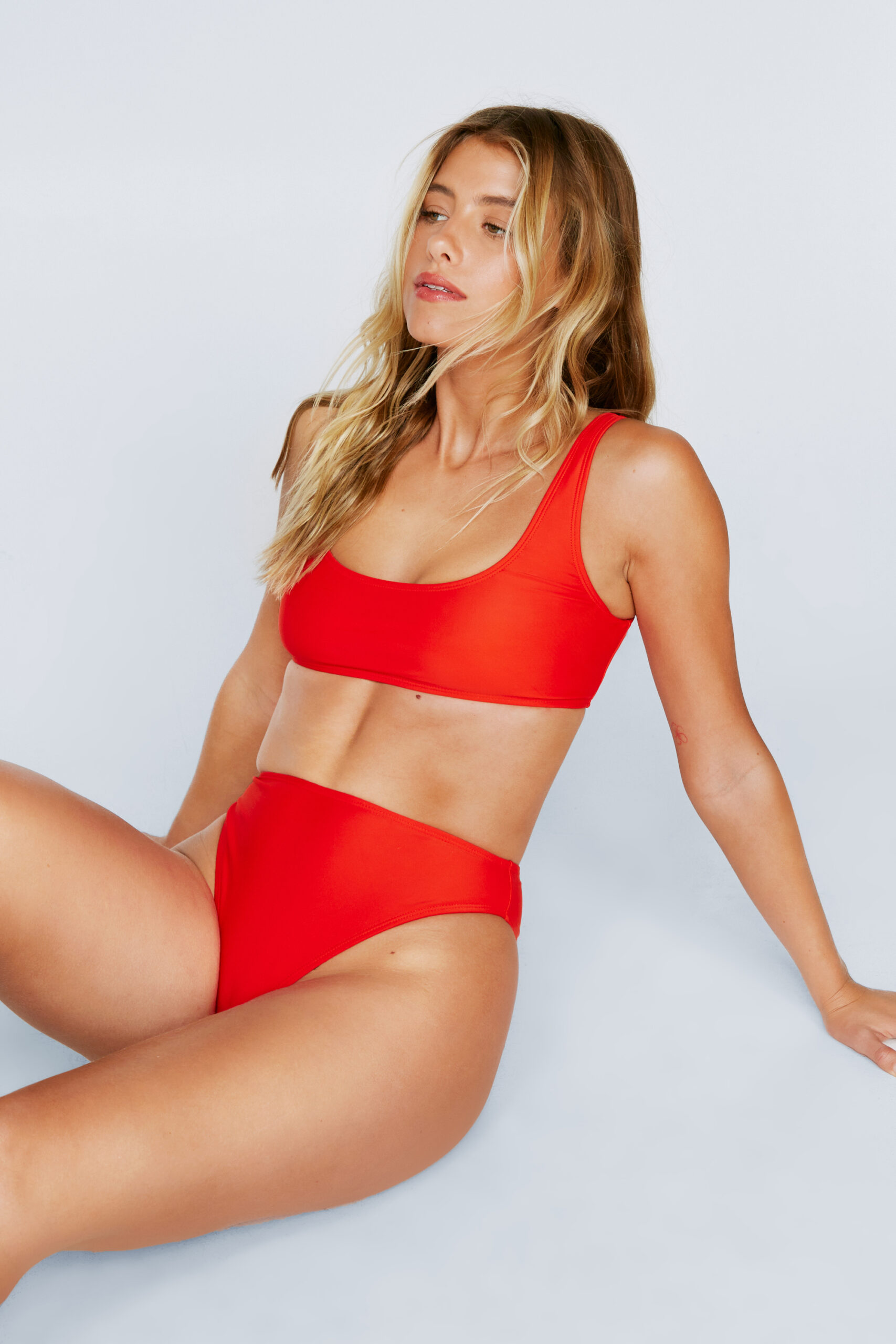 Crop Bikinis
Like a little more coverage?
Crop bikinis are the ultra comfortable, slightly more supportive bikini style that you'll fall in love with. They are often simple, pull-over designs, making them easy to get into (and out of), and creating a seamless look. They appear similar to sports bras, making a super comfortable type pf bikini top, with a little more support than a triangle bikini top, but less than an underwired one.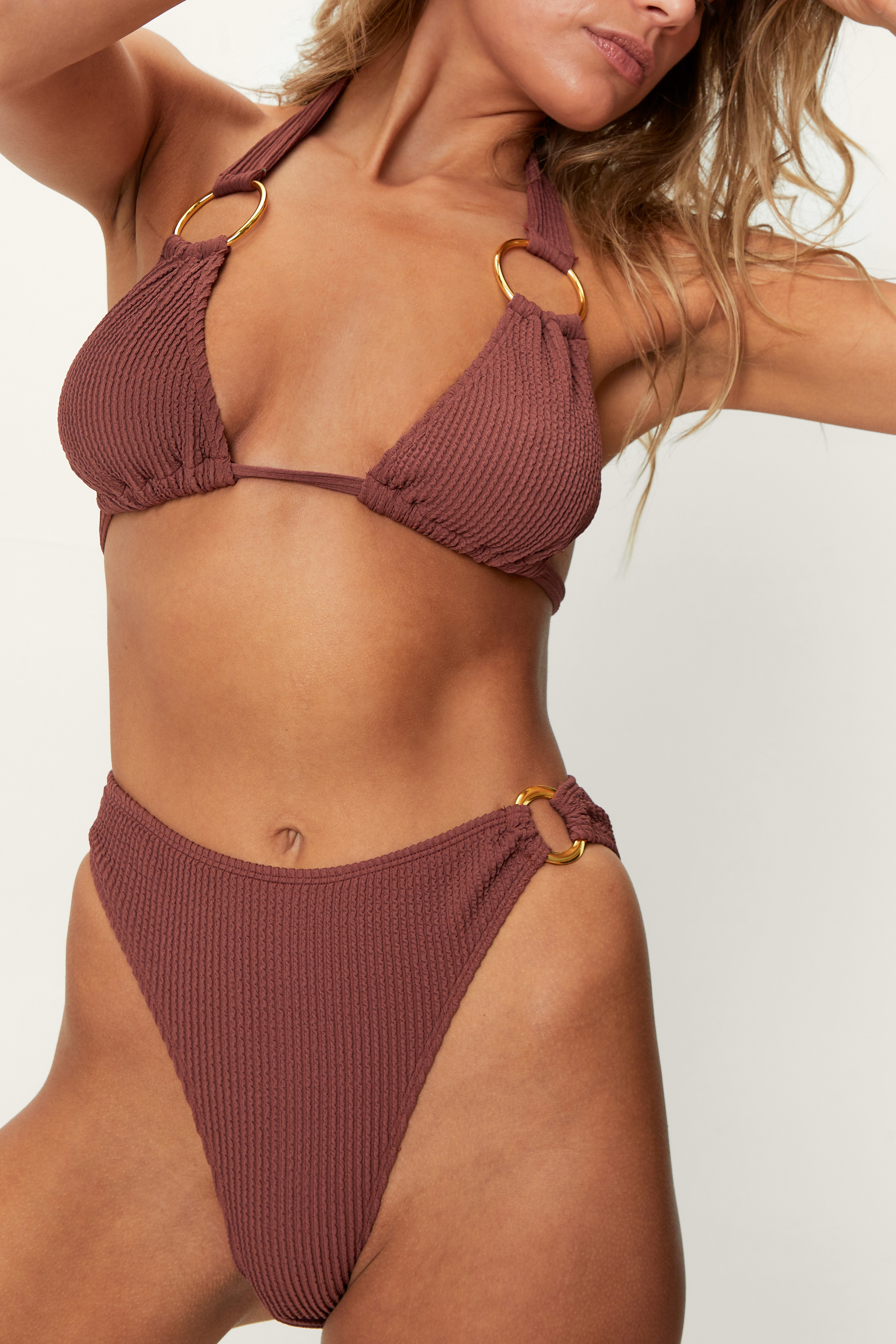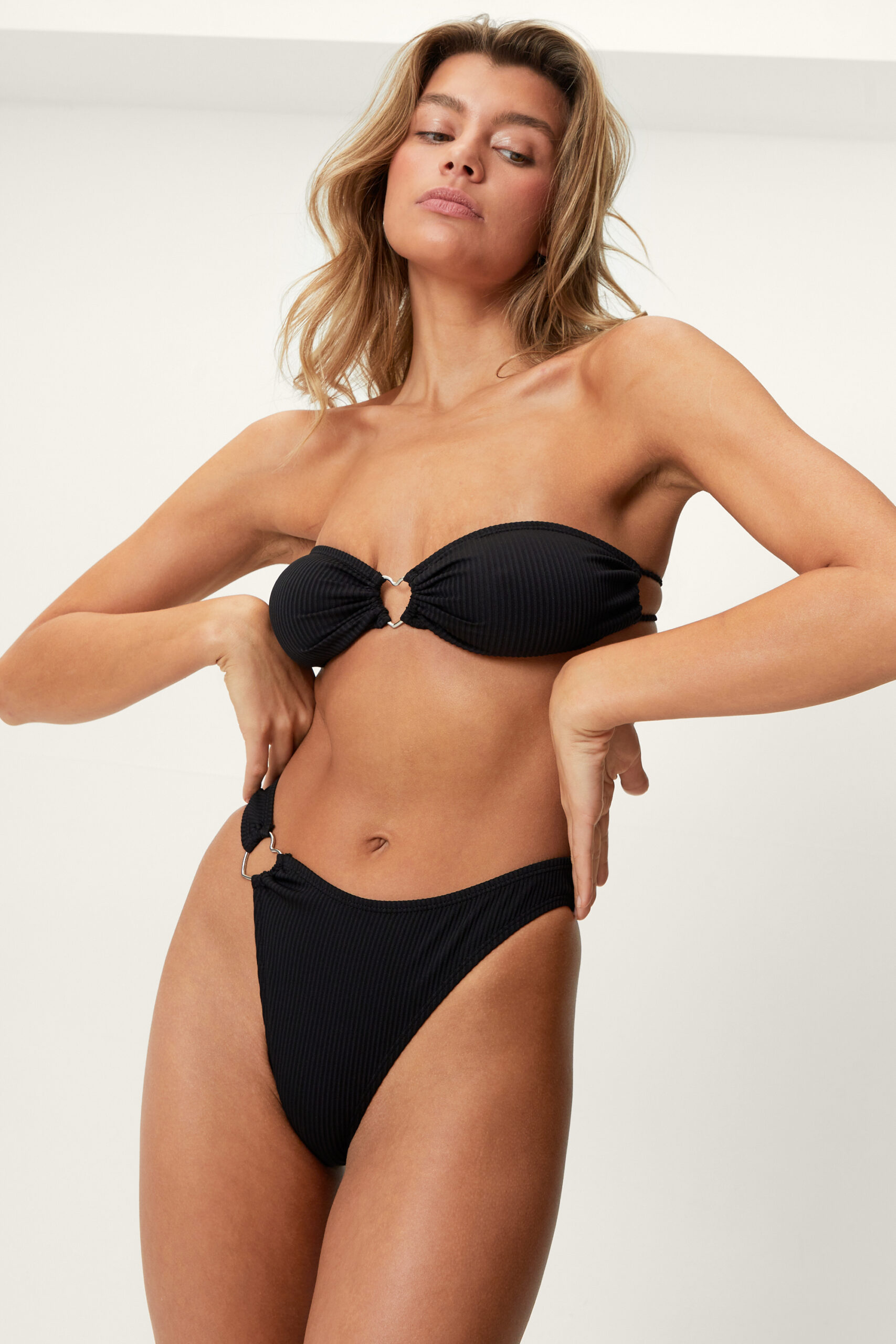 Types of Bikini Bottoms
High Leg Bikinis
Show a little leg. Okay, a LOT of leg.
High leg bikinis are the ultra sexy type of bikini bottoms that are sure to catch eyes at the poolside.
The high cut elongates the leg, and usually flaunts a little cheek at the same time. They create a stellar silhouette while leaving you feeling as flirty as you look.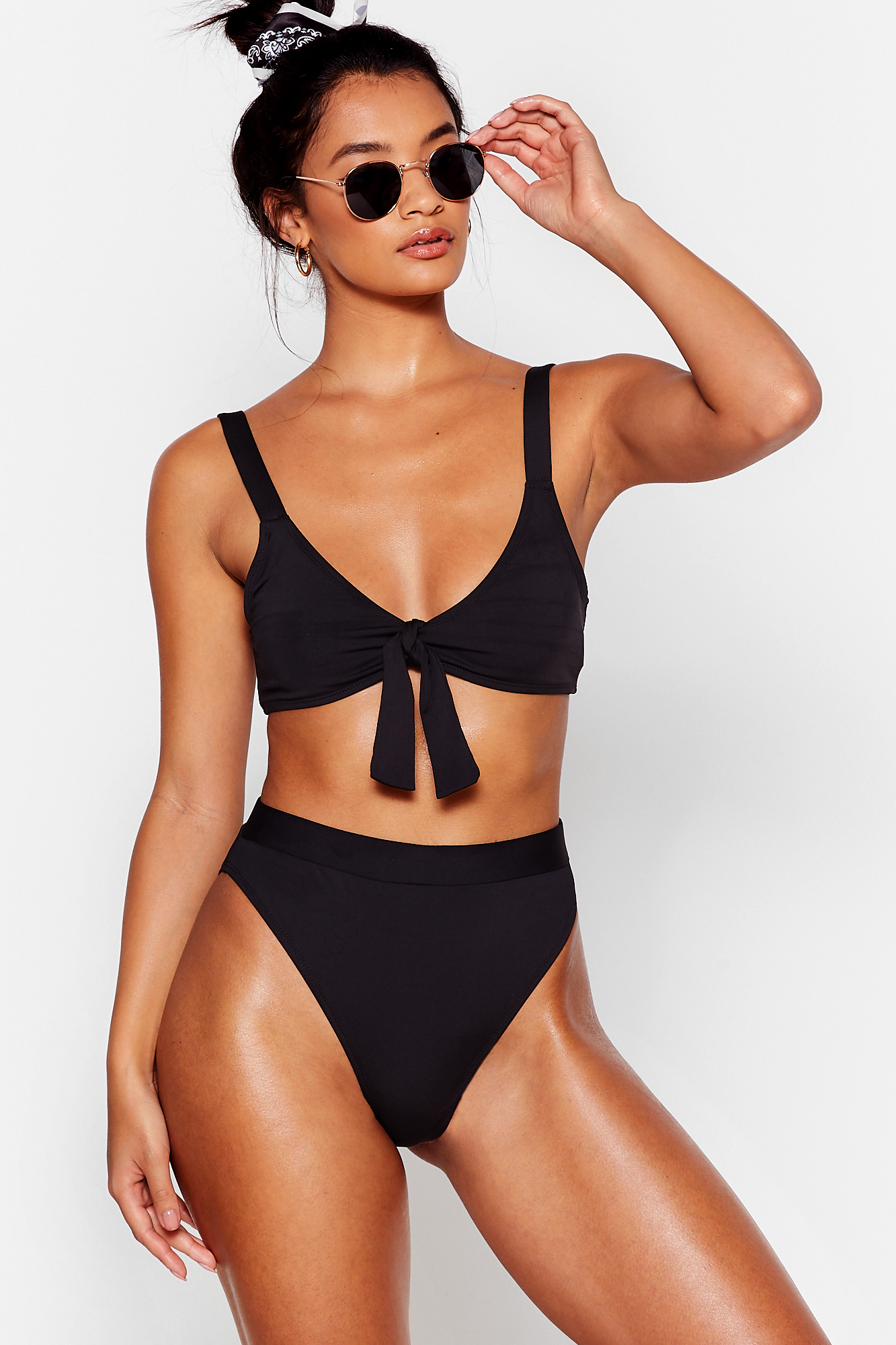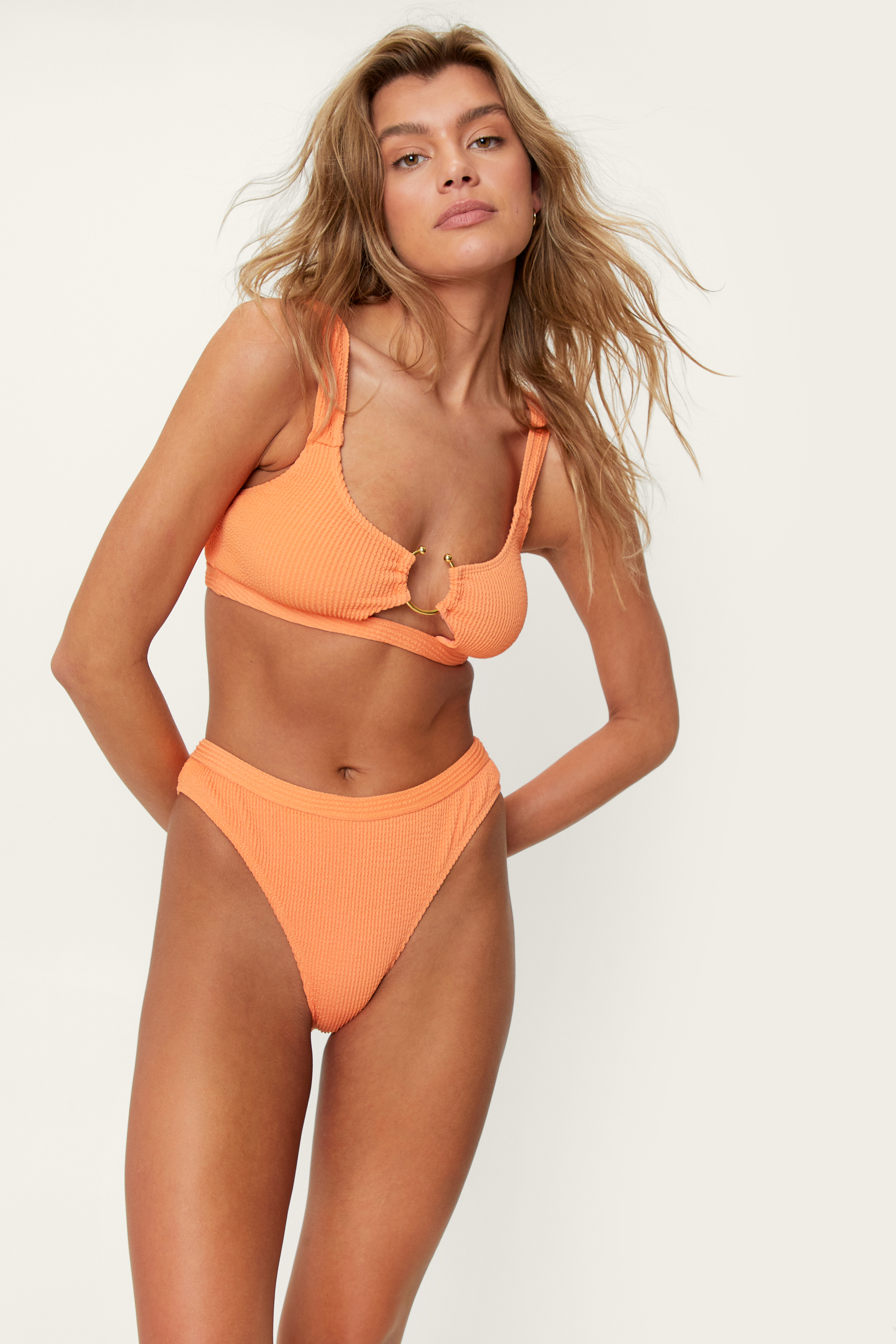 High Waist Bikinis
Stellar sunny day looks.
High waisted bikinis are the most flattering type of bikini bottoms, due to them covering the lower stomach and creating a high leg look. If you want a little more coverage for looks that will keep you covered during pool parties and beach games, we've got you.
Whether you're headed to the beach, the lake, or the pool, browse our stellar range of swimwear for show stopping looks that will leave you feeling as good as you look.