With TV shows such as RuPaul's Drag Race and Dragula bringing the art of drag to the mainstream, the US is a melting pot of drag and LGBTQ+ events, with people throughout the country soaking in the glory of drag brunches. From Atlanta to New York and Maryland to Florida, no country does a drag brunch quite like the US of A. But which US states reign supreme in the drag brunch industry? We're gonna find out.
Ranking each event based on the number of 4 and 5* reviews, bottomless booze on offer, price and length of the event, we've put together the ultimate guide to drag brunches in America.
The Best US States for a Drag Brunch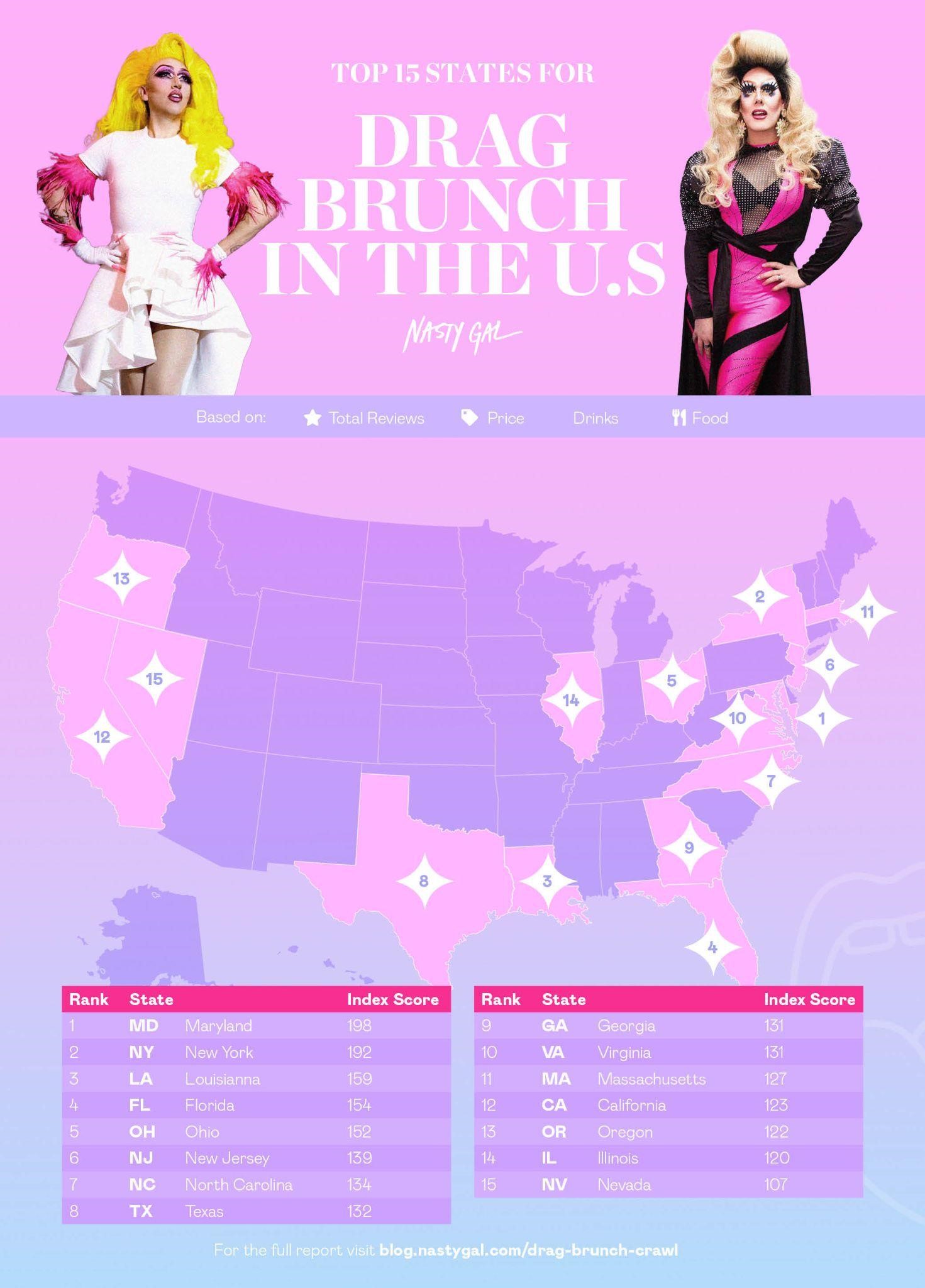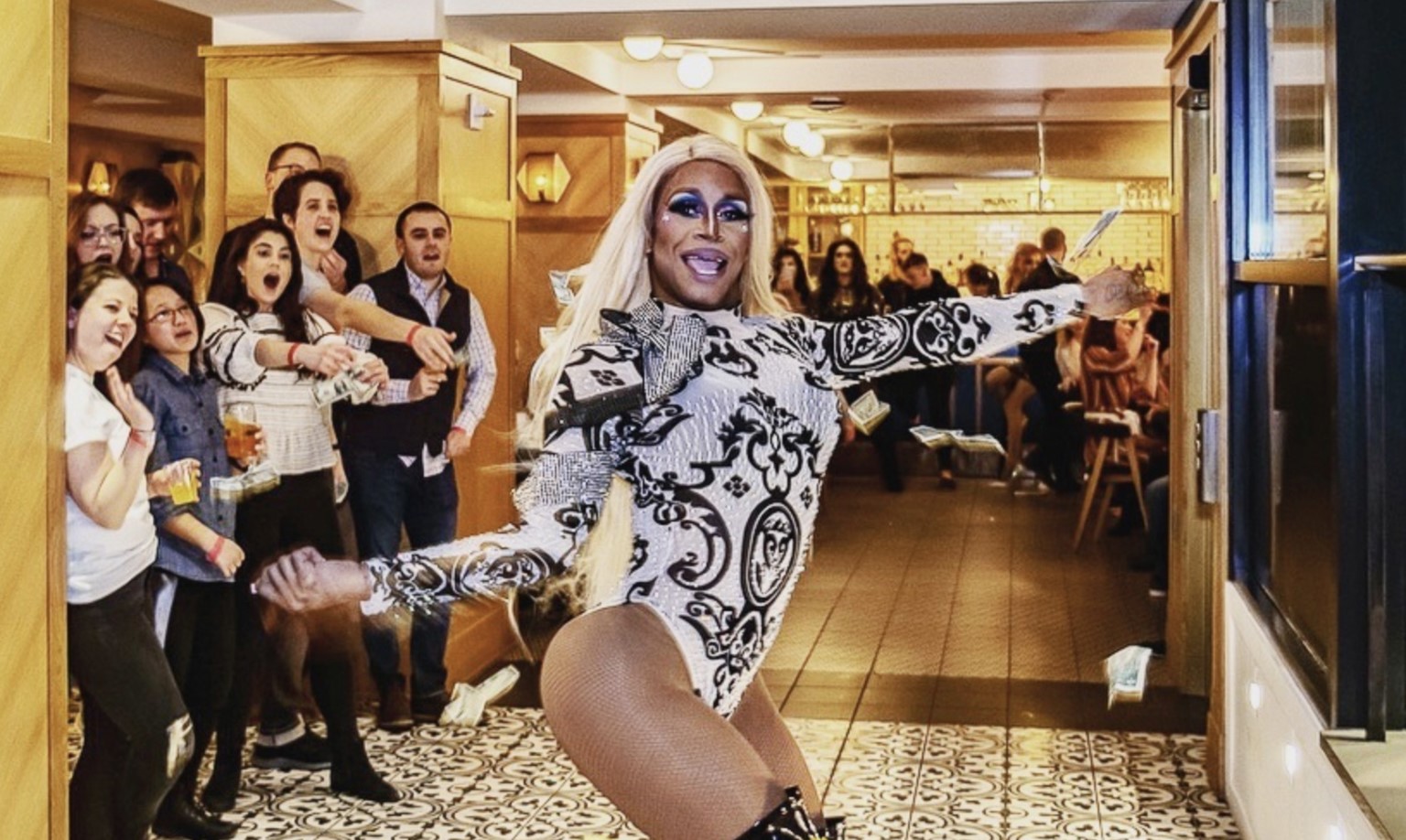 1. Maryland: You've Been Crowned
Our study found that of all 50 states, Maryland has the best drag brunch scene in the country. Home to the iconic SADBrunch and DIVA Royale Drag Queen show, Maryland's 'of Love & Regret's Drag Brunch' came out top! A true feast for the senses, the brunch is hosted by drag superstar Pariah Sinclair and offers bottomless mimosas and cocktails. The perfect way to quench a thirst after truly gag-worthy performances.
At only $26 for four and a half hours of live entertainment, it's no surprise that drag fans from across the country head to the monthly brunch for food, fun and a double dose of drag fun.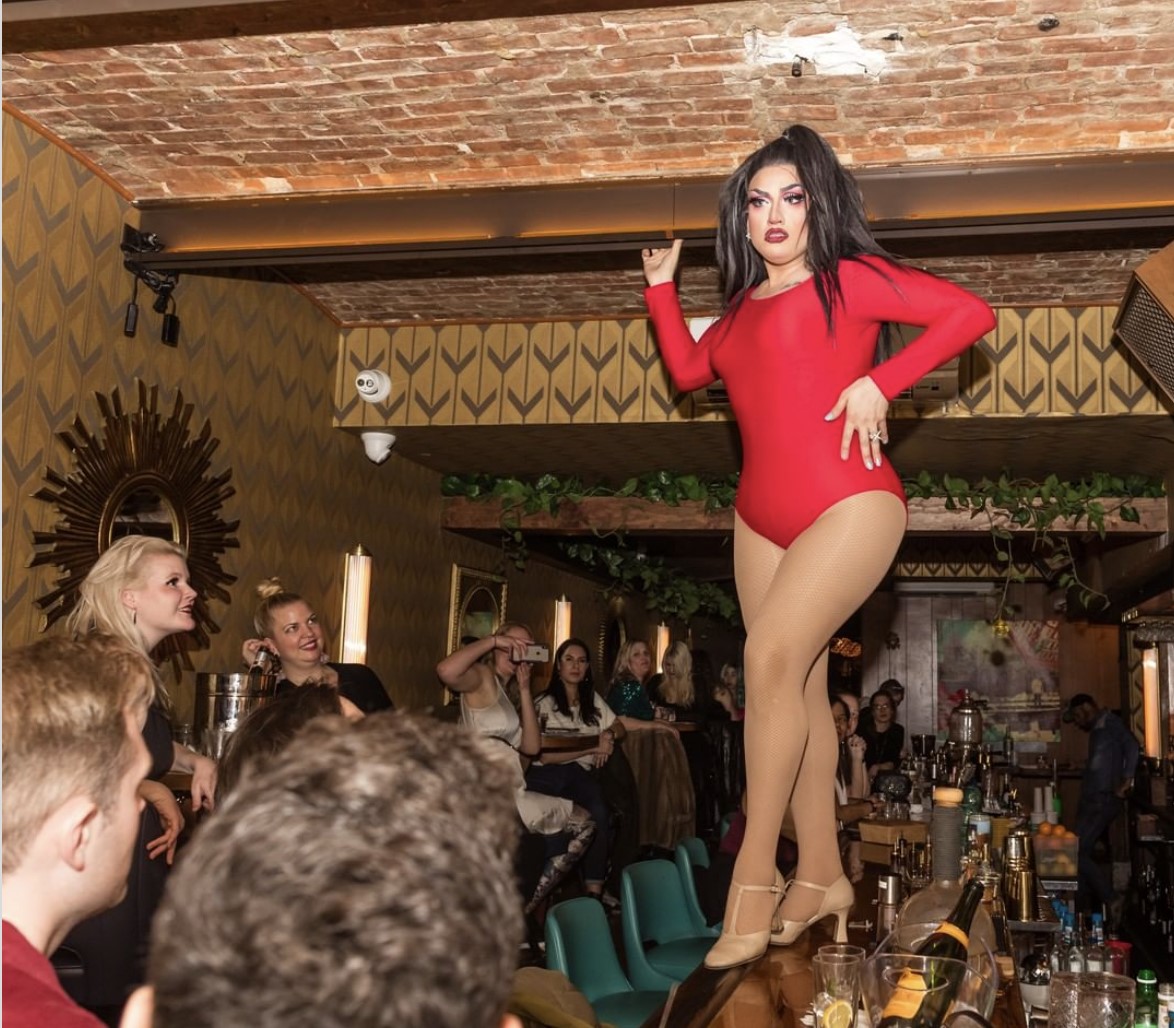 2. New York, a New Era of Drag Dominance
Home to some of the world's most famous drag queens, our study revealed that New York has the second-best drag brunch scene in the US. Drag Race winners Aquaria, Bob the Drag Queen, and Monét X Change are just a few of the high-profile queens who hail from the Big Apple.
New York's drag brunch offering includes Lunella's ​​Countess & Friends Drag Brunch, Bushwick's Dream Queens and the renowned Troy Beer Garden Drag Brunch.
Troy's brunch offers a range of packages, with its $85 table package including an open bar (offering wine, beer and mimosas) and a great brunch menu from the 5* Nicole's Catering. With regular performances from local queens, it's hosted by Drag Race alum Nicky Doll.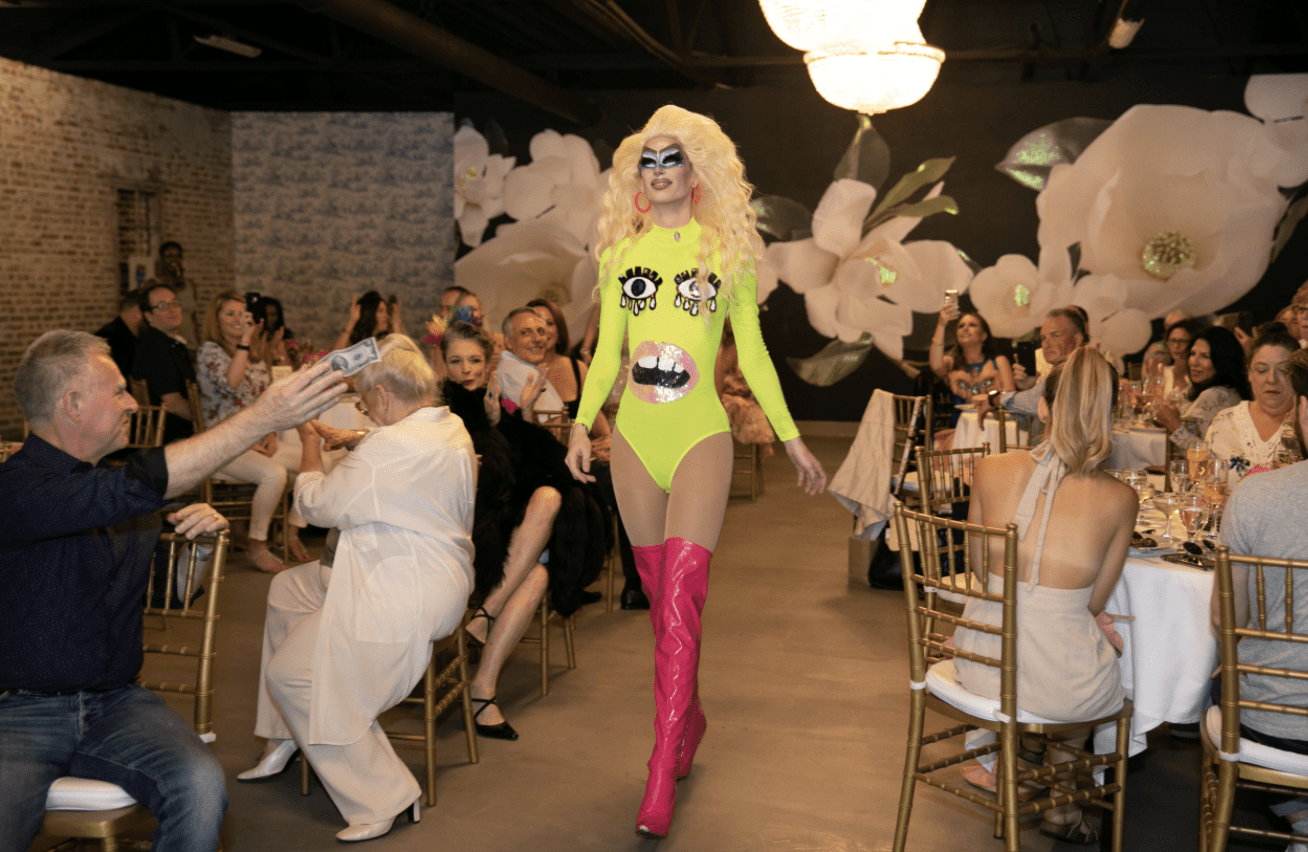 3. Louisiana: the Land of the Lip Sync
Known for its vibrant cultural offerings, love for jazz and Mardi Gras, Louisiana is fast becoming one of America's drag brunch hot spots. Coming in at third in our study, The Pelican State is the birthplace of Drag Race royalty, including the late, great Chi Chi DeVayne and season six winner Bianca Del Rio.
Louisiana's show-stopping drag scene includes Poppy's Pop-Up Drag Queen Brunch and Nolé's All Aboard the Love Boat Drag Brunch event. With the Decadent Drag Brunch Bingo at the New Orleans Ladies Ballroom being the second-best drag brunch in the country, according to the study. Bottomless cocktails, an array of drag performances and some good old kinky bingo. That's what we call a full house!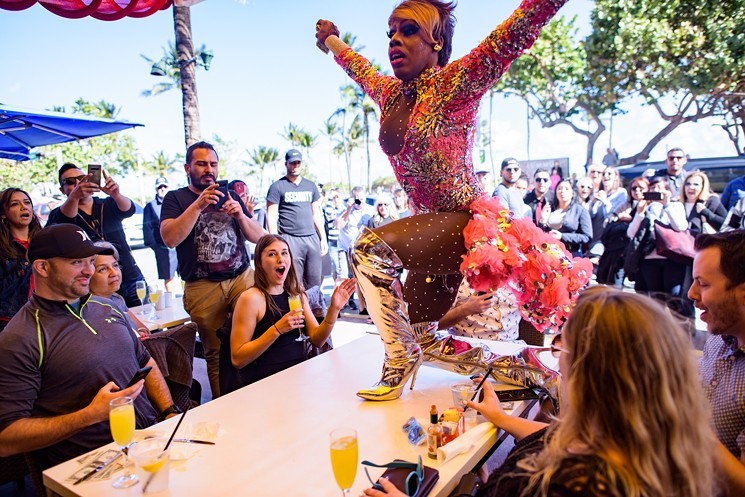 4. Florida has a Fierce Drag Brunch Scene
With some of Drag Race's biggest icons (Ginger Minj, Trinity K. Bonet and All-Stars season four winner Trinity The Tuck) hailing from the Sunshine State, it's no wonder that Florida is a haven for drag brunch enthusiasts.
The R House Drag Brunch,  Holy Mackerel's Boozy Babes Drag Brunch and Apollo's Bistro's Drag Brunch are all shining examples of drag event excellence. With our study placing them all within the Top 20 drag brunches in the country!
With a total index score of 154, Florida has the fourth-best drag brunch scene in America.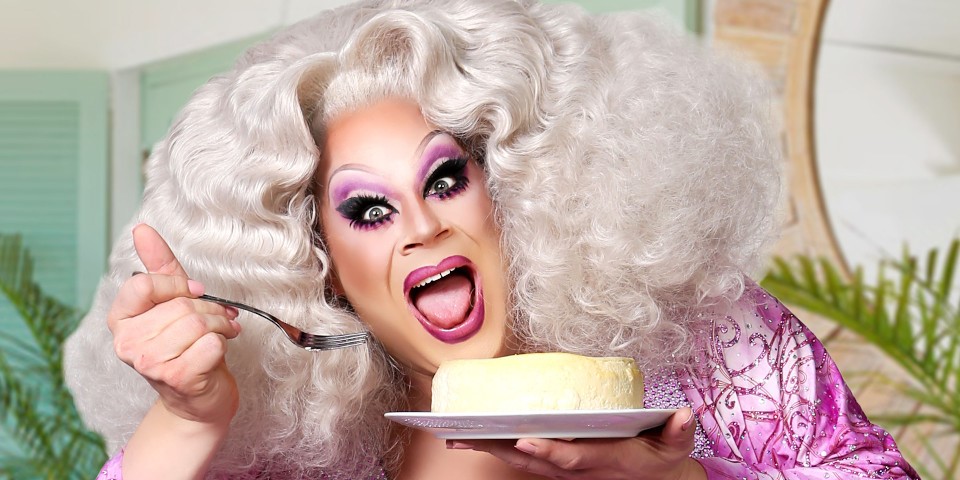 5. O-kurrrrrrr, Ohio is a drag delight
Our study found that the state of Ohio has some outstanding drag brunches on offer. From the Bock Family Brewing Drag Brunch in Canterville to Dayton's Brightside Drag Brunch, the Midwestern state has a variety of experiences catering to each taste.
Have a soft spot for camp comedy queens? Miss Congeniality Nina West is a regular face on Ohio's drag brunch circuit. Love alternative drag? Look no further than Below Zero Lounge's Tim Burton's Drag Brunch, a splendid display of fabulously freaky drag.
Coming in at fifth in our study of the best US states for drag brunch, Ohio's drag scene will have you saying "okuuuuuuuuur" at every turn.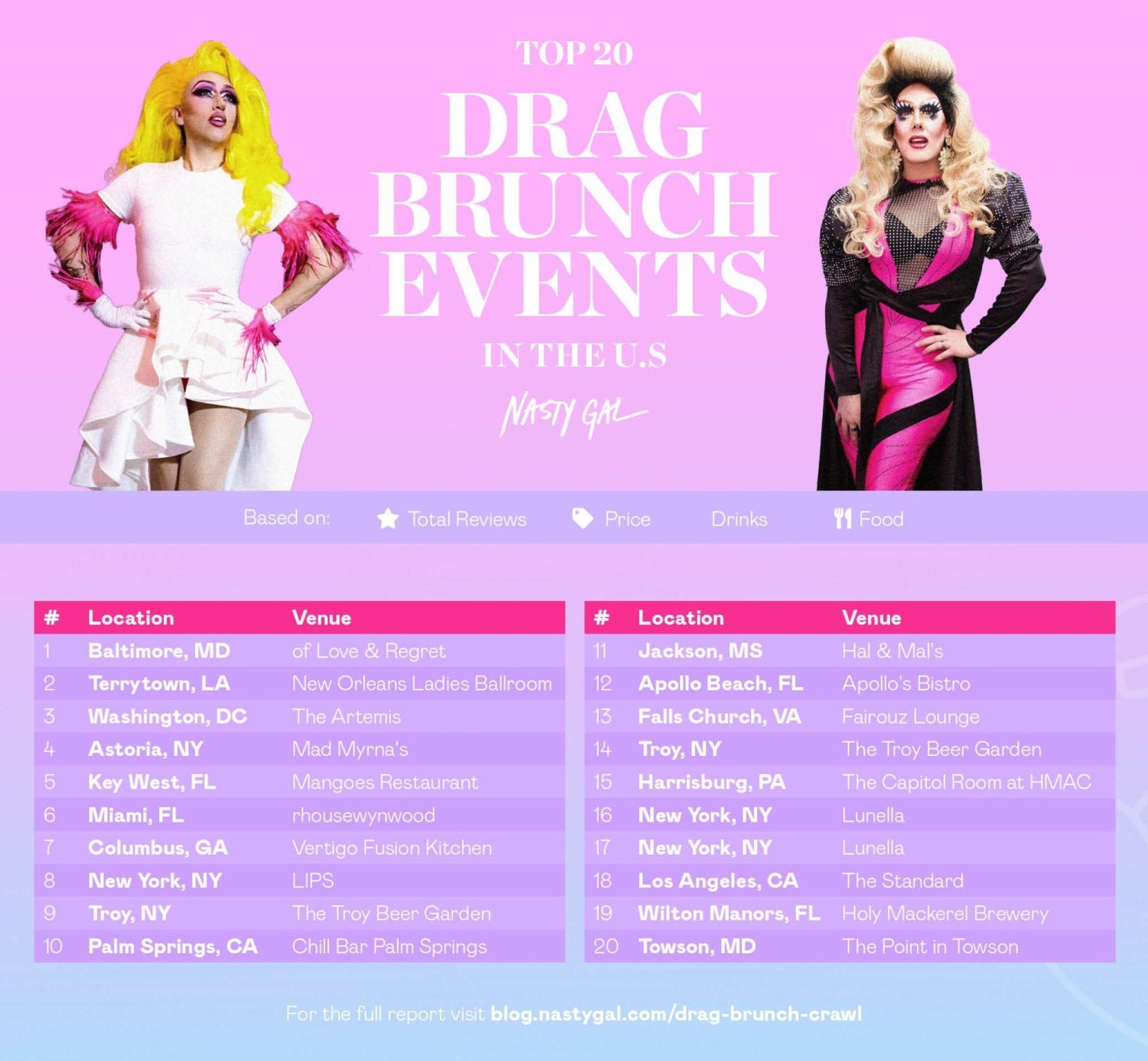 The Best Drag Brunches in the US
#1 of Love & Regret's Drag Brunch
Venue: of Love & Regret
Location: Baltimore, Maryland
#2 Decadent Drag Brunch Bingo for The Krewe of Narcissus
Venue: New Orleans Ladies Ballroom, Inc.
Location: Terrytown, Louisiana
#3 A Synful Drag Brunch
Venue: The Artemis
Location: Washington DC
#4 Mad Myrna's Drag Brunch
Venue: Mad Myrna's
Location: Astoria, New York City
#5 Drunken Drag Brunch
Venue: Mangoes Restaurant
Location: Key West, Florida
#6 R House Drag Brunch
Venue: R House Wynwood
Location: Miami, Florida
#7 Queens & Cocktails Drag Show + Brunch
Venue: Vertigo Fusion Kitchen
Location: Columbus, Georgia
#8  Broadway Drag Brunch
Venue: LIPS
Location: New York City
#9  Troy Beer Garden Drag Brunch
Venue: The Troy Beer Garden
Location: Troy, New York
#10  A MAY Zing Sundays
Venue: Chill Bar Palm Springs
Location: Palm Springs, California
Ready to hit the town? Make yourself look as fabulous as you feel after 90 minutes of bottomless mimosas with our sickening range of drag brunch ready dresses.
Methodology
Using design my night and google events, we pulled data on drag brunches across US states. We used metrics to rank where the best branches are, including price and reviews. Where the reviews couldn't be found for the event alone we used the venue's reviews as a representation for the ranking.