In early August, we released a collection of statement graphics tees and playful bucket hats by FVCK CANCER, an incredible brand offering unique pieces for cancer warriors. For every item sold, 100% of the profits will go to their platform as well as the two charities they support. (There are still a few pieces left, fyi!)
A big aim of the campaign was to encourage conversations around cancer by asking others to open up about their stories. So far we've had an amazing response from you all. We've shared a couple of inspirational stories below.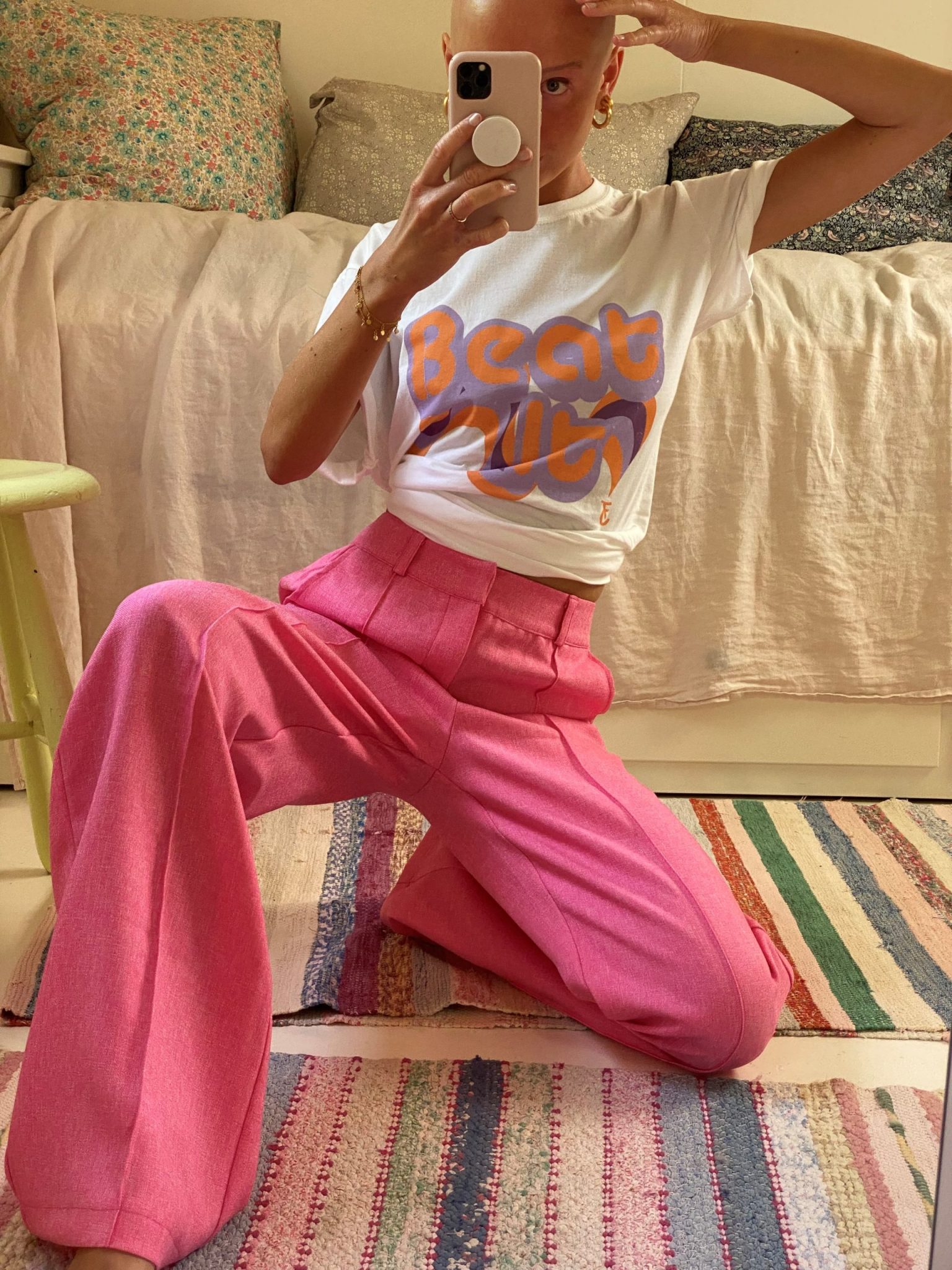 My journey with ovarian cancer has always been a public one. I knew that documenting my progress would be reassuring for my loved ones who weren't sure if it was the right time to reach out. While oversharing has made it a bit less awkward for people to ask me how I'm doing, inviting the world into a very personal and difficult process is not for everyone.
I've found that when you're so open about what you're going through, sometimes people around you don't know what to say or do. It can be shocking for them to see you bald. It can be frustrating for them to figure out how to help you. It's important that you remain authentic to yourself. Tell your story the way YOU want to. Wear your struggle on the outside, or keep it personal. There is no wrong way, and anyone who tells you otherwise doesn't have their priorities straight. If you're going to share a struggle, don't sugarcoat it. If you're going to share advice, don't copy it from somewhere else. What would YOU say to someone if they asked you what they could do to help? I'll tell you what I would say….
Don't compare, just listen. We all have problems, but try starting with, "I'm really proud of you."
Quality over quantity. A simple note or call that you're thinking of the person is great. Trust me, we have enough coloring books.
It's not suddenly over. Just because treatment is done doesn't mean we're in the clear. Many people complete treatment and do not enter remission. Please don't tell us we're "cured."
Find humor in it all. The best medicine is sometimes just laughing about how ironic life can be. Yes, this happened. Yes, it's really unfortunate, but here we are. Make room for laughter and leave space for a good cry too.
Bottomline, your story is only authentic if you tell it your way. The beauty of the human connection is finding a common bond where you didn't think you could and the only way to do that is to bring your unique perspective into the conversation.
YOU will beat this, in your own way, in your own time.