The fourth leg: Seoul. Led by stylist and influencer Cheri Yun. In this exclusive Q&A, Cheri spills the deets on her influences for our fourth collection—a mix of structured silhouettes and punk undercurrents across a color wheel of rainbow brights, inspired by Seoul's fresh and eclectic style, and the creative energy that embodies the city. She also dishes her advice on what to do in Seoul, if you're lucky enough to find yourself there. Let's dive in.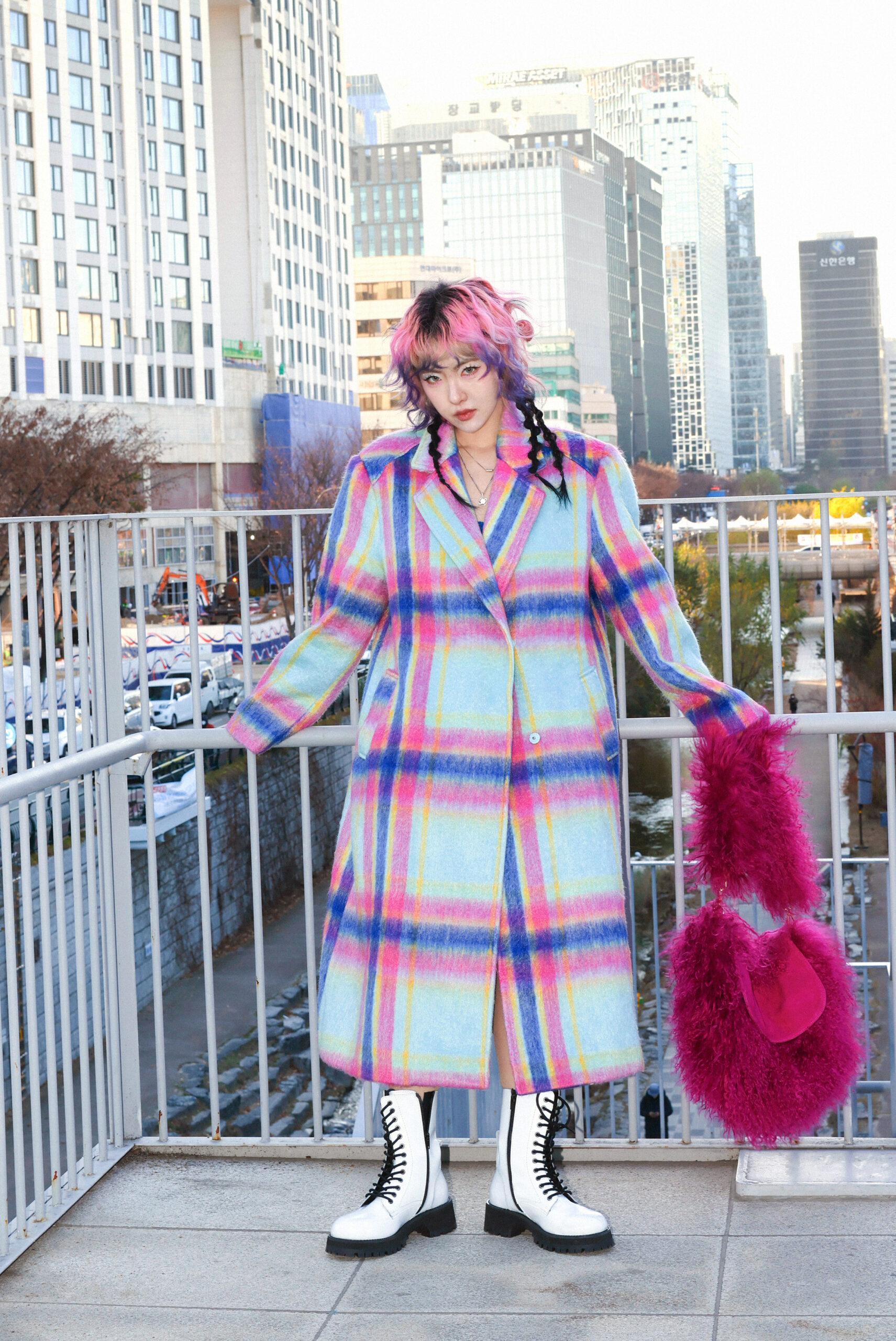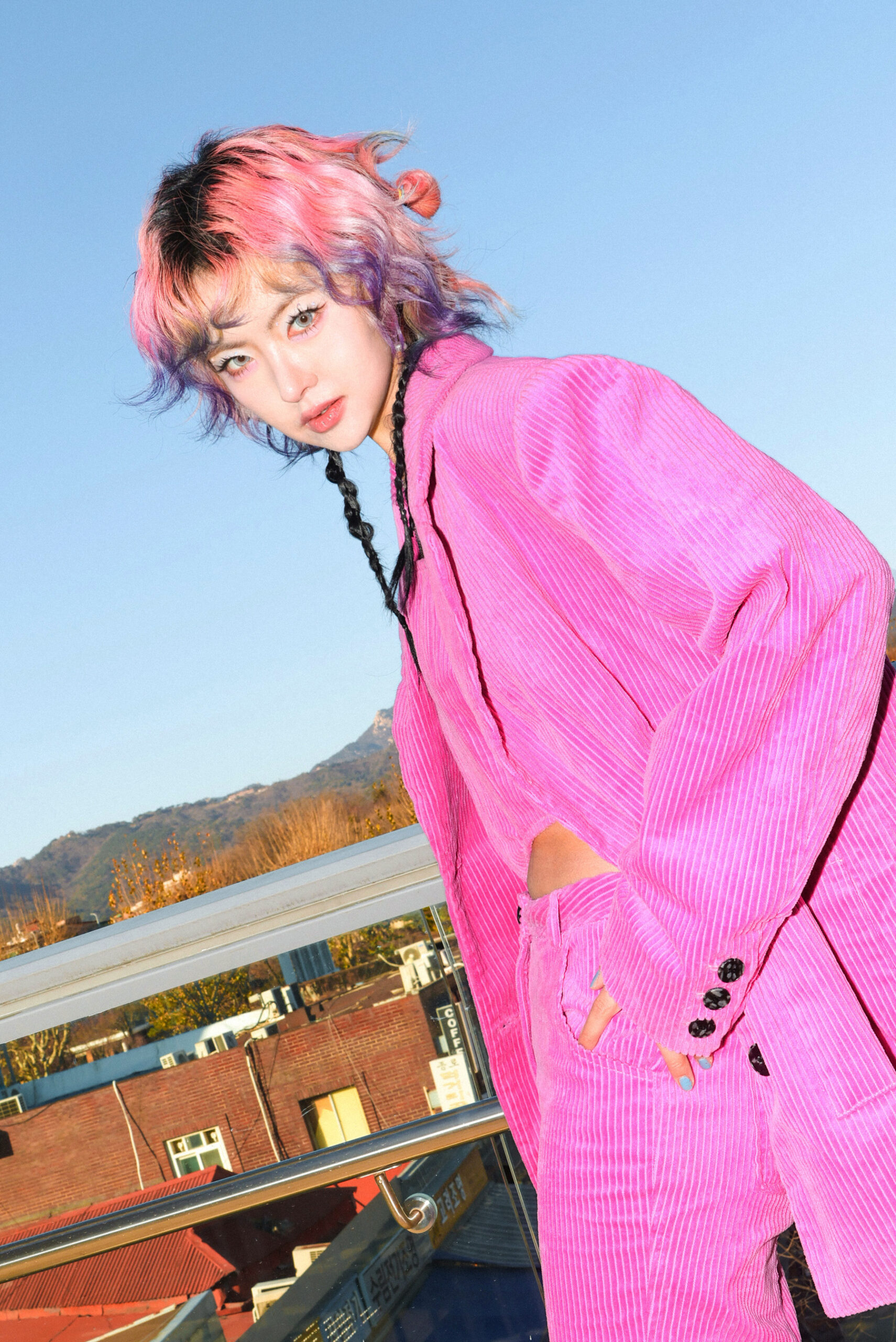 How would you sum up Seoul style?
Seoul is a very creative city, mixed with past and future, and the heart of the uprising fame of KPOP. I think it's where fashion changes most rapidly.
What does style mean to you?
Style is, for me, expressing who I am to others. Style does not just mean clothing, it can be just your daily attitude, how you tie your shoes, or a little charm that you have in your bag. You can always put your personality into style and that part really fascinates me.
How do you want people to feel when they wear the collection?
I want them to enjoy it! Seoul is a mixture of old and new, so I want people to feel Seoul within the collection. Also, the total silhouette gives me the vibe of me in K-Fashion. With a mixture of vibrant colors and fabrics, you'll feel like you are walking in the streets of Hongdae or Apgujeong.
What's your favorite style from the collection?
It's so hard to choose… but it has to be the blue corduroy top and skirt, with the pink check coat. I always love clashing different materials used in unexpected seasons. This corduroy set seems like it's telling me 'Girl, you can feel summer and winter at the same time!' And with the check coat? This is going to be my favorite look this winter.
Talk about one piece and five ways you'd style it with basics from your closet.
The pink velour pants. Pink is simply my favorite color, so it's easy for me to style it in different ways. The bell bottom silhouette has always been my signature fit since I love the '80s and David Bowie glam rock styles. Here's how I'd style these pants five ways:
1. Style with heavy, oversized knitwear with converse.
2. Style with a fitted crop top that has vintage lettering on it, and add a long scarf and western boots.
3. Style with hoodie, Dr, Martens, and a pair of AirPod Max headphones to give '90s kid feels.
4. Style with a boyfriend fit jacket and heeled loafers to give that Gucci vibe.
5. Style with a sleeveless puffer jacket and add a cute old knitted beanie.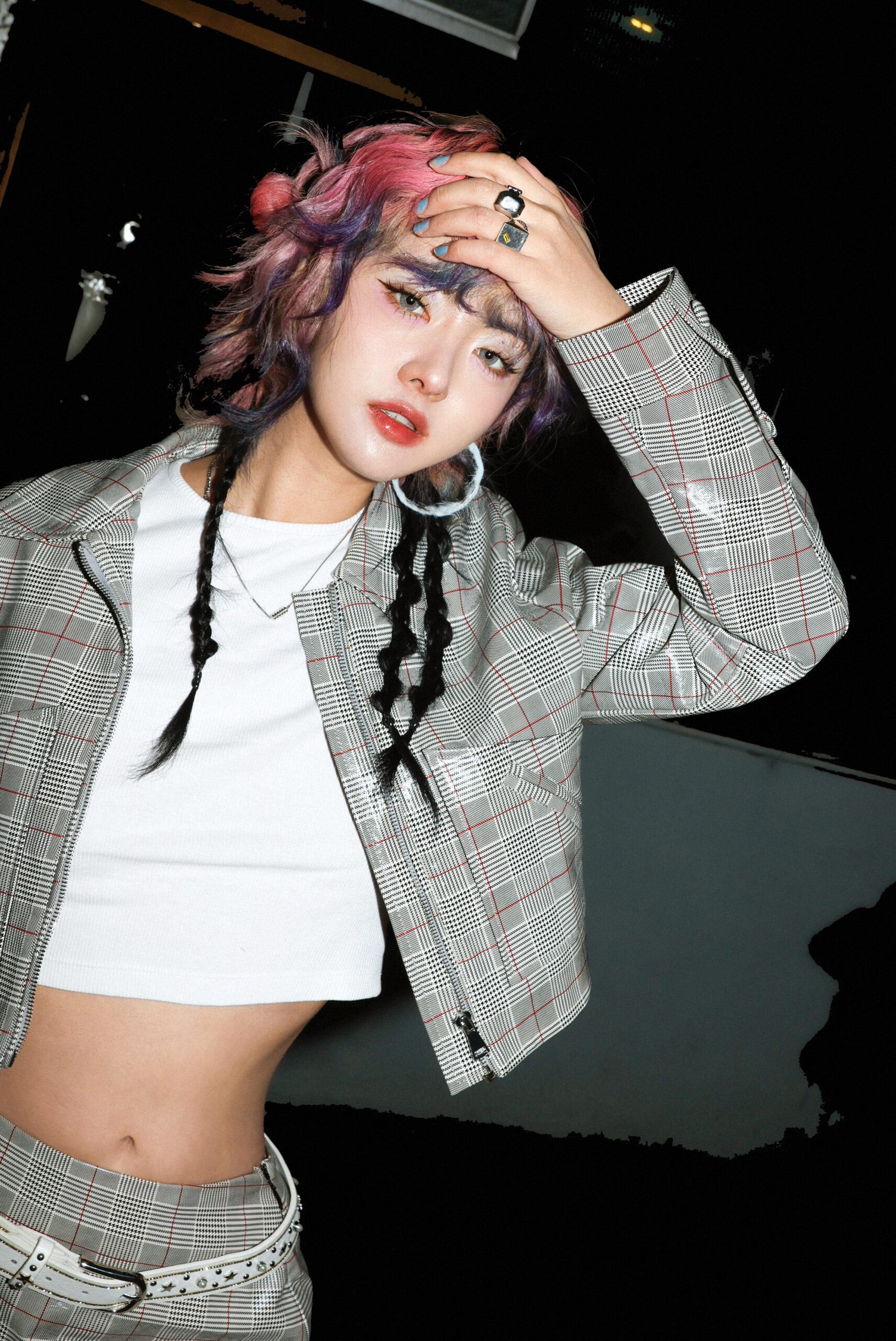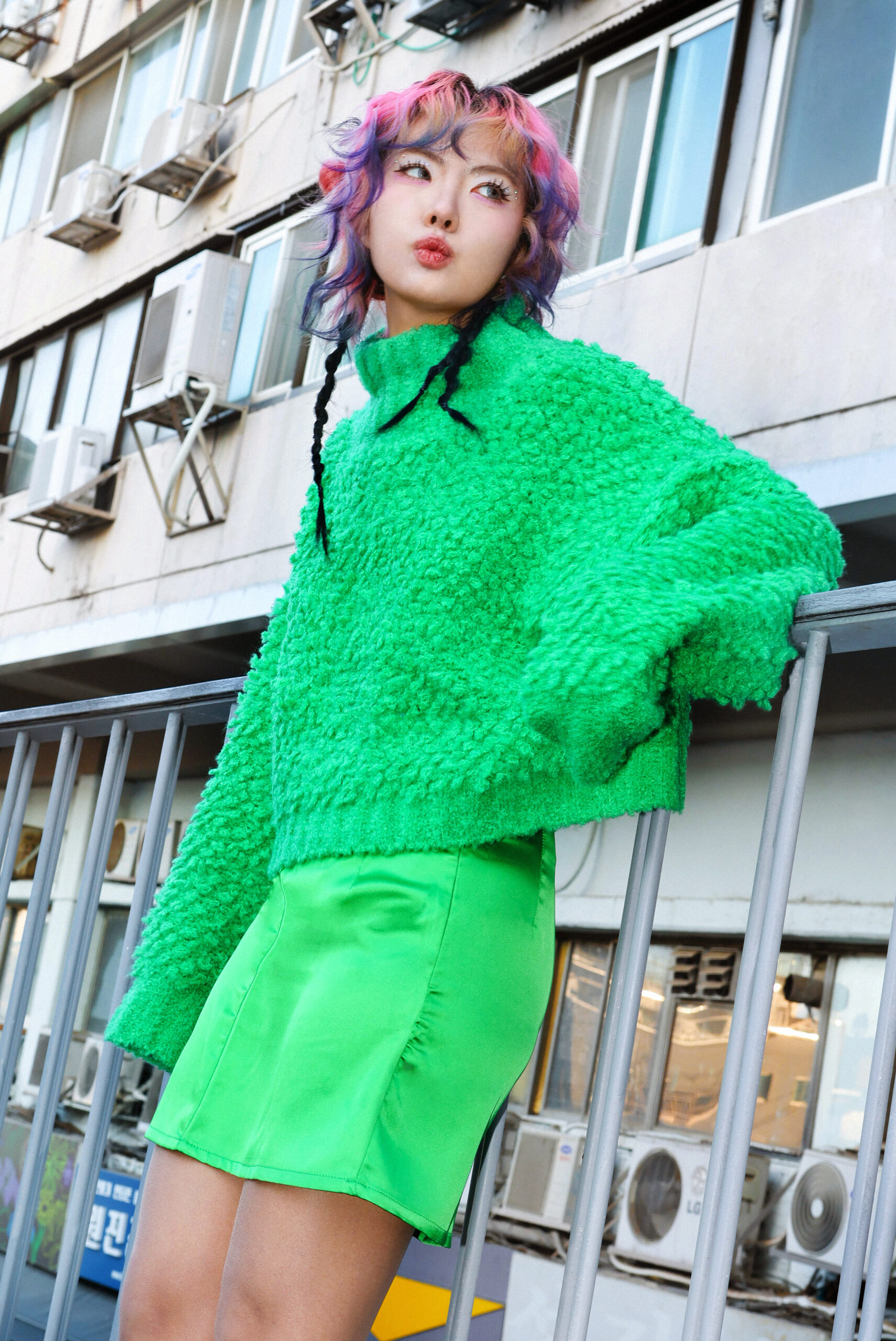 Best spots for dinner?
Szimpatikus Seoul in Dosan – they have the best food for wine, Italian fusion food. It's where I bring my foreign friends for a light dinner and wine.
Byukdol Happy Food in Dosan – the perfect place if you're looking for nice Hong Kong restaurant.
Best spots for cocktails?
After Jerk Off.
Best food market or spots for street food?
It used to be Myeong Dong, but now I think Hongdae has the best street food. Starting from the station, the full road is filled with street food. You can try Tteok-bokki, sundae, Dak-kko-chi, and various K-Food like swirling potatoes.
Best venues for nightlife in Seoul?
Apgujeong Rodeo Station area right now. It got hotter than last year, and lots of new clubs have opened up. People usually go to a bar called 'RPM' and then head over to the club called 'Times'  (believe it or not, I'm not a heavy clubber haha).
If you want something for more of a younger spirit, it's Hongae. If you are keen for techno music and trans/gay bars, Itaewon it is. Shelter and Paper is also a famous club.
Things to do in Seoul at night?
Go to Namsan Tower by car/taxi. It's not just a tower, there's a really nice park called Namsan park. It's connected to Myeongdong, Seoul Station, Itaewon, Hyehwa, Dongdaemun – so you can have time in the afternoon nearby and then come to Namsan Park to chill and see the beautiful night view.
The best Instagrammable coffee spot?
Nudake House in Dosan. There's creative cakes and the coffee is nice. The café itself is from the brand Gentle Monster, so you can find a nice, cool interior – like an art piece.
House By Café, which has a flagship store in Seongsu, is famous for MZ right now in Korea. It's also a curated shop by the couple, who is the brand owner of Matin Kim and The Museum Visiter. There's always new collections inside so you can shop and have coffee at the same time.
Royal Melting Club in Itaewon – a pink café with adorable cupcakes.
Wonhyeongdeul in Euljiro – this café is famous for pink cake which is made of cilantro. It has a very cool, zen vibe.
Any Occasion in Chungdam – a place where you can enjoy both coffee and bagels. This place is also a famous wine bar too.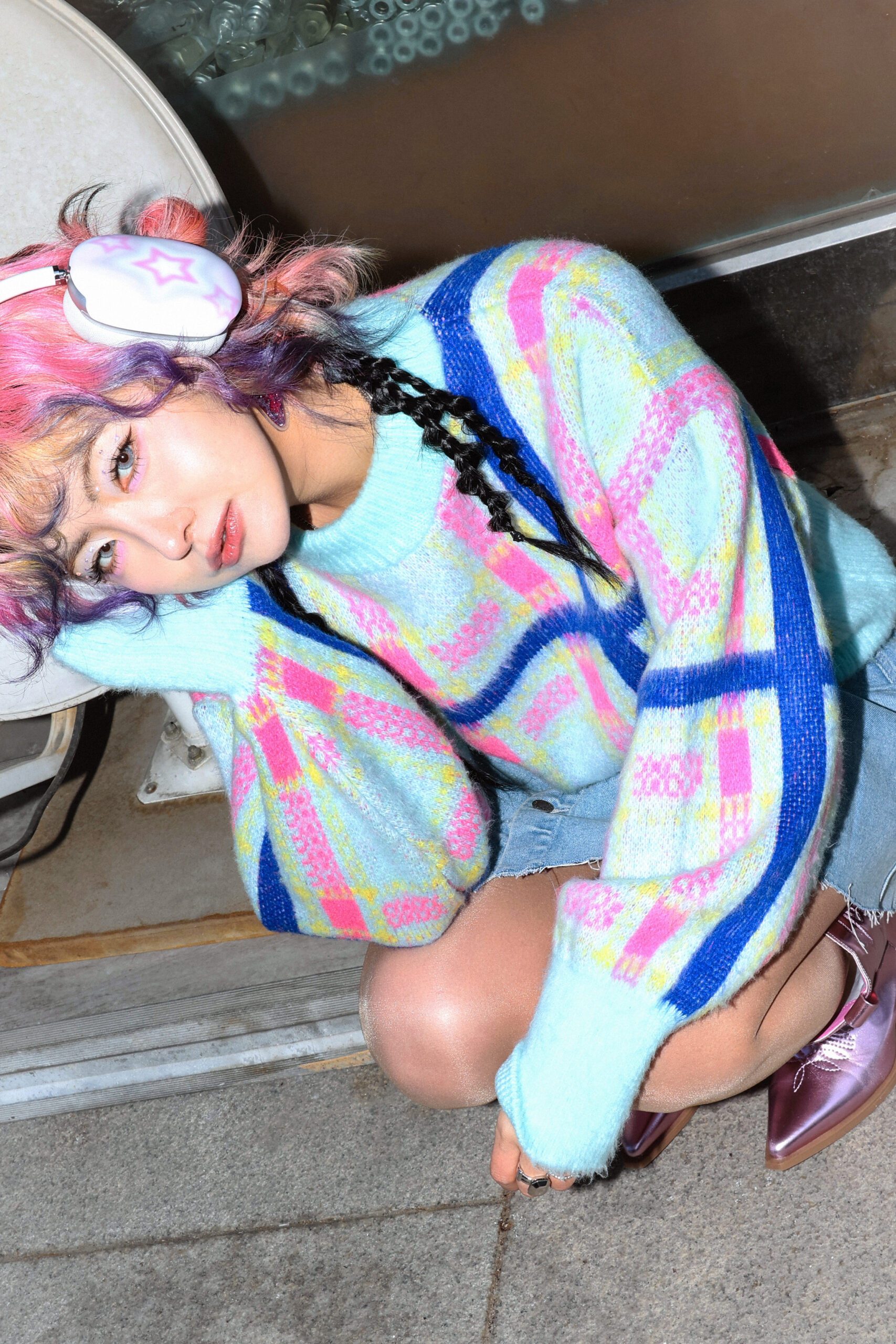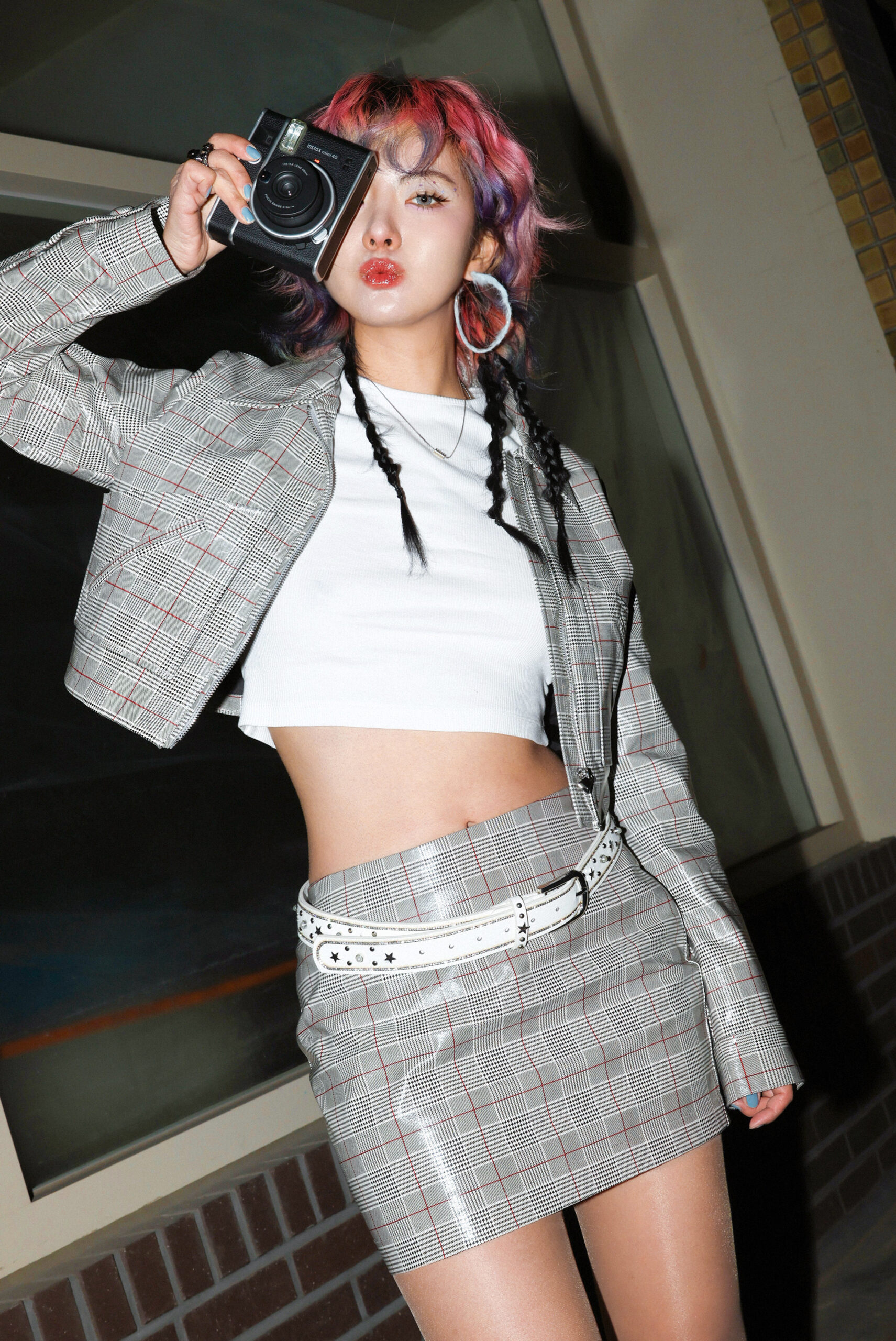 Top Seoul brunch spots?
Parnell
Andmeal
Past Palette
Aslike – all-day brunch
A must-see exhibit or tourist attraction in Seoul?
The Hyundai Seoul – it's a department store recently opened, but it has a huge garden inside. It's famous because of B1 floor – you can find all the trendy brands in there.
The Seongsu-Dong area. You can always find new fashion pop up stores in Seongsu. It's like a new destination for Gen Z.
MMCA area. MMCA is an art gallery that is usually free for anyone. The art here is good and has a great neighborhood to just walk around and chill. Gyeongbokgung, Bukchon is near, Samcheongdong is also near. 'Irasun' bookstore is my fave go-to spot. You can plan to watch art here and go to a nearby café in Samchungdong, or visit a small bookshop, and then go to Gyeongbokgung at night.
Best unconventional days out?
A gallery tour in Bukchon. There are lots of art galleries and bookshops In the Bukchon area. Ground Seesaw Gallery, MMCA, RP, OFR Seoul, and IRASUN bookstore are all near. If you are keen on art, you should check out this area.
The Euljiro area. It's really rare to find cafés here, but there are really cool ones inside. The area used to be for the factories but now it's become a hipster's playground. You can also find small interior shops here.
If you've only got 24 hours in Seoul, what do you recommend doing?
I would go to Bukchon and go to Itaewon at night!
Best people watching spot?
Apgujeong Rodeo Street. 20-30 somethings come here to drink and have fun at night. There are a lot of clubs and restaurants.
Best street style spot?
Hongdae Street is famous for the young street style.