2021 may have had it's ups and downs, but it's certainly been a joyous year for style. From Billie Eilish's MET Gala ball gown and THAT Megan Fox VMAs dress, we've truly seen it all. But, who had the best style this year? 
Nasty Gal has ranked 2021's biggest style icons across different areas including musicians, models, LGBTQ+ icons, actors, and social media influencers. Using factors such as the number of Instagram followers, Instagram engagement rates, average estimated earnings per post, and Google search volume for each of our stylish celebs, we've got the ultimate breakdown of 2021's most fashion-forward public figures.
2021's Biggest Style Icons in the Music World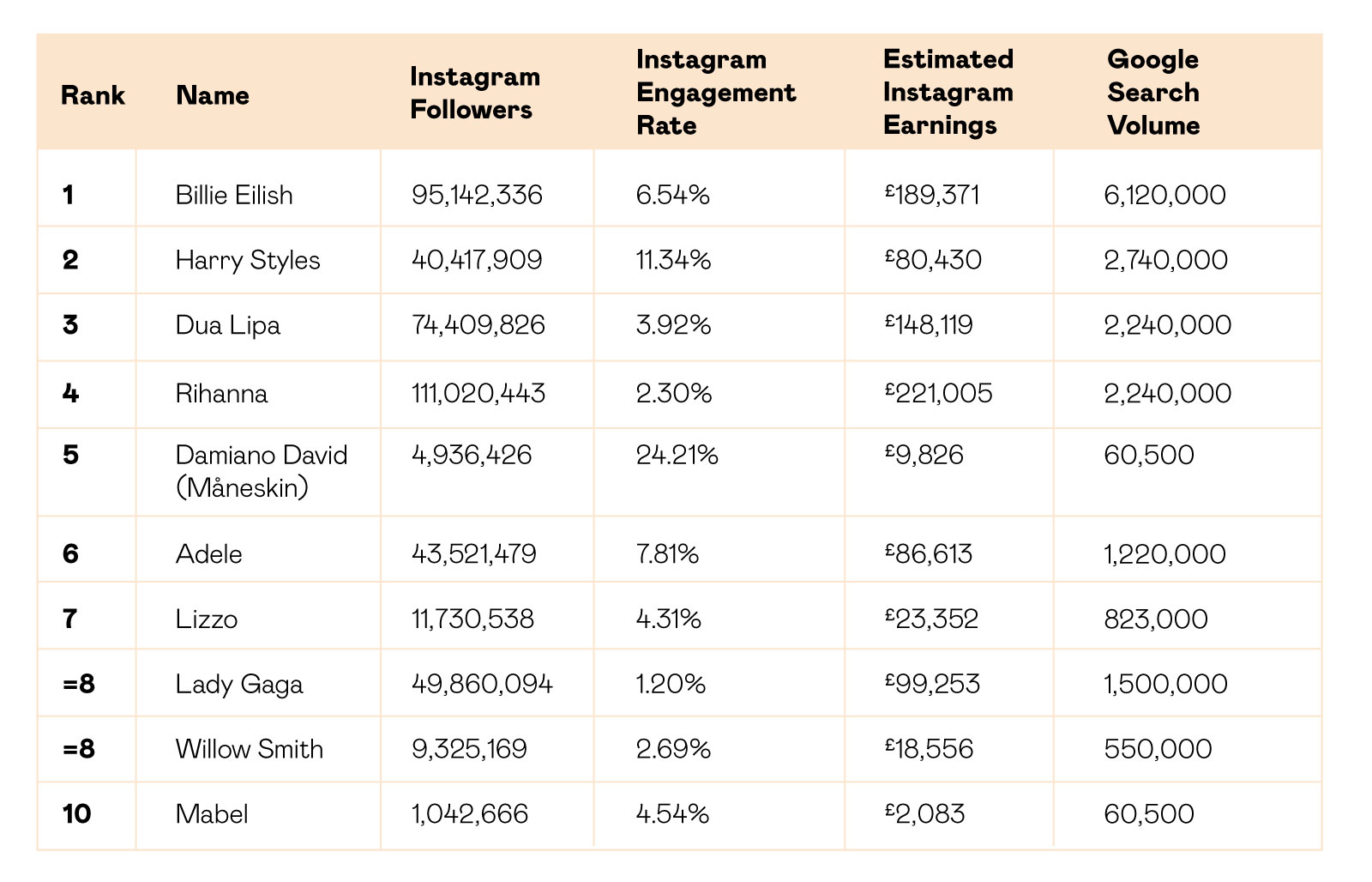 1. Billie Eilish
It's Billie Eilish's world and we're just living in it. The 19-year-old pop star has hit a lot of impressive milestones this year, including a sell-out tour, two Grammy awards and a number one album. Her trademark style of oversized streetwear has influenced Gen Z's worldwide, with followers of her statement style surpassing 95 million on Instagram. And having been searched over 6 million times, it's clear fans are always trying to catch a glimpse of what she's been wearing.
View this post on Instagram
2. Harry Styles
From releasing his own beauty range to completing a successful 42-show tour, Harry Styles is a man of many talents and true to his name, a man of style, too. Whether it be a yellow feather boa, high waisted glitter pants or a black faux fur blazer – Harry can pull off anything. Continuously pushing the boundaries of fashion, he regularly mixes masculine and feminine clothing to embrace genderless fashion, from his Vogue cover last year in a Gucci gown through to his iconic looks on tour. His fashion influence is so extreme, that he could earn upwards of £80k per Instagram post, with fashion brands eager to be associated with the star.
3. Dua Lipa
Taking the third spot in our ranking of music's biggest style icons of 2021 is Dua Lipa. No stranger to sequins and sparkles, Dua's aesthetic is a mixture of 90's style and disco. The fashion embodiment of her music. She's also taking her eye for fashion behind the scenes, helping design her own red carpet looks. With over 74 million Instagram followers, she's the perfect poster girl for fashion trends, with potential collaboration earnings per post of £148k.
View this post on Instagram
4. Rihanna
Although she hasn't given us much music in 2021, (cough cough where is R9?) RiRi still makes the top five in our stylish musicians, to the surprise of… no one. From yet another show-stopping Savage x Fenty fashion show to stealing the show at the MET Gala, Rihanna is synonymous with style. With diversity and inclusivity being at the forefront of her fashion ventures, Rihanna shows us time and time again that she not only has an eye for effortless style, but she consciously creates trends for everyone.
View this post on Instagram
5. Damiano David
After winning the 2021 Eurovision song contest, Italian singer, Damiano David has shot to the world stage and has done so in style.  Often seen sporting an array of fashionable earrings and signature black eyeliner, Damiano breaks gender barriers by showing the world he can wear what he wants, and he can wear it well. His iconic Eurovision outfit was the talk of the competition, injecting sex appeal and glamour into the grunge aesthetic – a true style icon.
View this post on Instagram
2021's Biggest Style Icons in the Modelling World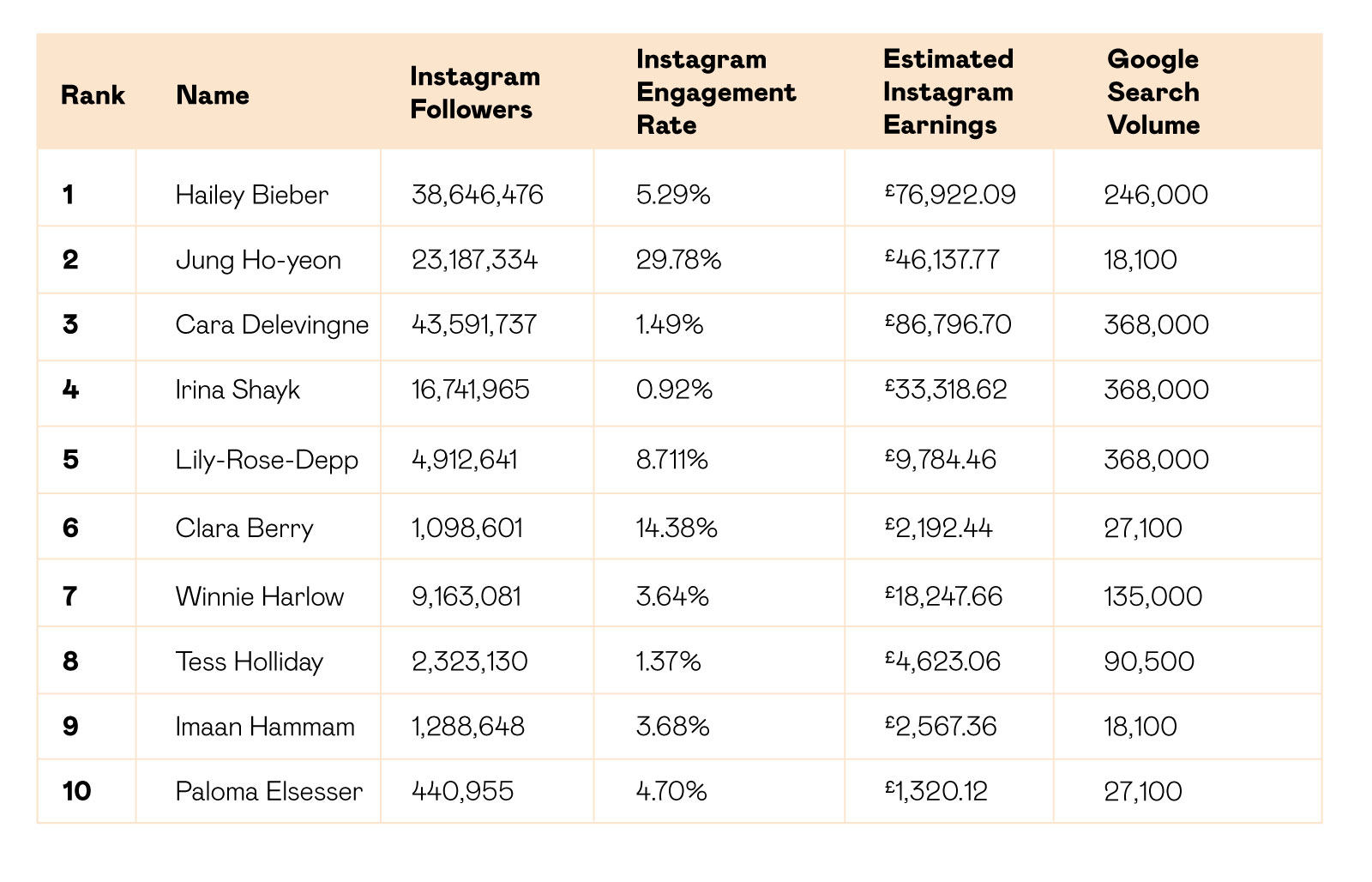 1. Hailey Bieber
Aside from sleek red carpet looks that are sophisticated and timeless, Hailey also has an incredible eye for street style. From channeling her inner Princess Diana with athleisure luxury to pairing high-end outerwear with statement trainers. With a search volume of nearly 250k, it seems everyone wants to see what Mrs Bieber look will be turning our heads next. 

View this post on Instagram
2. Jung Ho-yeon
With over 11 years in the modeling industry, Jung Ho-yeon (also known as HoYeon Jung) is no stranger to high fashion. In October she was named Louis Vuitton's Global House Ambassador for fashion, watches, and jewelry, and with just one glance at her Instagram, it isn't difficult to see why. Her leading role Netflix's Squid Game propelled her to international stardom, allowing HoYeon to display her effortlessly chic style to the world.

View this post on Instagram
3. Cara Delevingne
One of the UK's most successful models, Cara Delevigne has always been one step ahead in the fashion game. Her Dior all-white ensemble blazoned with 'peg the patriarchy' in red stitching was the look on everyone's lips at this year's MET Gala. Cara proves again why she has such a big name in the fashion industry, as she pairs style with conversation to bring societal issues to the forefront.

View this post on Instagram
4. Irina Shayk
A prominent force in the modeling world since 2007, Irina Shayk landed her first Vogue cover in 2013 and has been a face of high fashion ever since. Irina's style oozes sex appeal, she embraces the beauty of the female form and makes this a significant part of her aesthetic. As one of the most Google-searched models in our study with an average of 368,000 searches – everyone wants to see what Irina's wearing.

View this post on Instagram
5. Lily-Rose Depp
She may have two superstar parents, but Lily-Rose Depp shows us she's a star in her own right, particularly when it comes to her style. After starring in a string of films this year, Lily-Rose has taken to the red carpet to shower us with some of 2021's most glamorous looks. Mixing edge with timeless glamour, Lily-Rose often pairs pastel vintage items with dark makeup, showcasing her skill at achieving the perfect balance between cute and grunge.

View this post on Instagram
2021's Biggest Style Icons in the Influencer World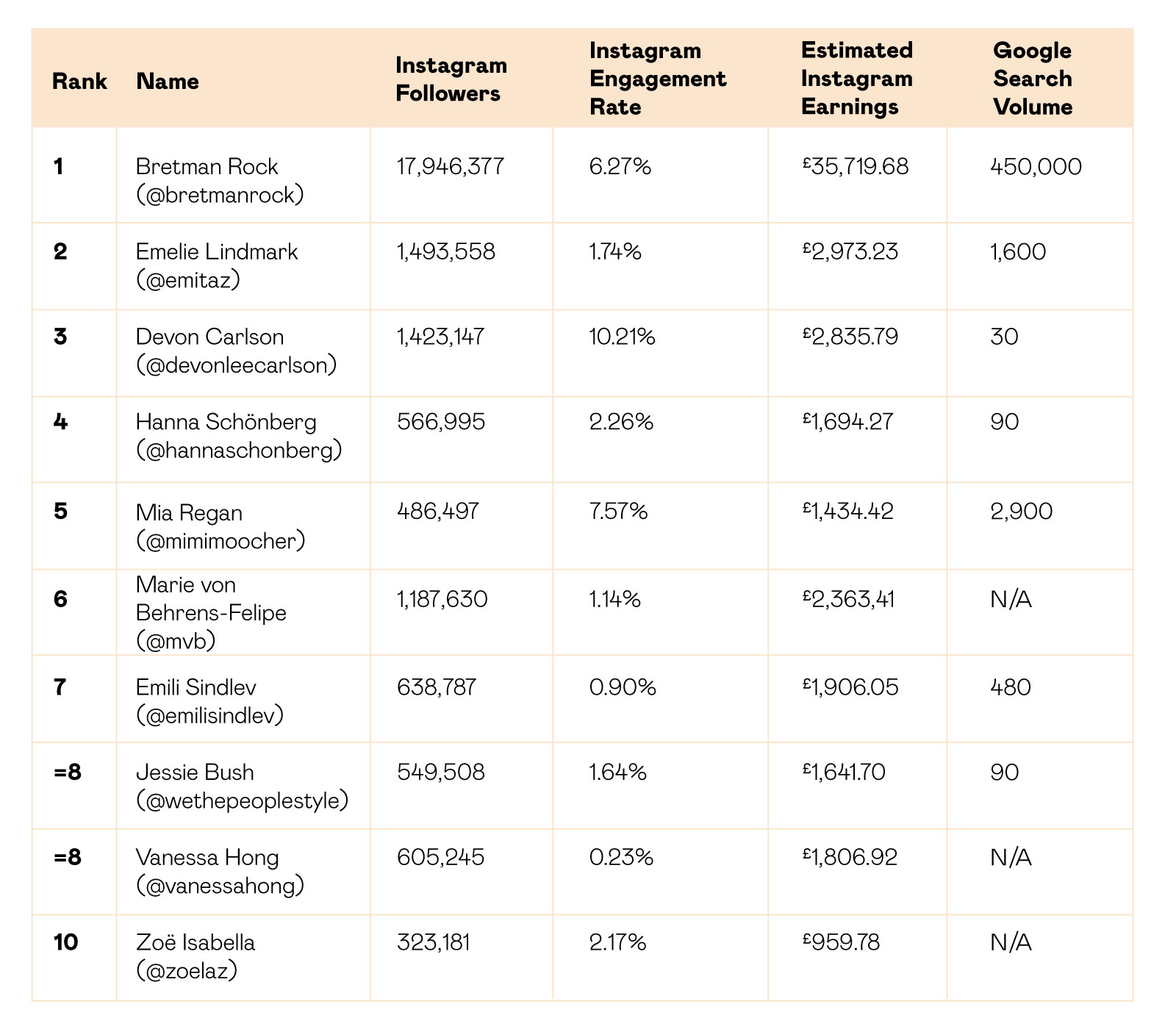 1. Bretman Rock (@bretmanrock)
The beauty influencer known for his outrageously funny videos, Bretman Rock has taken the beauty and fashion world by storm, emerging as one of the year's biggest influencer style icons. His statement red carpet looks include everything from leather looks to dresses to pastel suits, a true fashion chameleon. 

View this post on Instagram
2. Emelie Lindmark (@emitaz)
With multiple high-profile collabs under her chinch leather belt, it's clear to see why fashion influencer Emelie Lindmark is the second biggest influencer style icon of 2021. No matter the season or location, Emelie's street style is always on point. From oversized leather jackets to statement bold blazers and cozy layering pieces – Emelie can style it all. With nearly 1.5 million Instagram followers, many of us turn to Emelia for inspiration on what to wear next.

View this post on Instagram
3. Devon Carlson (@devonleecarlson)
Devon Carlson's style is fresh out of the 2000s with bold prints, low-rise baggy jeans, cropped t-shirts, and monogram logos. Devon's recent high-fashion collab epitomizes her iconic style, with bright colors and diamanté lettering, the collab is Y2K nostalgia in fabric form. With a 10% engagement rate, Devon has the highest interaction percentage of any influencer in our study.

View this post on Instagram
4. Hanna Schönberg (@hannaschonberg)
Swedish influencer Hannah Schönberg's Insta feed exudes simplicity and class. With a muted color palette and a number of black and white posts, Hanna shows us that sometimes less is more. Hanna's fashion collabs marry street style and high fashion, helping fellow fashionistas follow in her footsteps.

View this post on Instagram
5. Mia Regan (@mimimoocher)
It's hard not to be stylish when Victoria Beckham is your future mother-in-law, but Mia Regan takes this to the next level with her ability to layer clothing pieces and jewelry like no other. Mia is certainly one to watch, making her MET Gala debut this year, as well as bagging modeling contracts with world-class brands.  

View this post on Instagram
2021's Biggest Style Icons in the LGBTQ+ Community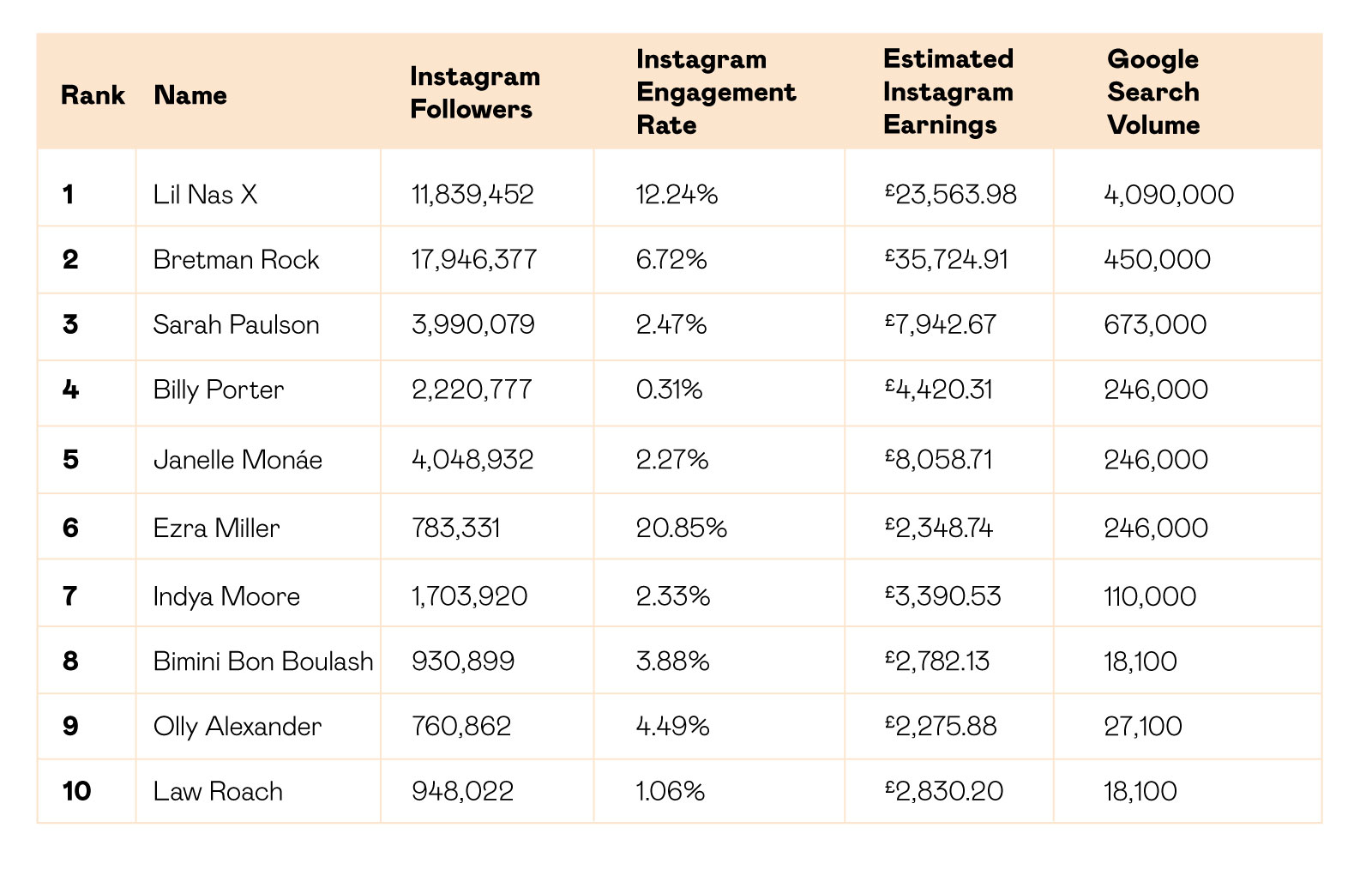 1. Lil Nas X
Taking the crown for being the biggest style icon in the LGBTQ+ community is Lil Nas X. Never afraid to push the boundaries in music and fashion, Lil Nas X has risen to stardom in recent years. Known for his use of bold colors, daring twists on classic styles, and self-expression through genderless clothing, his style is walking art. There were over 4 million Google searches for the star this year, showing his ability to leave a lasting impression and fans wanting more.

View this post on Instagram
2. Bretman Rock
The winner of an MTV Award this year and the first openly gay man to feature on the cover of Playboy magazine, Bretman Rock has been pioneering modern style since he first came into the public eye with his phenomenal make-up skills. The fact he wore Aaliyah's (yes, the actual Aaliyah!) Roberto Cavalli dress for the VMA red carpet is enough to cement style icon status alone. Being the only star to appear twice in our study shows how Bretman's style is adored by a range of audiences.

View this post on Instagram
3. Sarah Paulson
An icon in more ways than one, Sarah Paulson, is known for her ability to transform into any character, and she brings this magic into her personal style. Mixing vintage Hollywood glamour with effortlessly chic daytime ensembles, she's one of the few stars who can truly pull off any look.

View this post on Instagram
4. Billy Porter
LGBTQ+ icon and actor Billy Porter has been one of the driving forces for genderless fashion. Regularly rocking the red carpet wearing ball gowns, skirts, and of the course, his iconic tuxedo dress. He's a true fashionista both on and off the screen, with his leading role in Pose showcasing the fashion influences of the 1980's ballroom scene. 

View this post on Instagram
5. Janelle Monáe
Known for styling black and white ensembles with a pop of color (usually a statement red lip), Janelle Monáe demonstrates how daring you can be with a simple color palette, making monochrome her statement style.

View this post on Instagram
2021's Biggest Style Icons in the TV & Film World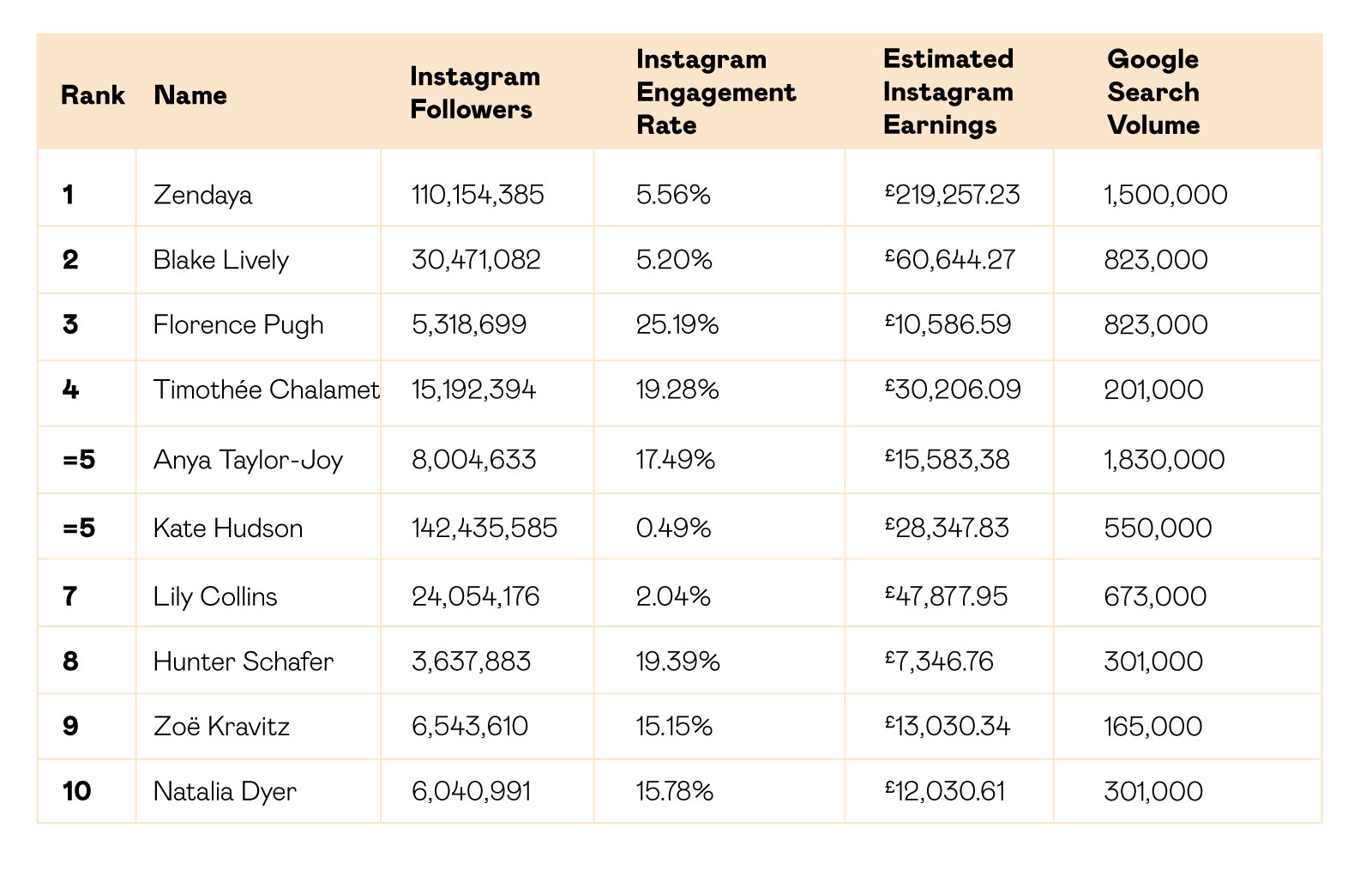 1. Zendaya
With an effortless personal day-to-day style that transforms into glamorous statement pieces on the red carpet, the world is Zendaya's catwalk. And the world is hungry to watch, with over 1.5 million searches for the style star this year alone. As the youngest person to ever receive the Fashion Icon award at the CFDA fashion awards, Zendaya's eye for fashion does not go unnoticed. A fan of injecting playful pop culture references into her looks, Zendaya has one of the highest number of Instagram followers in the entire study, with an impression 110 million – more people than Spain, Canada, and Australia combined. 

View this post on Instagram
2. Blake Lively
Blake Lively's versatility in fashion is what gives her style icon status, from power suits to long pastel gowns, Blake can pull off anything. With over 30 million Instagram followers (despite only posting a handful of times this year), Blake shows why she still has the attention of the masses as every time she does grace us with a post, it's certainly an outfit to remember. 

View this post on Instagram
3. Florence Pugh
Although often serving us with red carpet glamour, streetwear is at the heart of Florence Pugh's style. Regularly finishing off an outfit with statement jewelry and a bold lip, Florence adds an effortless edge to everything she wears. With the second-highest engagement rate in the study, the actress is known for sending people into a frenzy with her clothes-envy inducing content. 

View this post on Instagram
4. Timothée Chalamet
A self-professed 'fashion fanboy', Timothée proves this claim with his one-of-a-kind red carpet looks and streetwear, mixing pieces that exude an effortless swagger and style. Timothée revamps the regular red carpet attire expected from male actors, favoring metallic, embellished, and brightly colored suits that make him a fan favorite amongst fashion-forward Gen Z's

View this post on Instagram
5. Anya Taylor-Joy
With a natural elegance, most of us can only dream of possessing, it's no surprise that Anya Taylor-Joy is one of 2021's biggest style icons of TV and film. Often wearing timeless pieces inspired by the 60s, 70s, and more, Anya shows us some things never go out of style, putting a modern twist on vintage classics. Shooting to fame this year with her role in the Queen's Gambit, she's the most-searched-for actor in our study, leading fashion trends and inspiring a generation of fans with her looks.

View this post on Instagram
Whichever style icon you take your inspiration from. Make sure to unleash your creativity through your clothing, with our collection of ready-to-rock dresses.
Methodology
We analyzed factors such as Google search volume, Instagram followers, Instagram engagement, and potential Instagram earnings for a range of public figures across music, TV, the LGBTQ+ community, modeling, and influencers. These were then ranked to reveal the biggest style icons of the year for each category.