Just launched: The Kara Rose Edit. We've teamed up with artist, style muse and founder of @Tuftluckstudio, Kara Rose, to launch an edit inspired by relaxed western vibes and rodeo influences, whilst paying homage to her art and exploration into textures. Key highlights encompass fringe details, crochet fabrics, flared hems and washed graphic tees.
Western inspired clothing to wear anywhere from a casual Thursday to those long-awaited festival plans you've got coming up. Not forgetting a stellar line-up of cowboy boots to make moves in. Because, let's face it, no western style clothing edit is complete without a pair of western inspired booties, or two.
We sat down with Kara Rose to find out more about the style muse, who's paving her way through the Instagram and art world.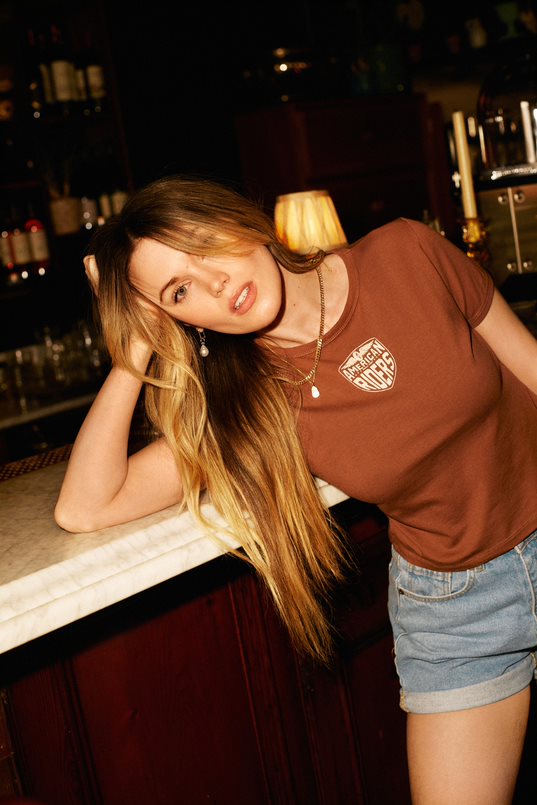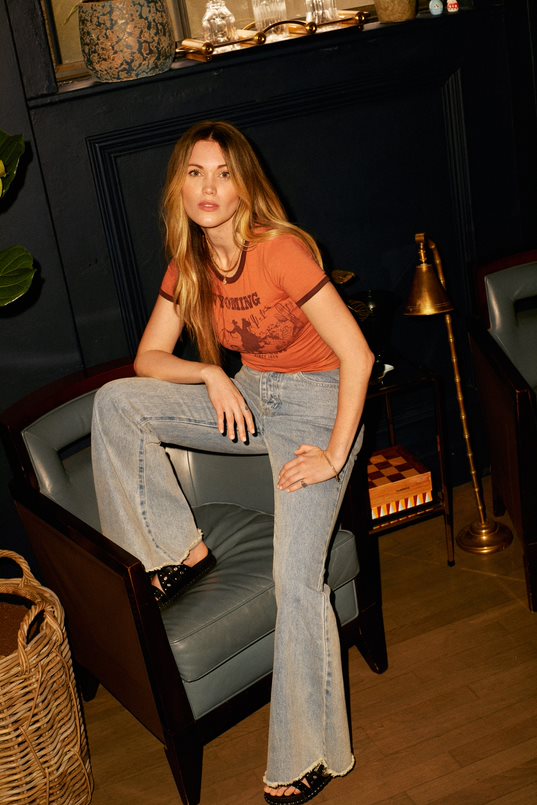 As an artist, model and founder of Tuftluck Studio –  can you tell us a little bit more about yourself and your background?
It's so funny when people say I model because I don't feel like a model at 31—but yes I do model. I was 18 and moved to London from my hometown in Hull (Yorkshire) to study fashion design. I got scouted by a model agency and fell into the crazy world of modelling. When I was 27 I fell pregnant with my little boy Duke—I felt I needed a stable future for us and it was then I discovered the tufting world. I needed to try it, so I taught myself. I made my own frame and nervously posted a video of my first piece I made on my Instagram and it just went wild overnight. The name Tuftluck came to me and I just went for it!
What has been the most valuable thing you've learned along the way?
Don't follow trends. Always stick to your own aesthetic and ideas – I feel Instagram can really be bad for that as you're always seeing other people's work.
What made you want to collaborate with Nasty Gal?
I've always been a huge fan of Nasty Gal from way back in the day. It's honestly such a teen dream to work with Nasty Gal.
What influenced the pieces you chose for your edit?
My work, old Western movies and '90s pop culture. I feel I dress like my art and my clothes also inspire my art. I obsess over anything Western and items that look like they've been worn time and time again.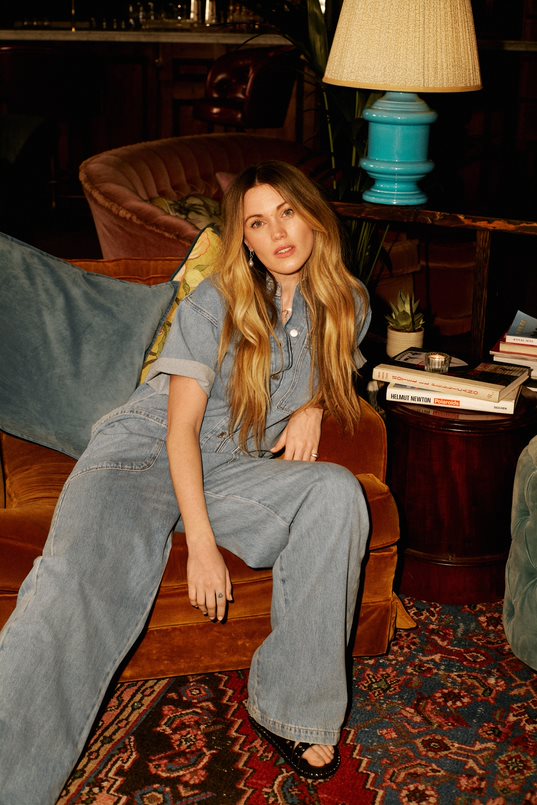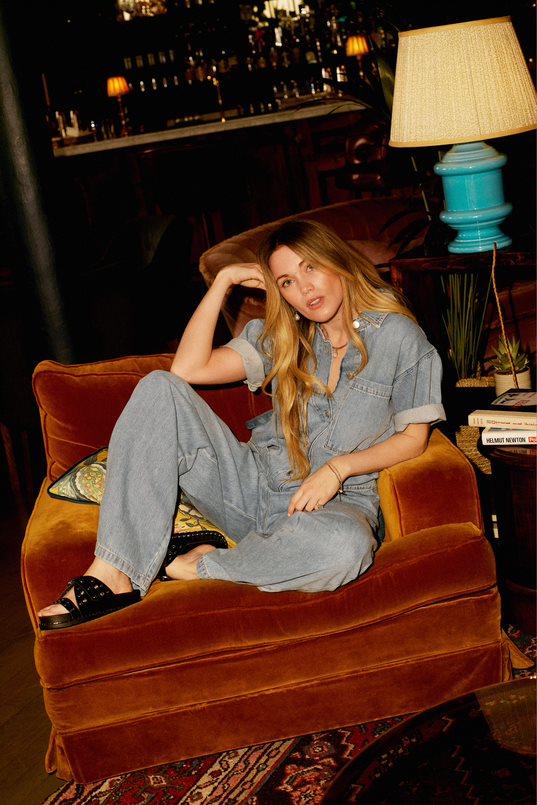 How has your style evolved over time?
I can honestly say I wear the same things I did in 2007—I'm an indie sleaze. I'm still all about a high rise jean and a band t-shirt. I still just want to dress and look like Mary-Kate and Ashley Olsen.
What's your hero piece from the edit, and why?
The loose-fitted denim jumpsuit. It's the perfect 'in the studio painting' vibe. So comfy to wear.
What are you currently reading/listening to?
I have been listening to a band called Wet Leg and Fontaines D.C. —I've always got my playlist on I made years ago, with all the old Indie bangers on.
Who inspires you?
My mum – that woman is a hero. She was a fashion designer in the '80s/'90s punk modern romantic eras. I remember being sat on her knee whilst she sewed the most amazing pieces.
If you could dress anyone in your edit, who would it be? 
Jean Shrimpton, Brigitte Bardot, Penelope Tree—basically all of those '60s supermodels.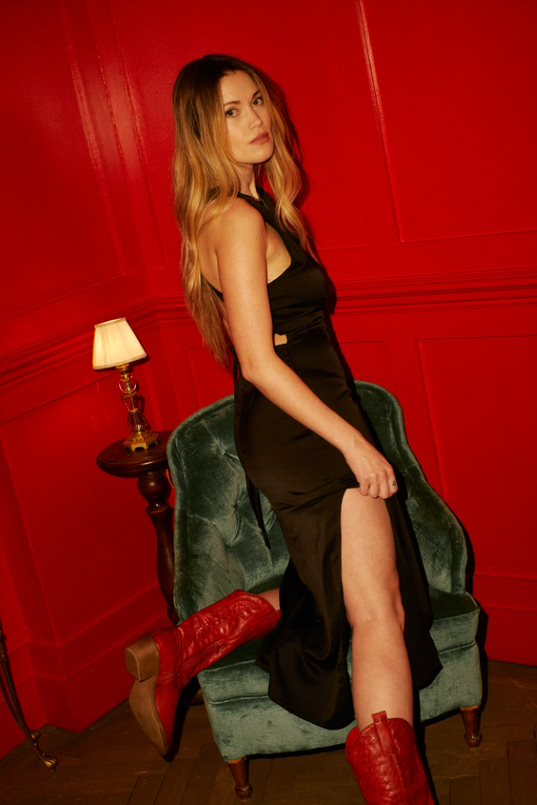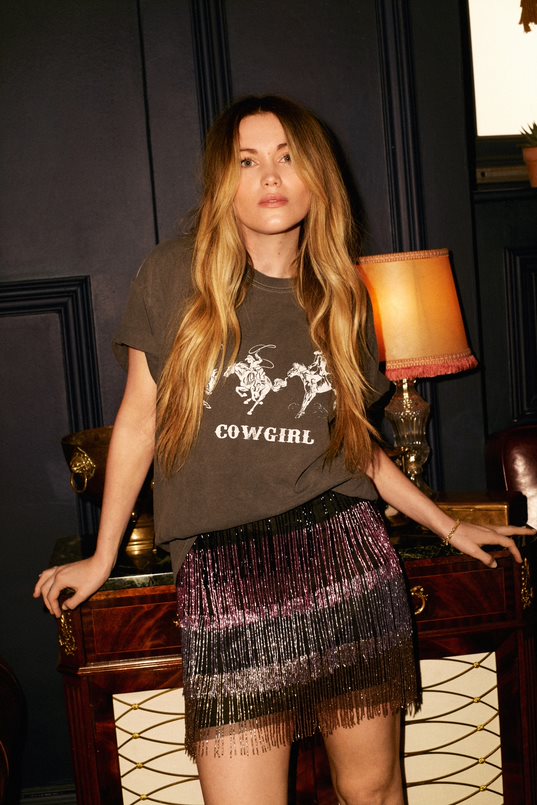 You're heading to a festival – which piece from your edit are you wearing?
The crochet backless dress!
What's next for you?
I've started painting with watercolor and I'm addicted to it! I paint as soon as it's my son's bedtime, so I really want to focus on that. Also it's always been a dream to start my own knitwear brand under Tuftluck. When I make a rug I always think 'I wish this could be a sweater' so I'm thinking a full shaggy mohair collection!