Say hello to the face behind our latest limited edition collaboration. Meet Nick Fierro, New York based tattoo artist and owner of ultra-cool studio, Algorithm Tattoo and Fine Arts. Nick spills the deets on the influences that inspire his stellar designs, his favorite styles and mediums, plus how he made his way in the industry. He also drops a residents guide to what to do in New York that you won't want to miss. Let's dive in.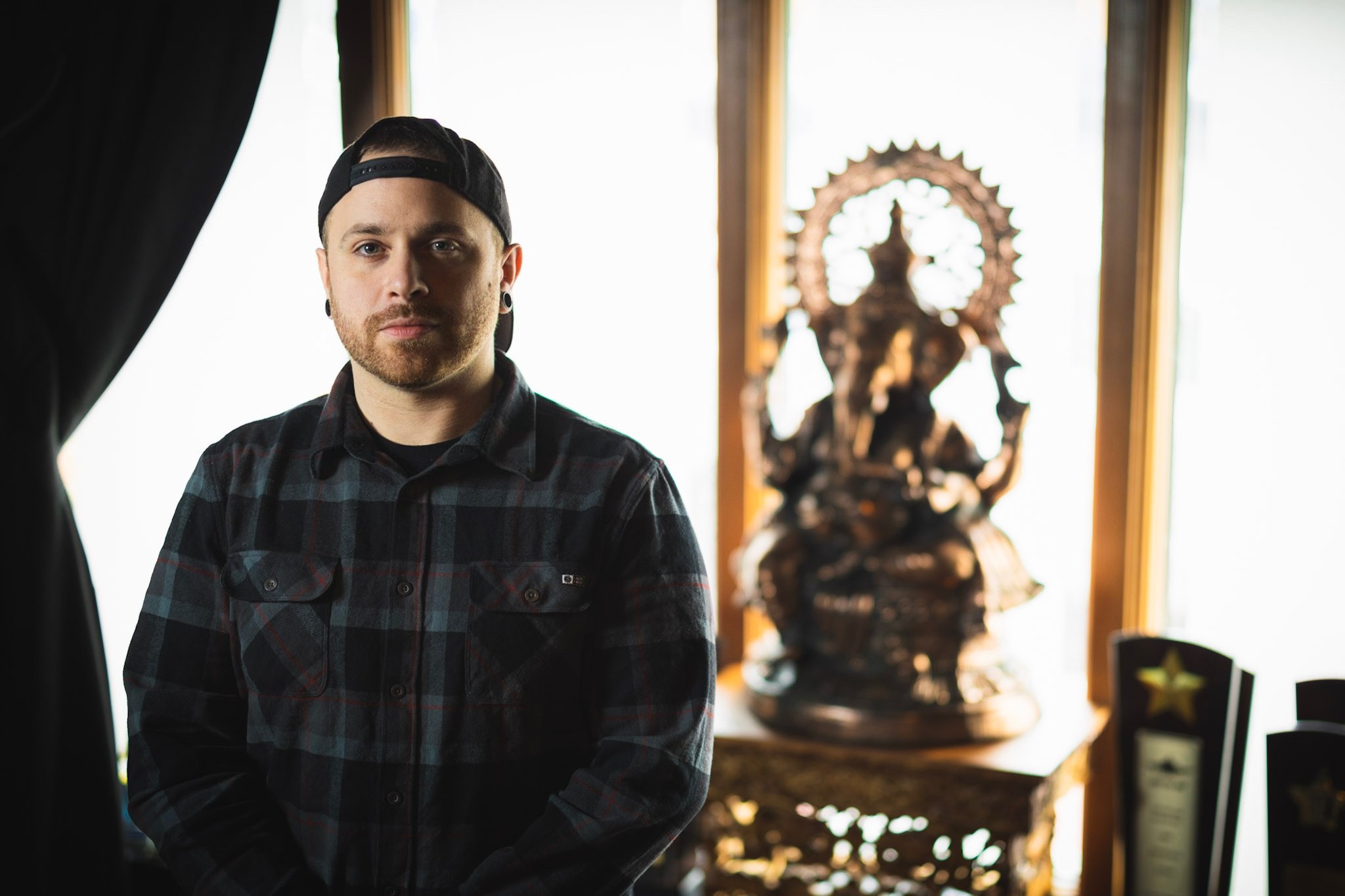 Your name and where you live and where you typically work from.
Nick Fierro. I live with my wife and two parrots in downstate New York. I own Algorithm Tattoo and Fine Arts in East Islip, NY.
Why you do what you do as an artist?
There's something about the transformation of the human figure that is very intriguing to me, it's almost like a rebirth. People enter the shop looking and feeling one way, and leave with a new aesthetic of not only the body—but the mind. There's no better feeling to me than being able to help people look how they envision themselves and turn it into something that lasts a lifetime.
Those keywords that you used to describe your influences. The art styles, people, or places.
I am heavily influenced by artists like M.C. Escher and Chuck Close. I always want my tattoos to have something totally different to offer from up close and from a distance—something that will catch your eye from far away, and reel you in to look and appreciate the details. On top of that, incorporating geometry and optical illusions make this style that much more captivating.
The styles or mediums do you work in.
Tattooing is my main medium, specializing in sacred geometric and floral designs. My primary background is in fine arts and graphic design though, so I utilize that knowledge to make this style my own. I do occasionally enjoy painting with oils, acrylics, or drawing with charcoal and pencil as well.
The courses you have completed. What is your background?
I consider myself a self-taught artist. Growing up having a mother as a graphic designer and a father as an architect definitely helped the process of me pursuing my career as an artist. I attended college for a brief time before deciding it wasn't for me, and had the opportunity to start my tattoo apprenticeship and never looked back. Dropping out of college was the best decision I have ever made.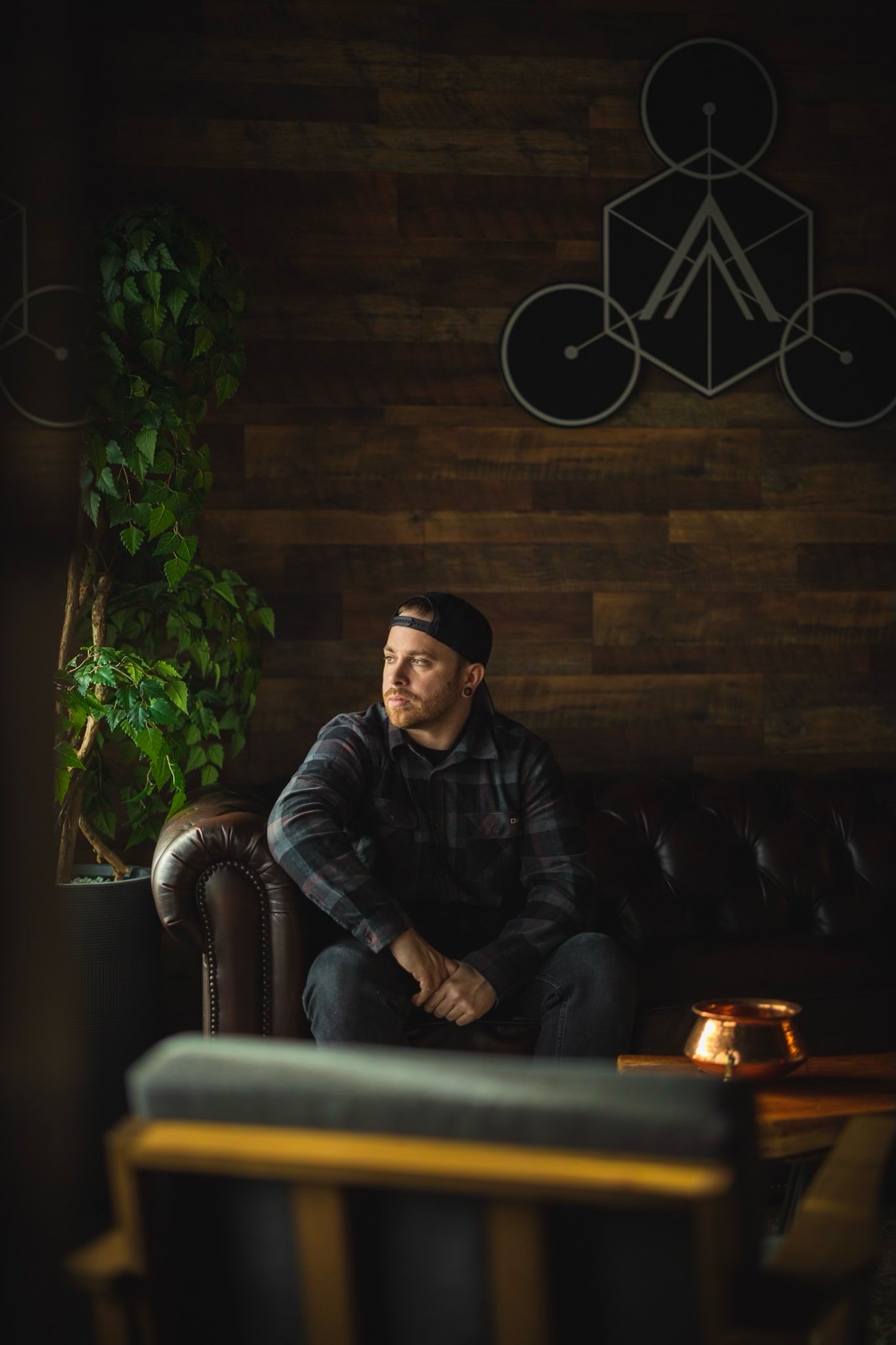 How did you start in the industry?
In 2009, I was in a progressive metal band with my friends. The drummer and singer were just starting their tattooing careers and recognized my passion for drawing and painting, which brought us very close. I would hang out in their tattoo shop before band practice and would draw portraits of everyone in the shop. After some time, the shop owner approached me and offered me an apprenticeship. I had no idea at the time, but that was the beginning of the rest of my life.
The key achievements you have had so far in your art career.
The one that sticks out to me the most is winning my first award at a tattoo convention. Although other tattooers may consider winning an award at a convention as just "bragging rights", this meant way more to me at the time. One of the reasons was because the tattoo was on my girlfriend (now wife). I remember sitting and waiting for the names to be called, sitting nervously as they called out 3rd and 2nd prize. I thought I had no chance at 1st place so I already accepted defeat. I was ready to get out of my seat to work on my next tattoo as I heard my name called for 1st place. It didn't seem real because I was very new in my career and surrounded by so much talent. This day really helped me gain the confidence that I could progress in this industry and pursue my goals.
Top piece of advice you'd give someone looking to start out in a creative industry?
Two words….Keep Grinding! If you have a passion for something, you cannot let anything get in your way. There are going to be many obstacles, hard decisions, and risks you are going to have to take to achieve your goals. And in time, those goals might even change—but as long as you keep pushing yourself, you will eventually find where you belong in the creative world. Adapt with the times and tools in your field so you won't be left in the dark.
What has been your favourite artwork you've created?
This is a tough question for me, because as an artist it's difficult not to be hard on yourself and have a favourite. There is one that comes to mind because of the experience though. During the pandemic, the tattoo shop was not allowed to operate—for 3 months—just like many other businesses. I was left in a weird spot, not being able to create like I do on a daily basis. My mom had started experimenting with acrylic flow painting on small canvases. I thought these paintings would look so dynamic on a large scale, so I bought a 4ft by 4ft canvas, and asked her if she was up for the challenge to collaborate on a large scale, mixing her acrylic flow approach with my geometric style. The two styles married perfectly, and the experience creating something with my mom in such a difficult time is something I'll never forget!
What was the first tattoo you ever designed?
Before I began tattooing—right after high school—I had a friend approach me saying he wanted me to design a tattoo for him so he could get it done at the local tattoo shop. It was the Sagittarius zodiac sign rendered to look like stone.
Favorite thing about NYC?
Another hard question! Between the arts, food, culture, it's so hard to choose. You can literally travel the world without leaving the city, and you never know who you're going to meet.
Favourite thing about your job?
Giving people the confidence be who they are in their own skin. I neverknew the effect of how my creative efforts can make a person feel. Attimes, it's life-changing. Being able to change someone's life for thebetter is a feeling I will never take for granted.
If you only had 24 hours in NYC what do you recommend doing?
Stay away from the tourist traps! Try to find places off the beaten path. Walk, don't Uber. Embrace the amazing architecture. If you're a person that normally keeps to themselves, think of it as an opportunity to meet new people because you never know who you'll run into.
Best places to eat and drink in NYC?
My wife and I enjoy going to Blue Hill or Eleven Madison Park (vegan) for special occasions. For great Japanese soul food late at night, Ichibantei. Vegan food at Red Bamboo is absolutely delightful as well. Dead Rabbits is one of the best places for a great cocktail. It's also important not to forget that NYC is less than 2.5 hours from Montauk—and there are plenty of wonderful places to indulge yourself all over Long Island!