At the start of the year, we often think of ways we can better ourselves, our lives and the world around us. For most, this usually entails some sort of resolution to save money. From eating out less (note to self: there's food at home) to reviewing the ever-growing list of online subscription services, we all try to scramble for ways to repair some of the damage December has done to our bank accounts.
Nasty Gal started out in 2006 as a vintage reseller brand and a lot of our designs continue to pay homage to vintage style and eras. So, we've decided to discover the top vintage thrifting hotspots in the US. 
The Top 5 Thriftiest States
Ranking the US vintage thrifting hotspots, we looked at the search volume for popular thrift shops and the number of vintage stores within the most populated city of that state. So, which states are the biggest thrifters?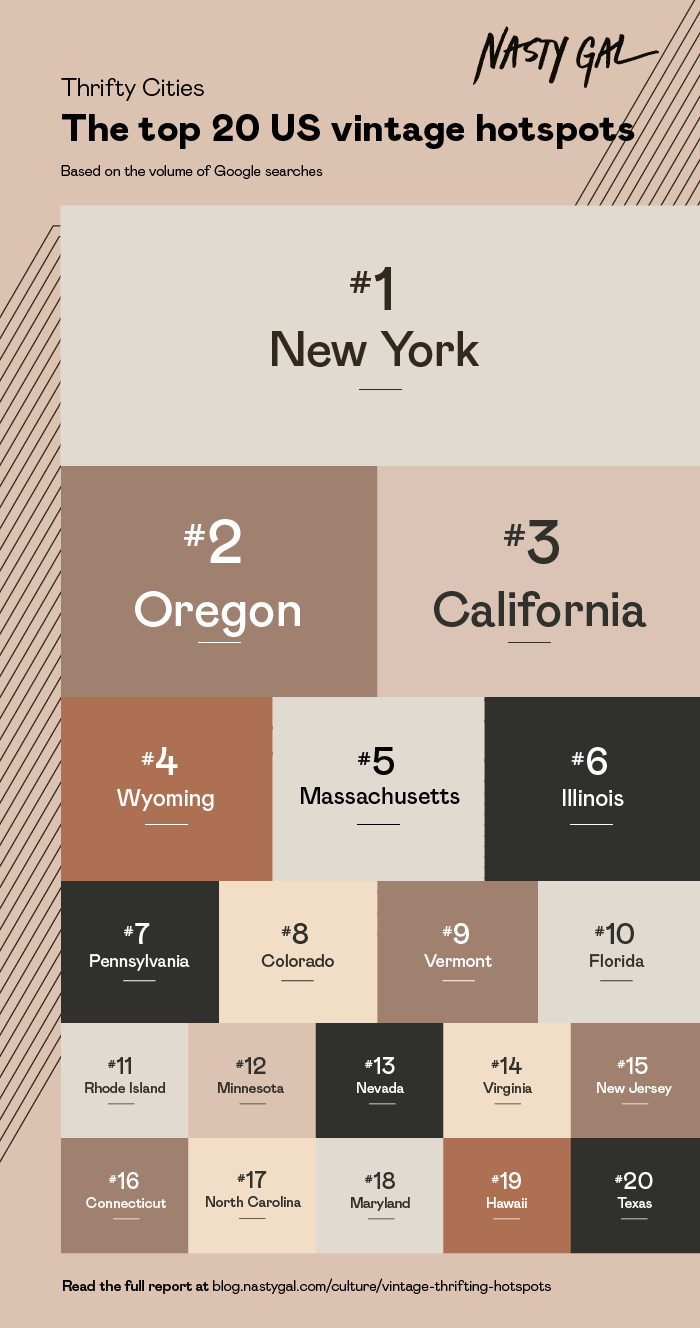 The Three Most Popular Vintage Eras
1. Y2K (2000s)
It may be hard to believe that the 2000s is now considered vintage, but the era of low-rise jeans, velour, crop tops and bold prints is America's most popular trend. 21 US states have Y2K as their favored era. These statement looks are a blend of noughties pop-culture, alongside the optimism of a new century, allowing creativity to flourish. Shop Nasty Gal's Y2K Outfits here.
2. 90s
The 90s was now over 30+ years ago (scary, we know), but the fashion trends are still as dominant as ever. Characterized by nylon, platforms, bright colors, and pairing tighter tops with bell-bottoms, this was the second most popular vintage era. The 90s was the favored style period for eight US states, including Arizona, New Mexico, and Utah.
3. 80s
It was acceptable in the 80s and it's still acceptable now, particularly if you live in Colorado, Florida, Louisiana or Delaware. From shell suits and high-waisted jeans to spandex and neon, the 80s is a defining style era that continues to be popular today. Although, perhaps we should leave the leg warmers back where we found them…
Methodology
Data collected was based on search volume for different thrift shops including Vinted, Depop, eBay, Vestiaire, and the search terms: 'thrift stores' and 'vintage shops'. This allowed us to see which states were creating the most demand via search. We also looked at the number of thrift/vintage stores within the most populated city of each state. The ranking was out of 50 for each metric, combined to create an overall rank.  Search volume data has been calculated per 100,000 of the state's population to ensure data is not skewed by larger populated states.