We know there's more to love (or the lack of it, in many cases) than the romantic couple posts on Insta. More to it than buying flowers, posting a collage online, or going out for a candlelit dinner. While some people put their all into big romantic gestures, others would rather put themselves into a year-long hibernation to avoid seeing these gestures IRL.  
So, we wanted to put the emphasis elsewhere, and find out which US states and UK cities were getting down and dirty this year – and how. 
If you're gunning for lust over love at the moment, we've discovered the favorite sexual kinks and positions of every US state and the biggest UK cities. Ready to be the Nastiest Gal you've ever been? Now you know where to head.
The USA's Favorite Sex Positions
Finally, we can answer the age-old question: is the USA more sexually adventurous than the UK? According to our data, yes it is. The most popular position in the country is the 'corkscrew' – a firm favorite with the likes of California and the Southern states. Alabama, West Virginia, and Missouri all have this in their top spot. 
If anything can be said about the USA, it's that they go big or go home – and nothing illustrates this better than the position in second place. For 16 states, the most popular sex position is the 'standing 69' including Florida, Michigan, and Arizona. It's definitely not one for the faint of heart or weak of arms.
At the other end of the spectrum, Georgia is single-handedly keeping the 'reverse cowgirl' alive in a country of experimental positions. It's a respectable effort, and while Georgia was never part of the Wild Wild West, it's only fair they get their share of the cowboy (or girl) fun. 
The USA's Most Popular Kinks
We too often focus on the differences between the UK and the US, but one thing unites us: both countries' love for feet, apparently. Just like in the UK, the most popular kink across the country is feet, with 'foot fetish' being in the top spot in California, Colorado, and 31 other states. 
The rest of the States' most common fetishes are less widely popular, with only two or three sharing the same ones. The next most popular kink is only on top in three states: a 'sexy photoshoot'. Idaho, South Carolina, and Washington can't get enough of this, so it's probably best to avoid going through people's camera rolls in these states.
A few states are into slightly more hardcore kinks than feet or sexy pics. Both Utah and Arizona's top fantasy is masochism, and Louisiana and South Dakota are heavy into impact play. It's definitely not for everyone, but if it's this you're after on Valentine's Day, you know where to go.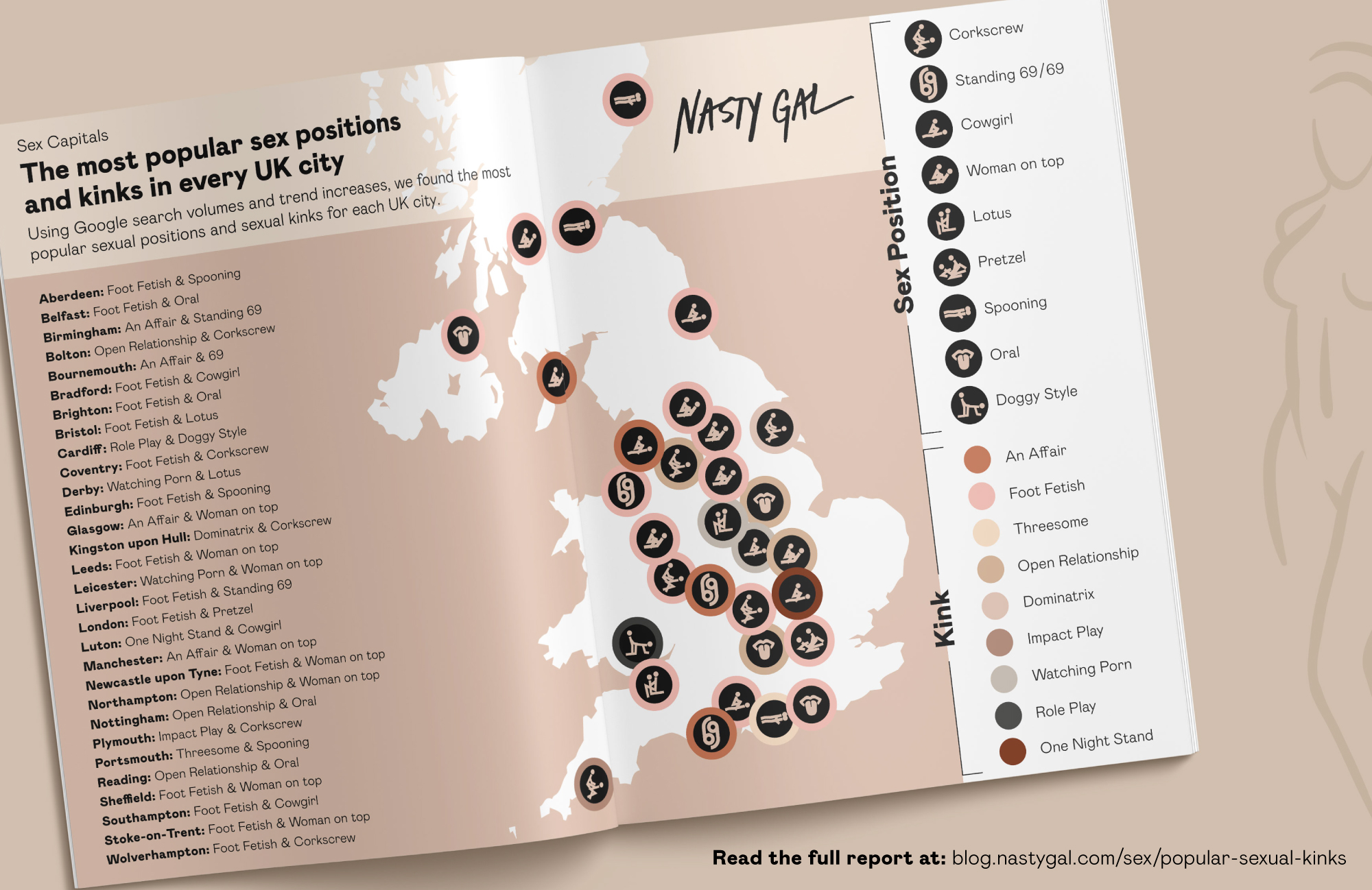 The UK's Favorite Sex Positions
Being good feminists, we love to see that the most popular sex position in the UK is 'woman on top'. Corporate world, take note. This is the favorite of eight cities out of the total 30 we looked at, including Manchester, Sheffield and Newcastle. 
The second most popular position is the slightly more niche 'corkscrew'. Coventry, Bolton, Plymouth and Hull are particular fans of this move, with five cities out of 30 having this as their top choice. Some people just have to be different, don't they?
Speaking of different, London stands alone on this list, with their favorite position being exclusive to this city. The 'pretzel' is a hit in the capital, so if you're looking to add a little *spice* to your sex life, it might be time to switch your Tinder location to London.
The UK's Most Popular Kinks
There's one sexual kink that stands head and shoulders above the rest in the UK, and, ironically, it's the complete opposite of heads and shoulders. Foot fetishes come out on top for half the cities we looked at, including London, Liverpool, and Bristol. Pedicure, anyone?
For Birmingham, Glasgow, Manchester, and Bournemouth, foot fetishes are old news. For these cities, the most common fetish running through their minds is of having an affair. As long as it stays a fantasy, guys. Similarly, in that they're also dreaming of other people, Nottingham, Northampton, Reading, and Bolton's top fantasy is an open relationship. 
There are some outlying cities when it comes to popular kinks. For example, Hull is the only city with 'dominatrix' as its most popular fantasy, and Cardiff stands alone in its love of role play. Seems like the perfect chance for a collab. 
The Sexiest Stuff on the Rise
With the world awash with technology, it seems phones aren't the only electrical device we take to bed. More and more sex toys are being introduced to the bedroom, and we've discovered which ones are being searched for more this year so you can stay on top (or underneath) of the trends.
In the UK, vibrating panties are on the rise, especially in Southampton. Searches for these have gone up by 200% since this time last year, so if you're looking for a last-minute gift, this might just be the way to go. Be careful taking them out in public, though. You don't want to find yourself in an Ugly Truth situation.
As far as sexual fantasies go in the USA, searches for 'mature porn' are up compared to last year, experiencing growth in one state specifically. Tennessee searches for this term have gone up 86%, so that's great news for any older people out there looking for a good time this Valentine's Day.
Experiencing a surge in popularity in both the UK and US are (brace yourselves) penis rings. In Leeds, searches for these, ahem, accessories have soared by 125% since this time last year, and they've gone up by 67% in Alaska. Two very different places, but with one special thing in common. 
Get All Your V-Day Goods from Nasty Gal
At Nasty Gal, we have everything you could need for a sex life full of thrills. Want to feel like your best self, in or out of clothes? We have a stunning lingerie range to suit any occasion. Want to introduce something new to spice up your night? Shop our collection of sex toys. It's never been easier to upgrade your sex experiences this year. 
Shop Sex Toys & Accessories