What makes good denim? And what are the qualities we should look for so it can last in our closets as long as possible? Denim has been a forever staple in everyday dressing, spanning the past 100 years. There's something true and timeless about a pair of jeans that look just as good with a strappy bralette as when worn with a simple tee.  Or perhaps you're lusting over a failsafe eclectic denim jacket that sits oversized, and adds a style statement to a day-to-day outfit? At Nasty Gal we promote the capsule essentials that you can rely on to stay in style year after year, while investing in the pieces you love so your lifespan with them is a long and happy one. We're here to make choosing those investment picks a little easier. So let's dive in with the basics.
What is Denim Made of?
The denim we know, love, and wear on (almost) any occasion is usually made from cotton, which provides the tough, solid, and durable texture it's celebrated for. The higher the cotton quantity in your favorite denim item, the more likely it will last longer in your closet. However, not only does the cotton add strength and durability to a closet piece, it also provides a flexible quality to the fabric that can actually mold to the wearer's silhouette, which is why more fitted denim pieces, like jeans or shorts, are quintessentially yours, unique to the wearer.
How is Denim Made?
Denim is formed by weaving together two pieces of yarn, with a horizontal thread (the weft), woven over and under the vertical yarn (the warp). It's common for the warp cotton to be dyed before the weaving begins, and for the weft to be left natural or bleached, which results in the familiar flickers of white thread in your day one denim staples. The weaving technique used for denim forms a twill fabric, although there are various types of twill that will impact the direction of the lines seen in your denim.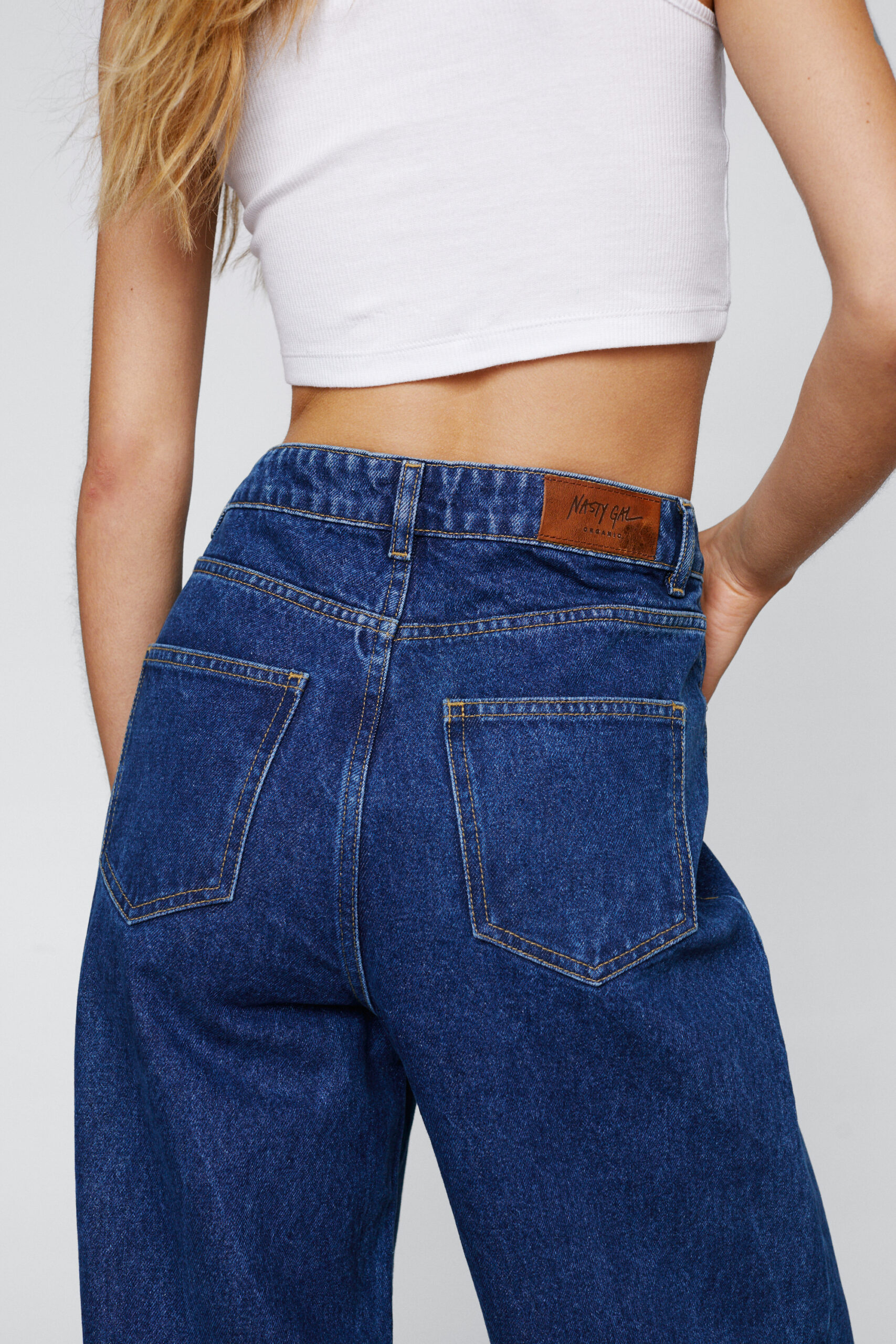 Guide to Denim Jeans
Qualities to look out for when it comes to a dependable pair of jeans include strong, heavyweight denim, small details, and a unique, no 'house pattern' fit. A good pair of jeans may feel slightly stiff at first but should never be uncomfortable and, after a handful of wears, they'll begin to mold to the dips and curves of your silhouette. Jeans with heavier weight are likely made with thicker, stronger cotton ,which equals a more durable, longer-lasting pair.
A quality pair of premium denim jeans won't rub off on your sofa or desk chair, and will hold their color in the wash. However, it's never a bad idea to be extra cautious on the first few washes of those vibrant jeans, but washing with similar colors should be more than enough to keep concerns at bay. After a wash or two, you shouldn't need to worry. More importantly, you should never notice uneven discoloration post-wash on a pair of good denim jeans.
There's no right answer to the question 'How should jeans fit?' From baggy boyfriend to a sleek and skinny, as long as they fit well and you're confident in the style, you can get many years of wear. In terms of qualities to look out for in your next jeans purchase, pockets are practical, and a high-quality pair of jeans should have them in abundance. Also, take a look at the stitching. Keep an eye on jeans with a thick stitch across the side seams and hems for insight into their durability. Copper buttons and rivets are also a great indication that more expensive materials have been used for your jeans, dialing up the quality.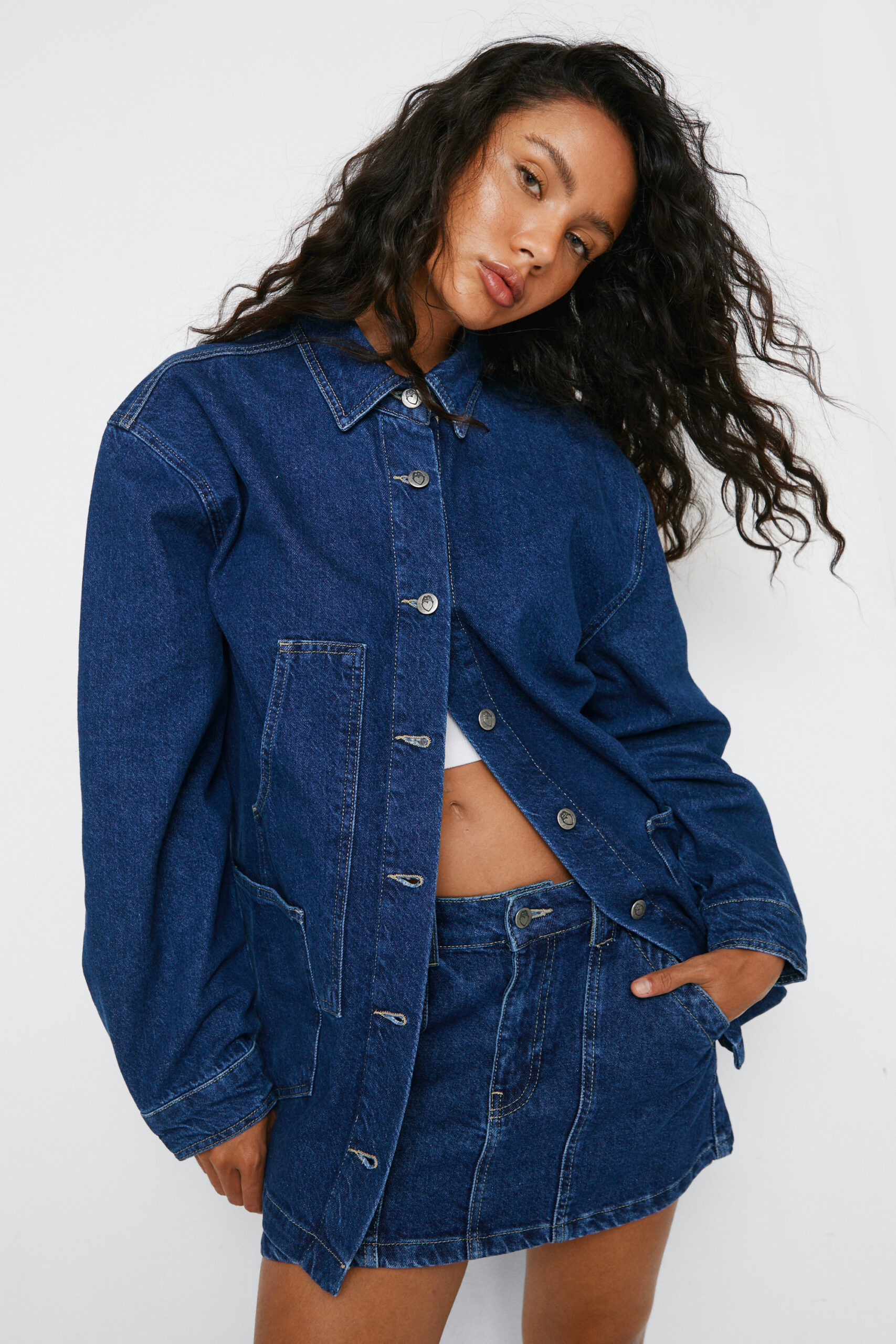 Guide to Denim Jackets
Like jeans, we here at Nasty Gal think that by investing a little more into your next denim jacket, you're paying for a timeless piece to add to your closet that will actually get more and more valuable after each passing year. An essential for layering, our favorite denim jackets feature an array of designs, all with their styling benefits.
As for 'how should a denim jacket fit?', when it comes to shapes, the classic denim jacket tends to be boxy and sit around the hipbone, so if you're a stickler for tradition and want a jacket that you know will be in style for the next 50 years, opt for the classic fit. However, belted and longline variations can also be super flattering, so simply choosing the shape you're most comfortable in will boost its wearability and keep you well-dressed for longer.
Also like jeans, your favorite jean jacket should hold some weight on the hanger, and, even better, have a slightly uneven texture. Trust us, a high-quality, raw denim jacket won't be smooth and processed. The jacket should also be rigid and may incorporate blanket lining to make it even more comfortable for the wearer. Other premium qualities include internal felled seams, pleated fronts, and buckle details. Iron front buttons, copper rivets, and other metal trims also scream quality in jackets and, if it's a zip-up design, a durable metal zipper will also go a long way in keeping the longevity of your item. Look for these details on your next denim jacket and invest in your future closet.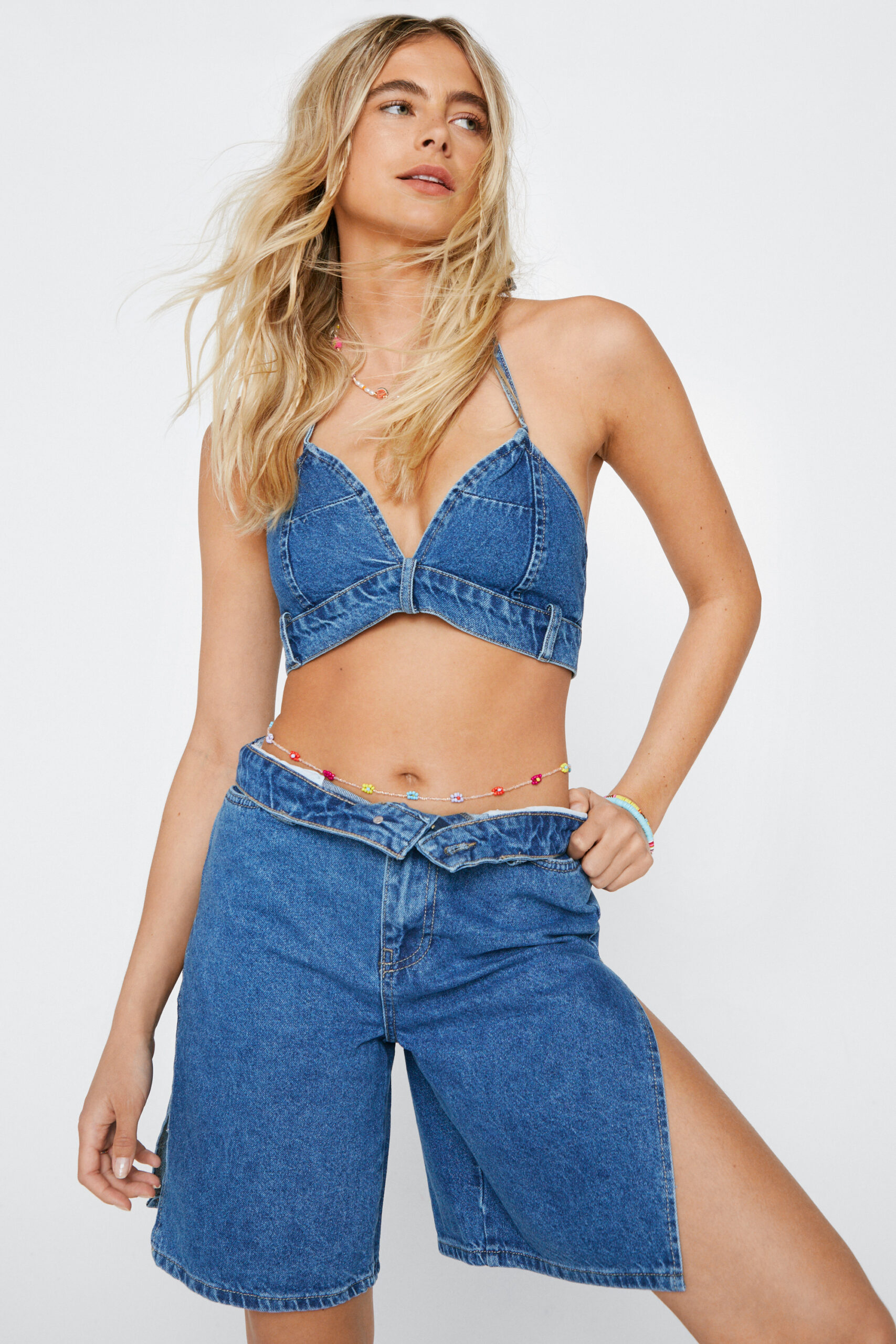 Guide to Denim Shorts
A mainstay in summer closets everywhere, an elevated pair of denim jean shorts are not only ultra-easy to style (hello endless outfit options), but if you treat them with a little respect, they can carry you through the warmer seasons year after year. But what to look out for in a pair of high-quality denim shorts? Well, in the perfect denim, there should be depth in its color, so steer away from shorts that have a one wash colorway throughout. This would suggest that the dying process happened later in its journey, staining the wefts, which can sometimes be the cheaper option and will likely translate to the quality.
For shorts specifically, a popular trend is the raw hem or distressed detailing. These styles look great and add a shot of '80s grunge to an everyday outfit. But proceed with caution. Distressed denim shorts will show additional signs of wear and tear quicker than an untouched pair, with loose threads, rips, and holes appearing less and less neat over time. Whereas we'd still recommend distressed as a trendy summer option, for investment pieces where you're willing to spend a little more, we'd suggest opting for distressed-free denim to better its chances of longevity.