Electric lovers. If you're new to the underground scene and unsure what to wear to a rave in 2022, hello – you're going to love it here. For our more experienced pros wanting to dial up their dancewear, this one's for you too.  Whether it's EMD or dubstep, trance or house, express your creativity and join the global electronic subculture straddling the clubs of Ibiza and the downtown dives of New York. Take your pick of our rave-ready looks that channel carnival costumes, monochromatic styling, and futuristic outfits all in one. Let's dive in.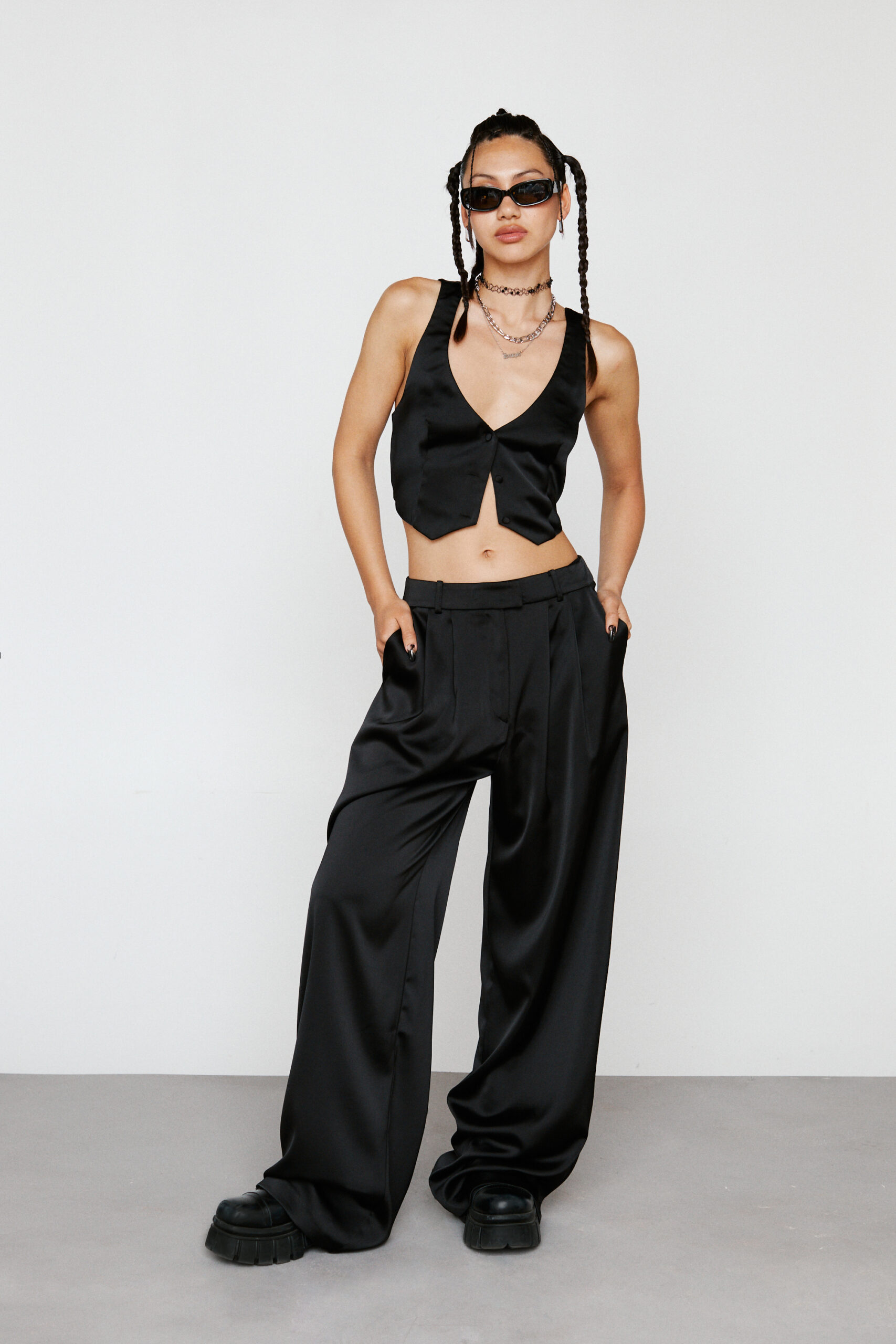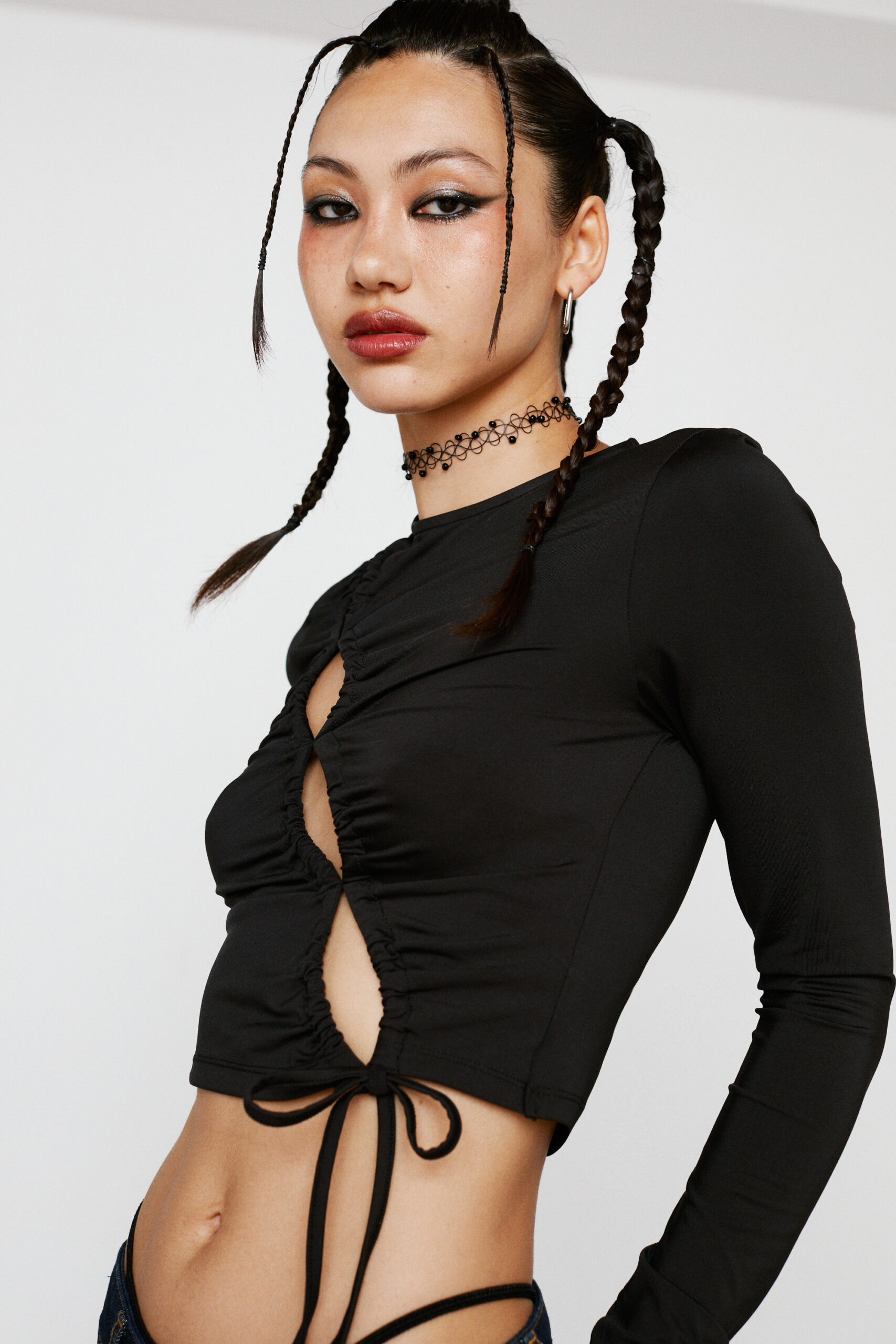 All Black Rave Outfits
We'll begin with the failsafe outfit approved to pass the vibe check in even the most exclusive raves in Berlin – a simple all-black rave outfit, with a twist.  Within the Eastern European rave scene specifically, the term 'look like you belong' will get you far, so put down the glitter and take off the neon. Instead, opt for baggy black cargos with a strappy black crop top, an oversized black bomber jacket, and chunky black sneakers. Use your hair and make-up to express your creative flair with a statement eye look or a bold hairstyle (space buns – check).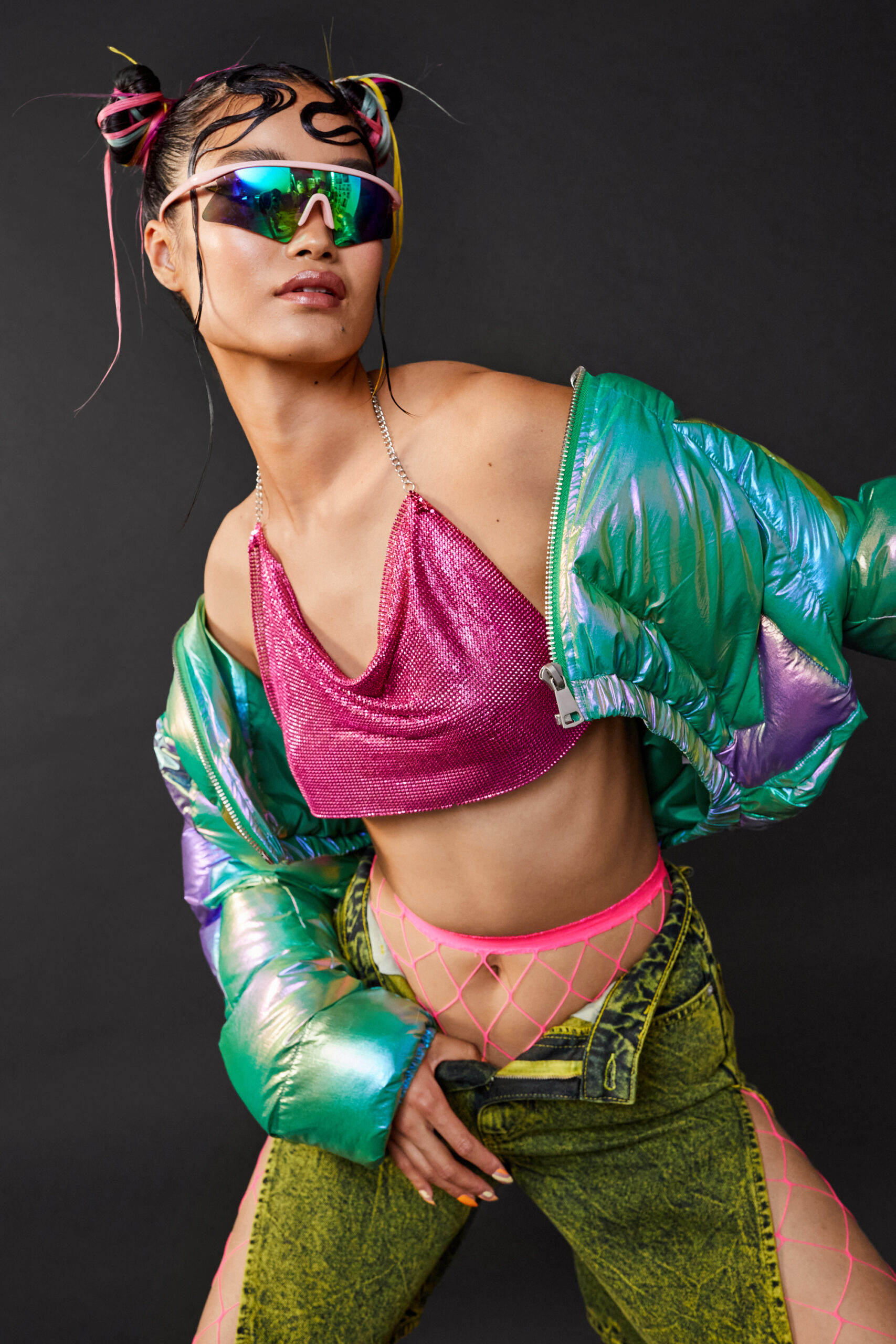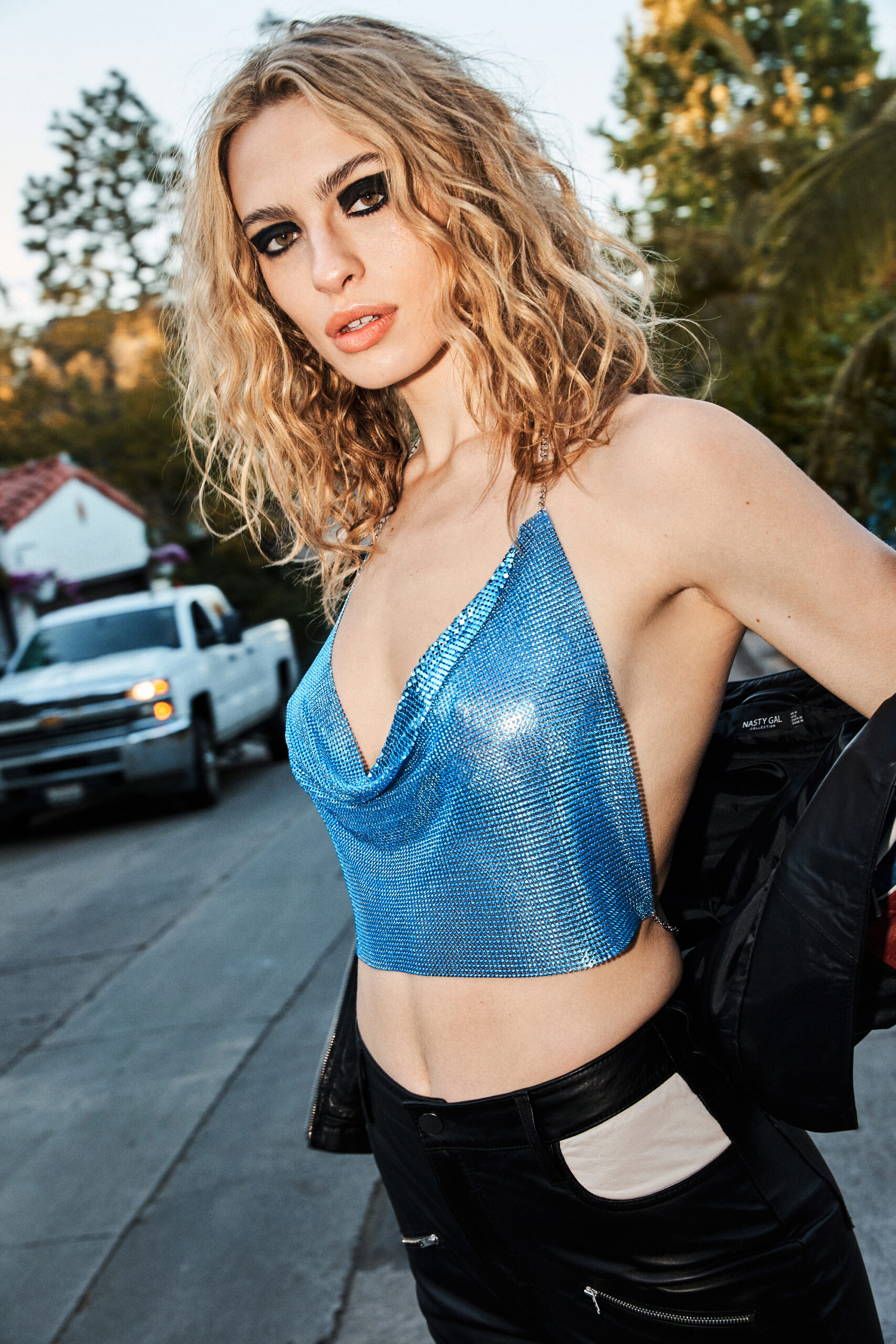 Chainmail for Warehouse Raves
A rave essential, chainmail hit popularity amongst supermodels and celebrities alike in the '90s, at the same time EDM achieved mainstream popularity across Europe. Combine the two and you have a nostalgic '90s nod to fashion and music. A statement piece, chainmail is slightly weighted offering luxuriousness, and often features a halter or backless design, keeping you cool as can be in those (very) hot warehouse raves. Whether it's a dress or a top and cargos, complete your EDM attire with flat ankle boots – a requisite for dancing 'til dawn.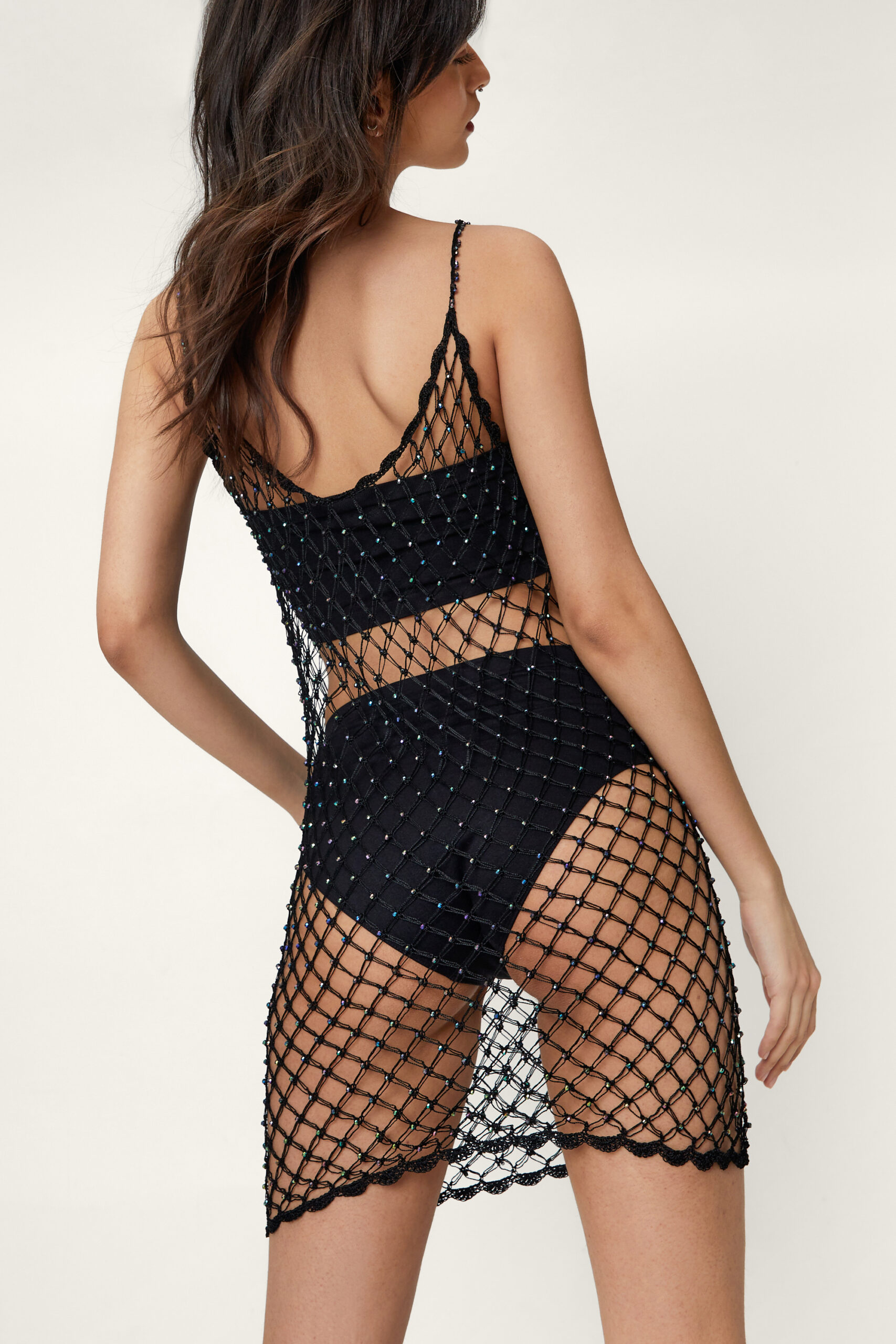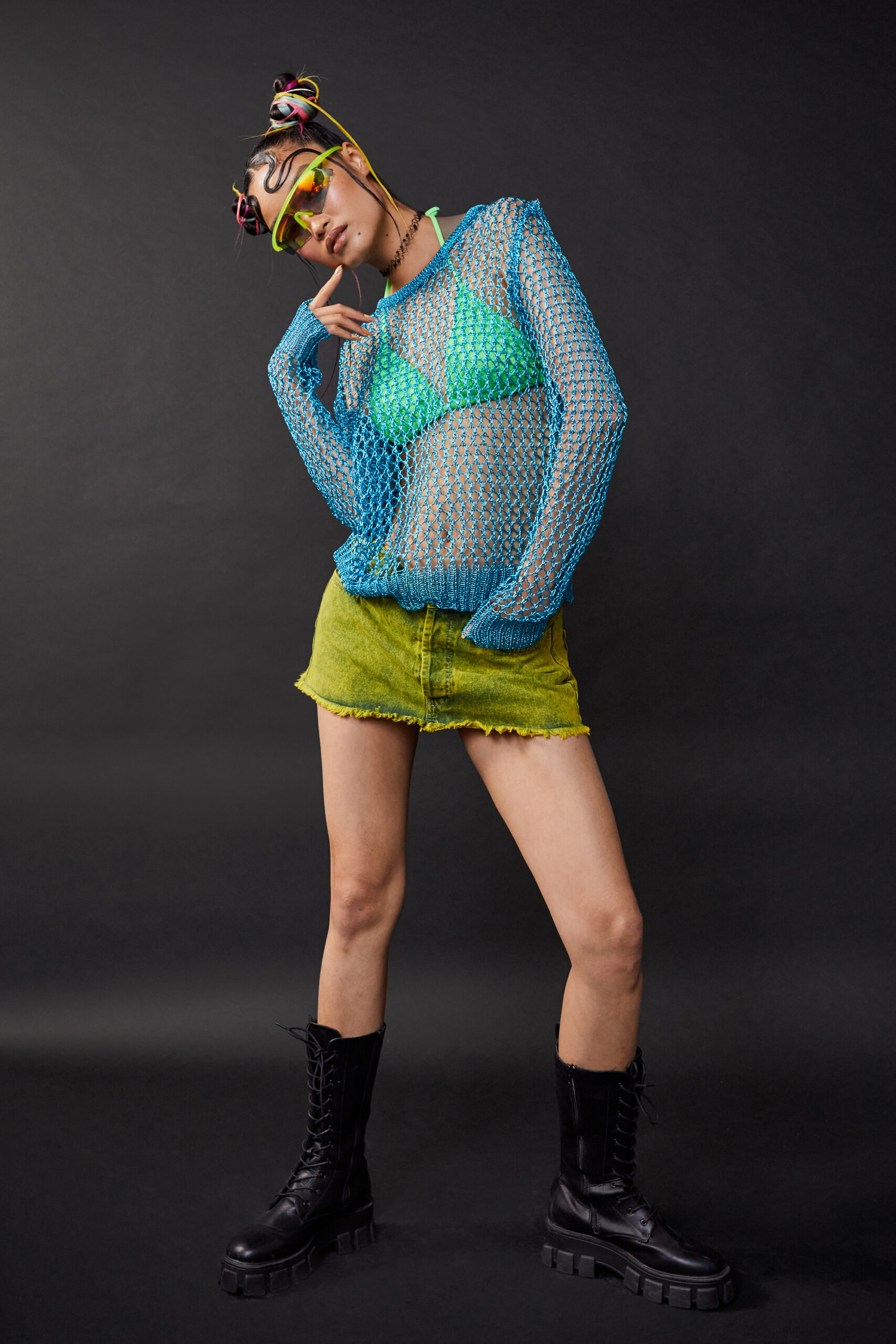 Crochet & Mesh for Club Raves
A curation of how to dress for a rave would not be complete without teasing a little skin in the form of mesh and crochet. Yes, it's so easy to overheat in a packed club setting, especially in the summer months, so style your look strategically and opt for a mesh top or mini dress so lightweight, it'll feel like a second skin. Or, dust off your vacay closet and style an open weave crochet dress over a micro black bikini set, and pair the look with your comfiest grungy biker boots.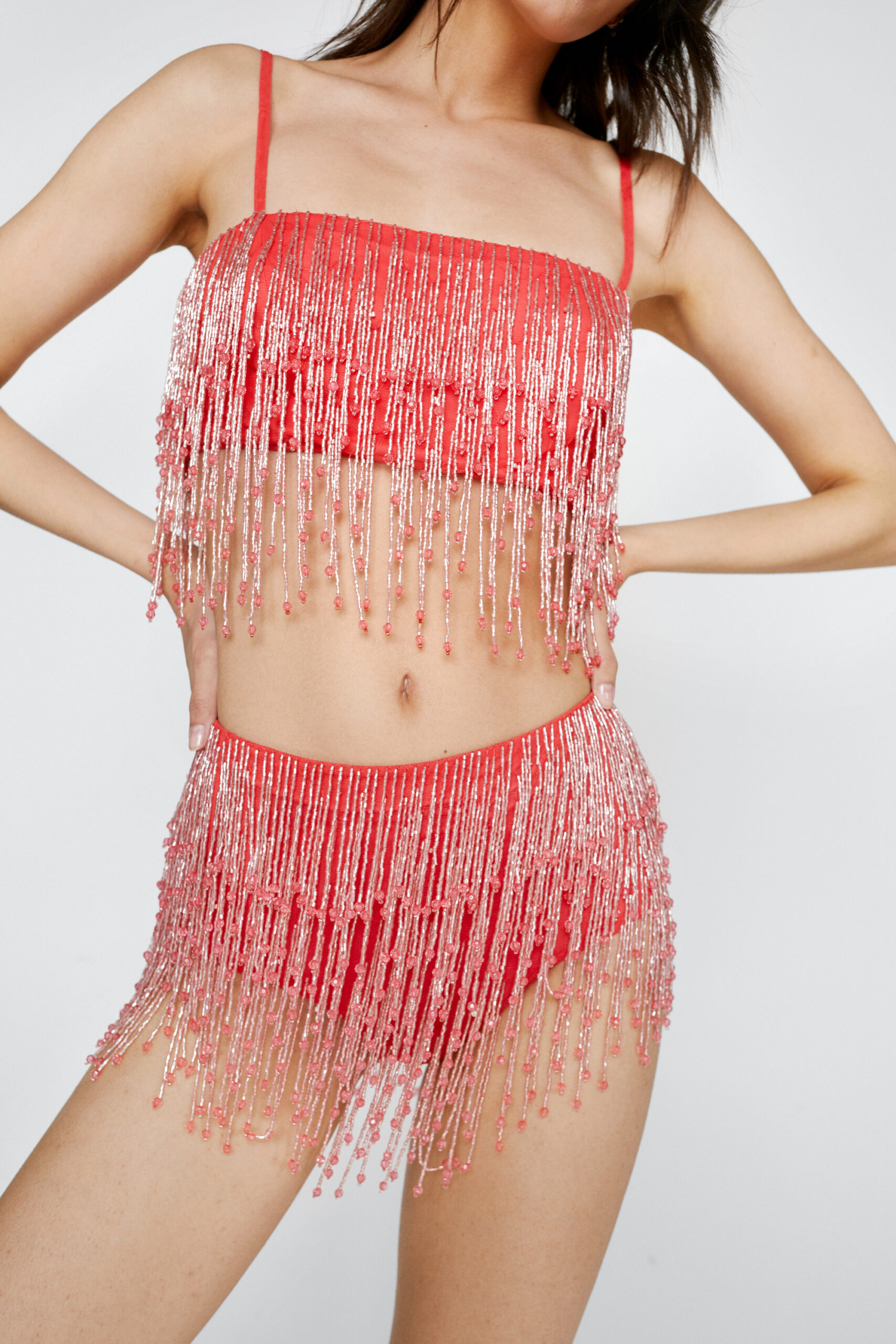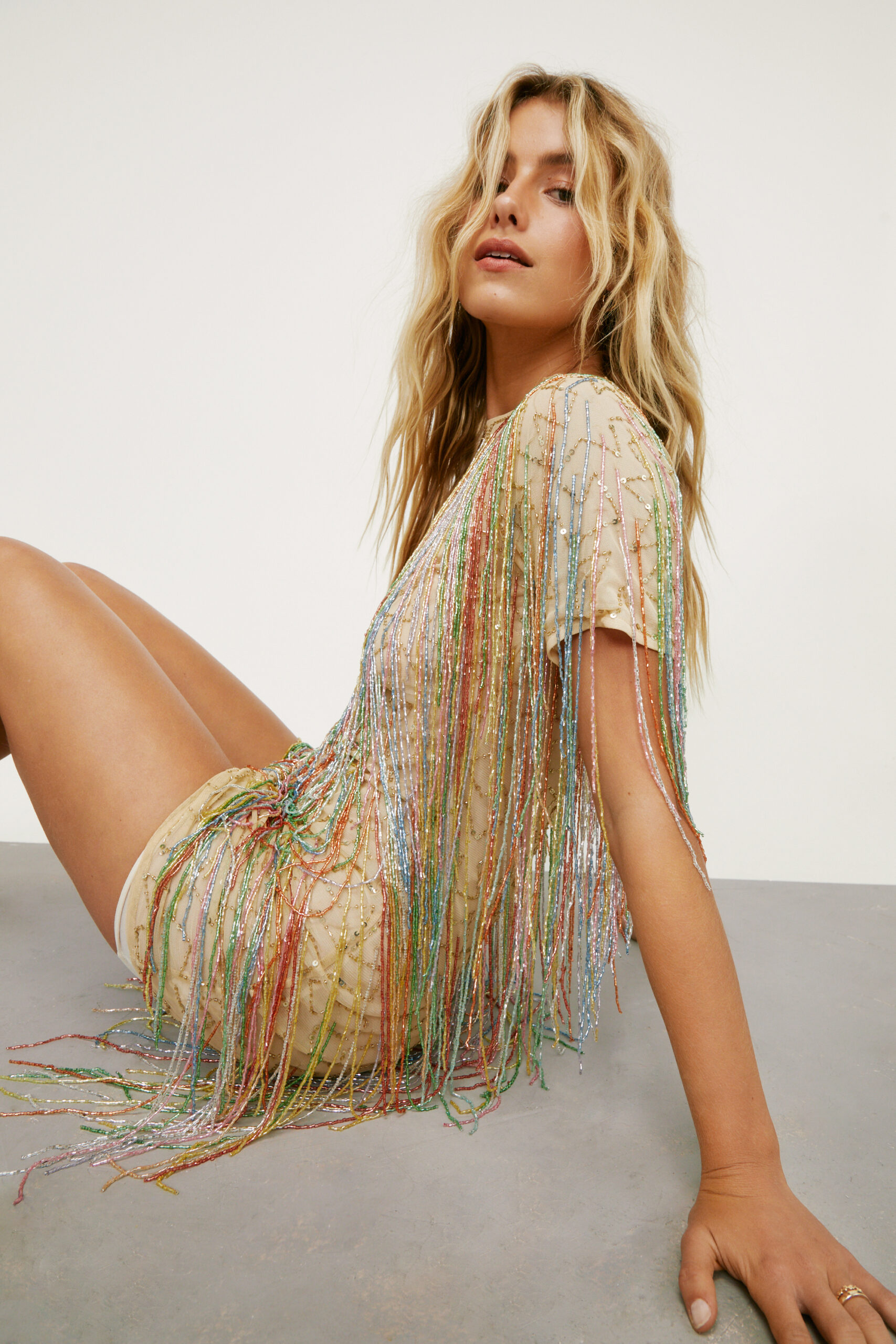 Fringe & Tassels for Festival Raves
Introducing the headliner. A certain Black Rock City festival is approaching, born for creative dreamers, artists, and EDM lovers alike. An expression of costume cosplay, this electric rave is the excuse you need to go wild with unique closet pieces. What to wear to a rave party in the desert? Take your pick from our collection of fringe, tassel, and beaded pieces, made to be seen and celebrated. Channel carnival rave outfits with fringe skirts, teamed with strappy bikini tops, or drop beaded bralette and hotpant co-ords that reflect the desert sun.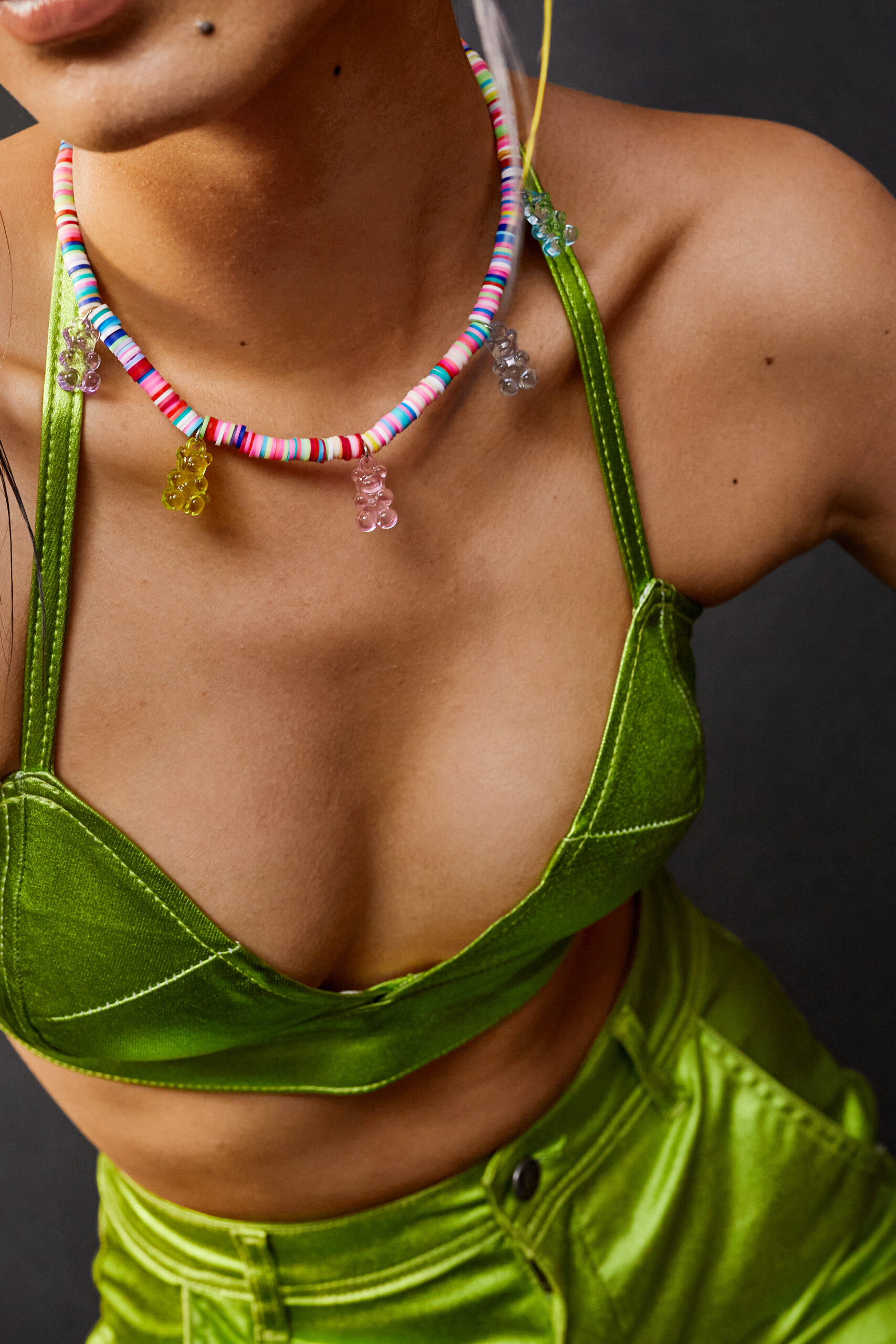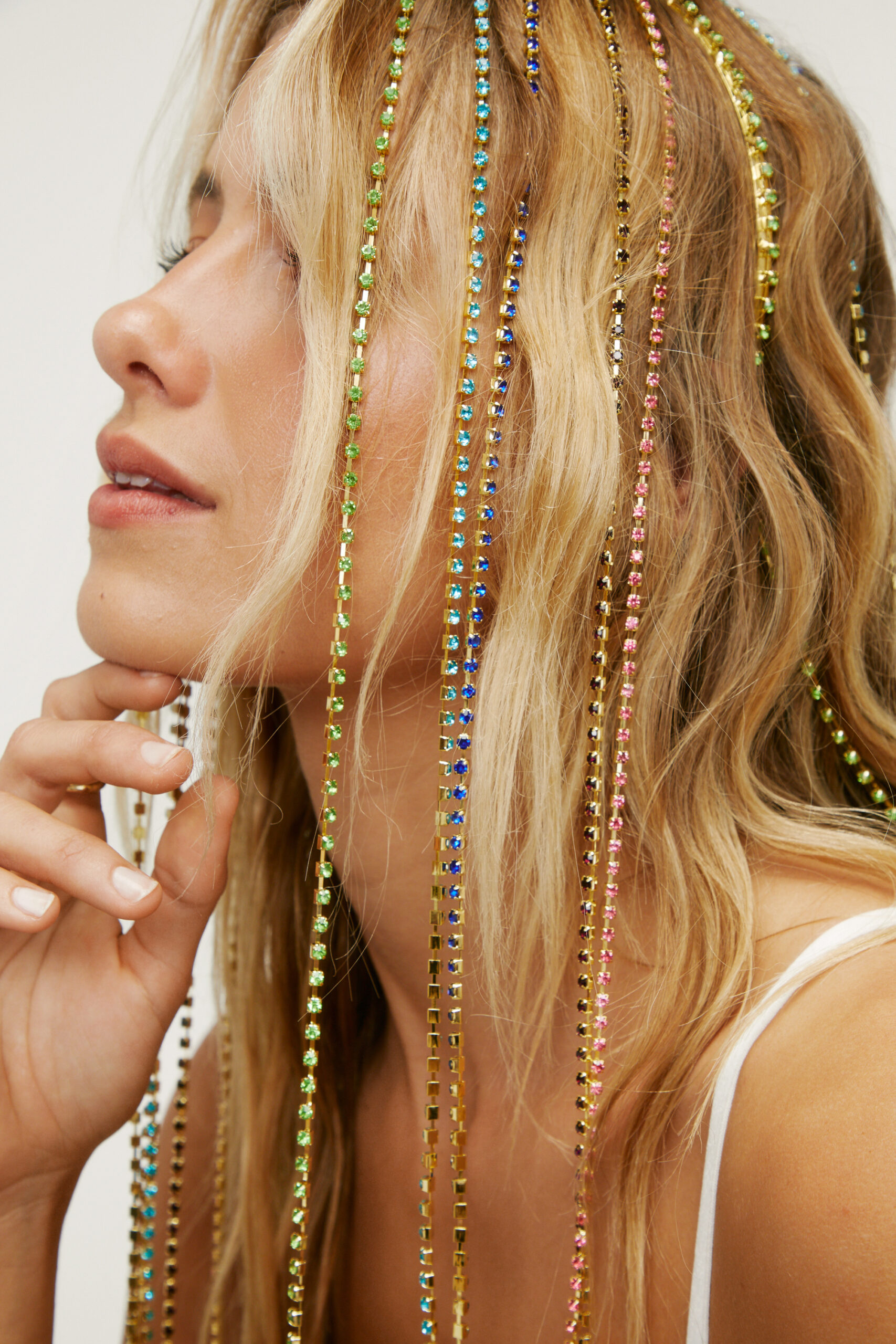 Rave Accessories & Shoes
Perhaps not one for your Thursday night house concert, but for the big festival moments, complete your rave attire with wild accessories to match. Our favorites? Crochet and diamante headwear that drips down the temples and sculpts the face, and statement try-and-miss-me body jewels. For shoes, we favor flat boots as the most comfortable footwear, so throw on your calf-high cowboy boots or platform ankle biker boots, and follow the sound of the music.