A capsule closet essential to rival jeans or a tee, boxy tailored blazers are a style staple in high demand for 2022. But how should we be styling these versatile jackets on the daily? Whether it's a brunch date, bar-hopping, or an afternoon at the office, balance your 'formal meets casual' outfit and learn how to wear a blazer casually, with the help of our Nasty Gals. Our muses walk us through inspiring ways to put together a cool blazer-based look featuring vintage denim, sporty athleisure, and timeless tailoring. Let's get into it.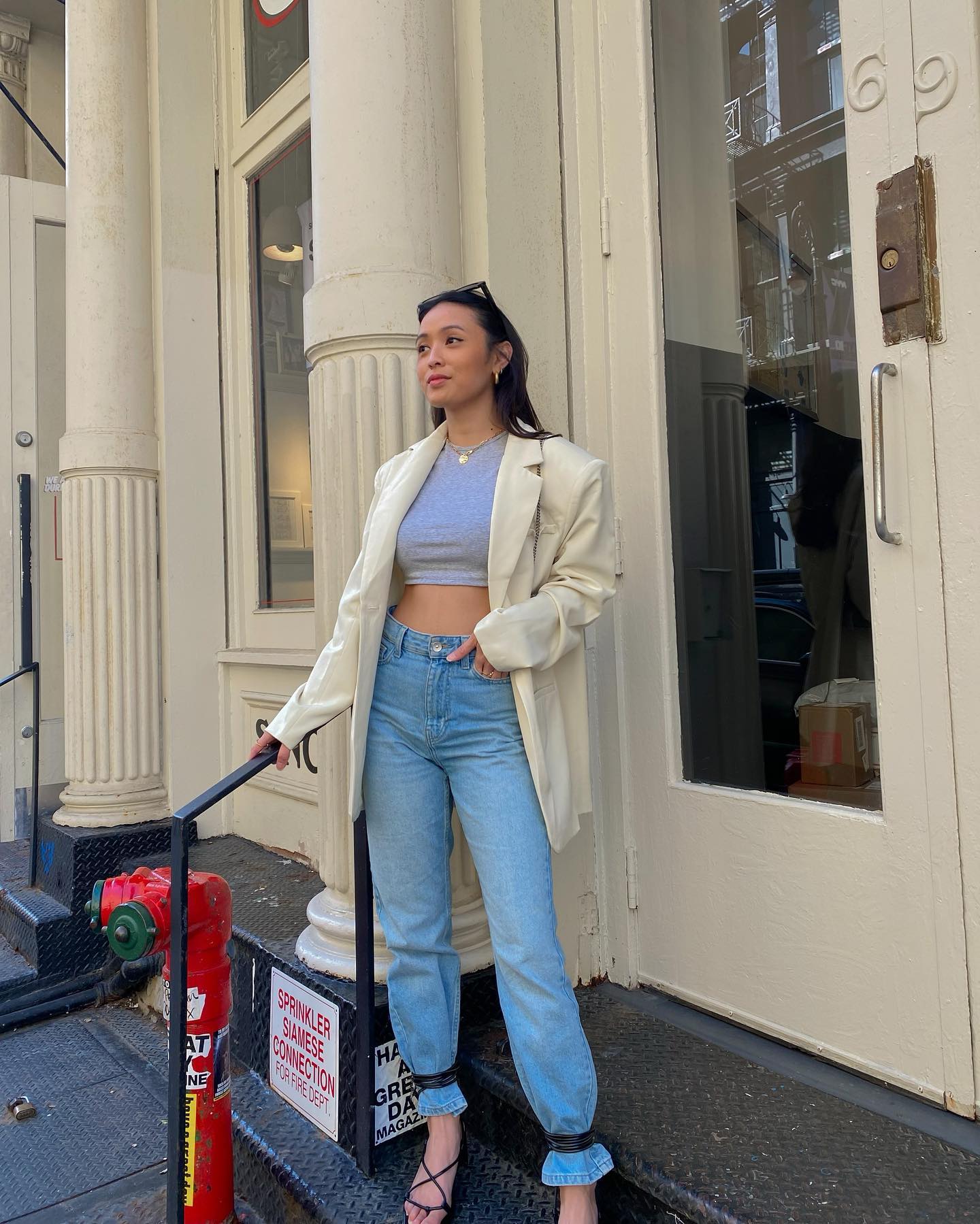 How to Wear a Blazer with Jeans
Firstly, how to wear a blazer with jeans? We're swooning over Qania's street style and her transformation of a simple t-shirt and jeans look. Upscale an outfit that utilizes core basics like this fitted gray crop top and high-waisted denim jeans with an oversized ecru blazer. Yes, it'll keep you warm in the evening breeze but by opting for light colors like cream or sorbet peach, you can carry the look through to summer. Rather than reaching for sneakers, complete the look with delicate strappy heels for a feminine dressy outfit that oozes effortless style. Qania's choice to style strappy heels that wrap over the jean's hem is a cute hack for dialling up the drama of the look.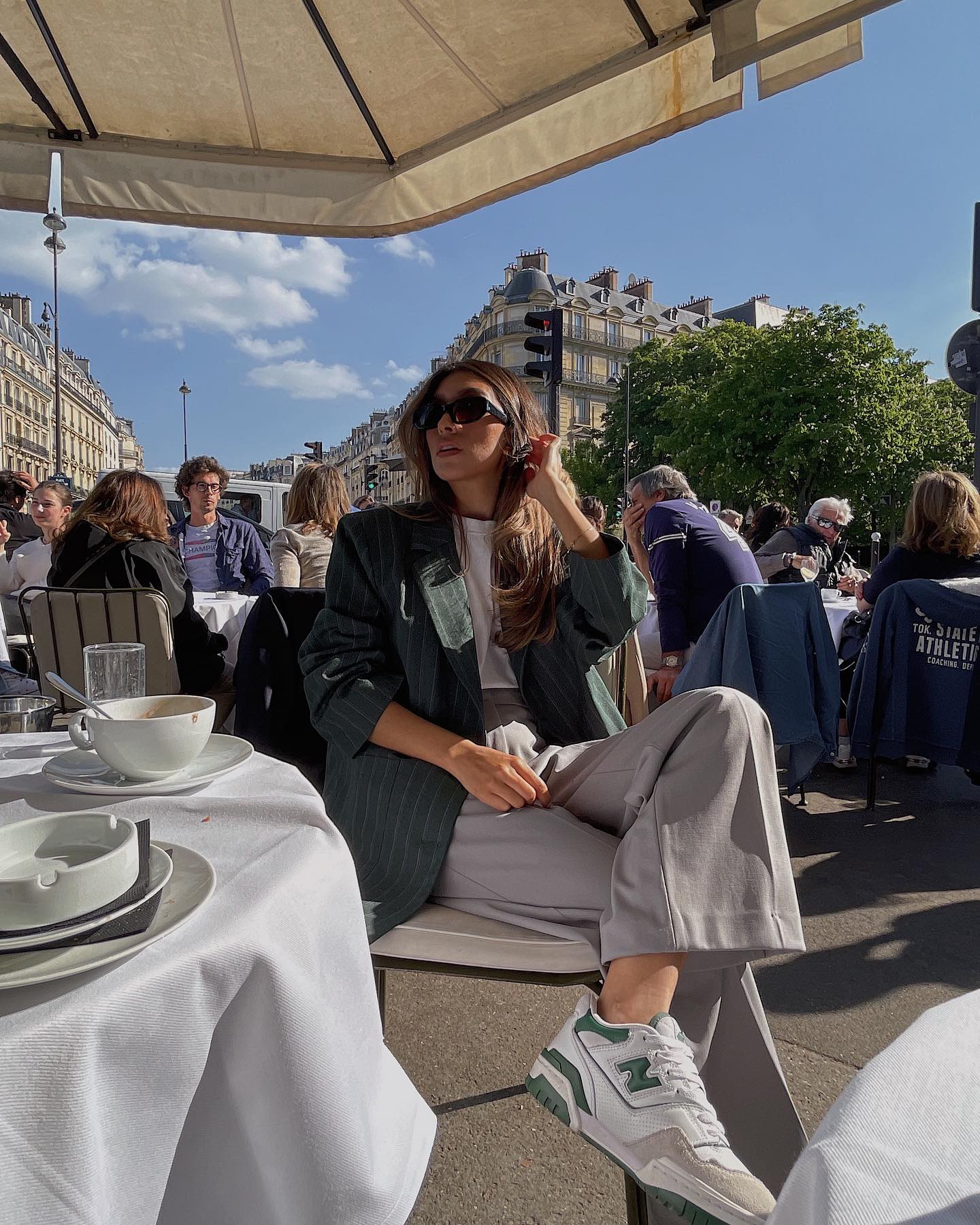 How to Wear a Blazer Casually
Next, @fancyandparis's styling of this luxec laidback look perfectly shows how to wear a blazer casually. The contrast of casual sneakers and a tailored pantsuit is one we love, and one guaranteed to be a business casual crowd-pleaser. Dress down a tailored outfit by styling your suit as separates. Rather than wearing a two-piece coordinating suit, Angela has broken up the formality of her look by choosing a pinstriped Nasty blazer with simple gray suit pants. This adds a sense of playfulness and offers a relaxed approach to styling tailoring.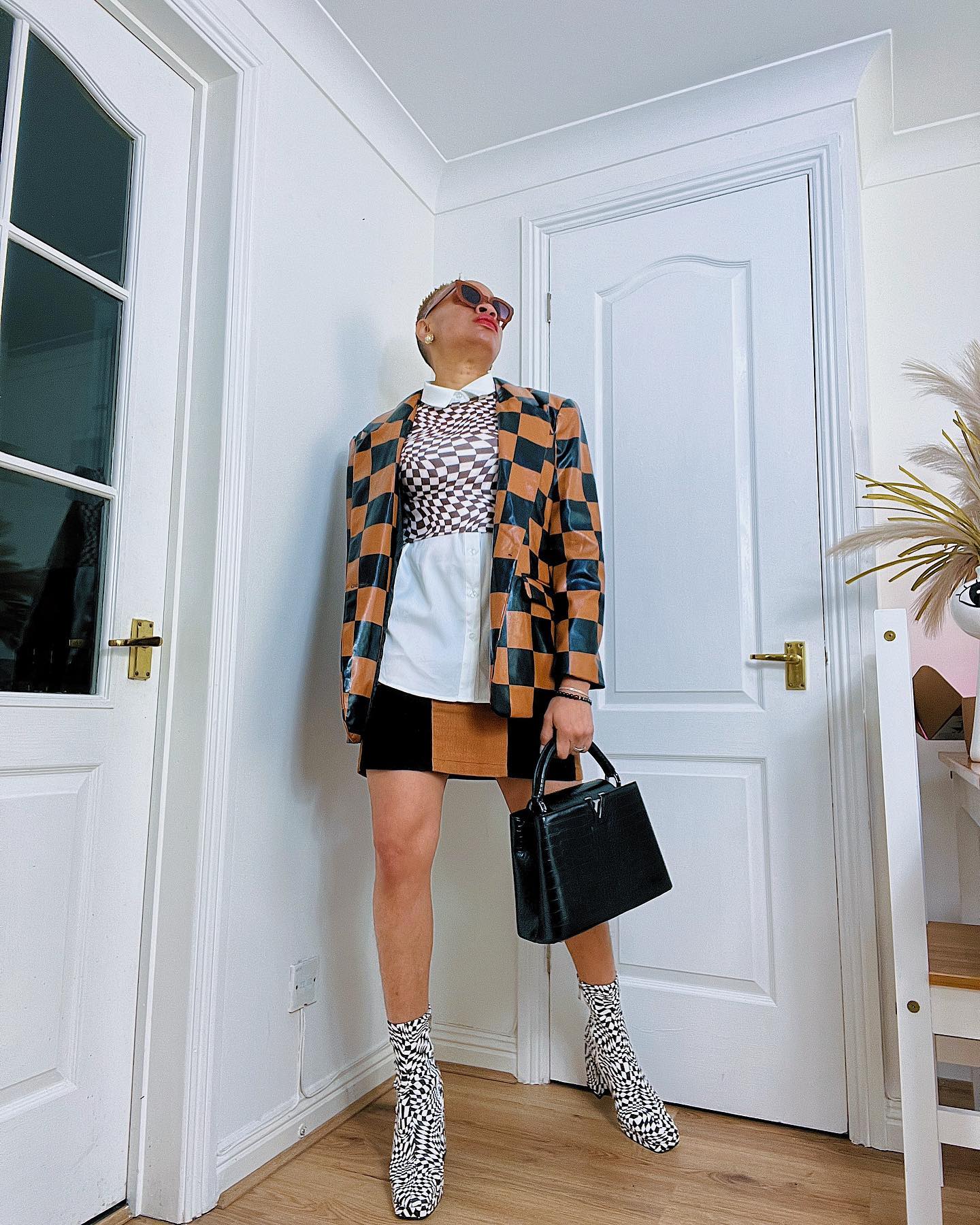 How to Style a Leather Blazer
A showstopper moment, here's @metrogypsie showing us a stellar way of how to style a leather blazer (or in the case above, faux leather) as a statement skirt co-ord. Some shy away from mixing patterns or textures, opting to pair back the look with a simple bodysuit or tank. Stephanie takes a creative approach to mirroring the grid-like check pattern across the full outfit, while contrasting textures with a corduroy skirt. A crisp, white tailored shirt works hand in hand with any form of tailoring, and the look is best served with statement heeled booties.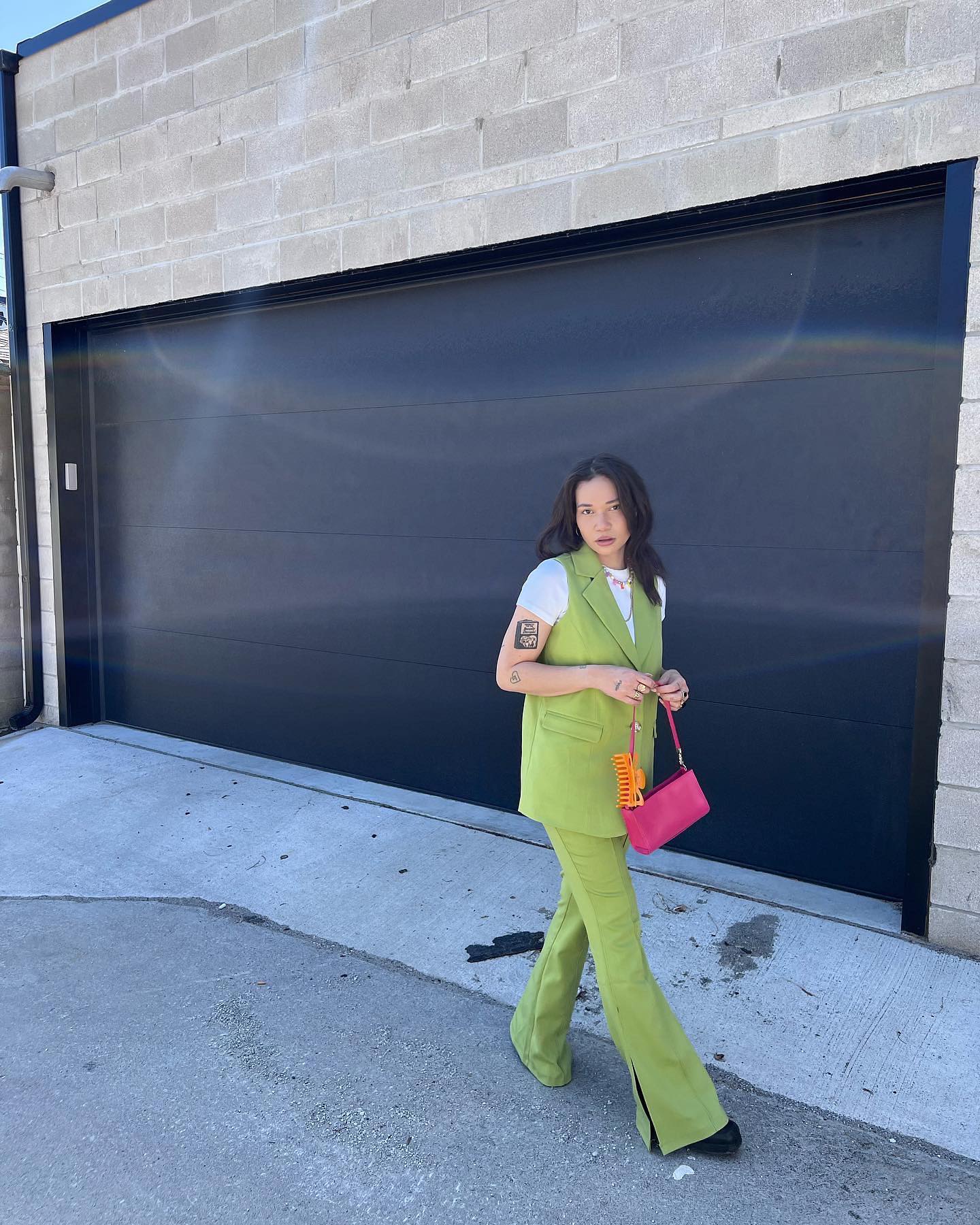 How to Style an Oversized Blazer with No Sleeves
A Y2K vision in how to dress a blazer, @spacecowboymaya sets the style bar high in a sleeveless oversized suit vest blazer – and we're obsessed. This olive green and its warm undertones is a staple you need in your closet. We also heart the clash created by contrasting neon orange and hot pinks, dialling up the noughties nostalgia. Pair an oversized sleeveless blazer with matching wide-leg tailored pants, and layer the look over a white short sleeve t-shirt. Add some bright jewelry, and you're good to go. For a 101 in fall layering – style a sleeveless blazer over an oversized hoodie or sweatshirt.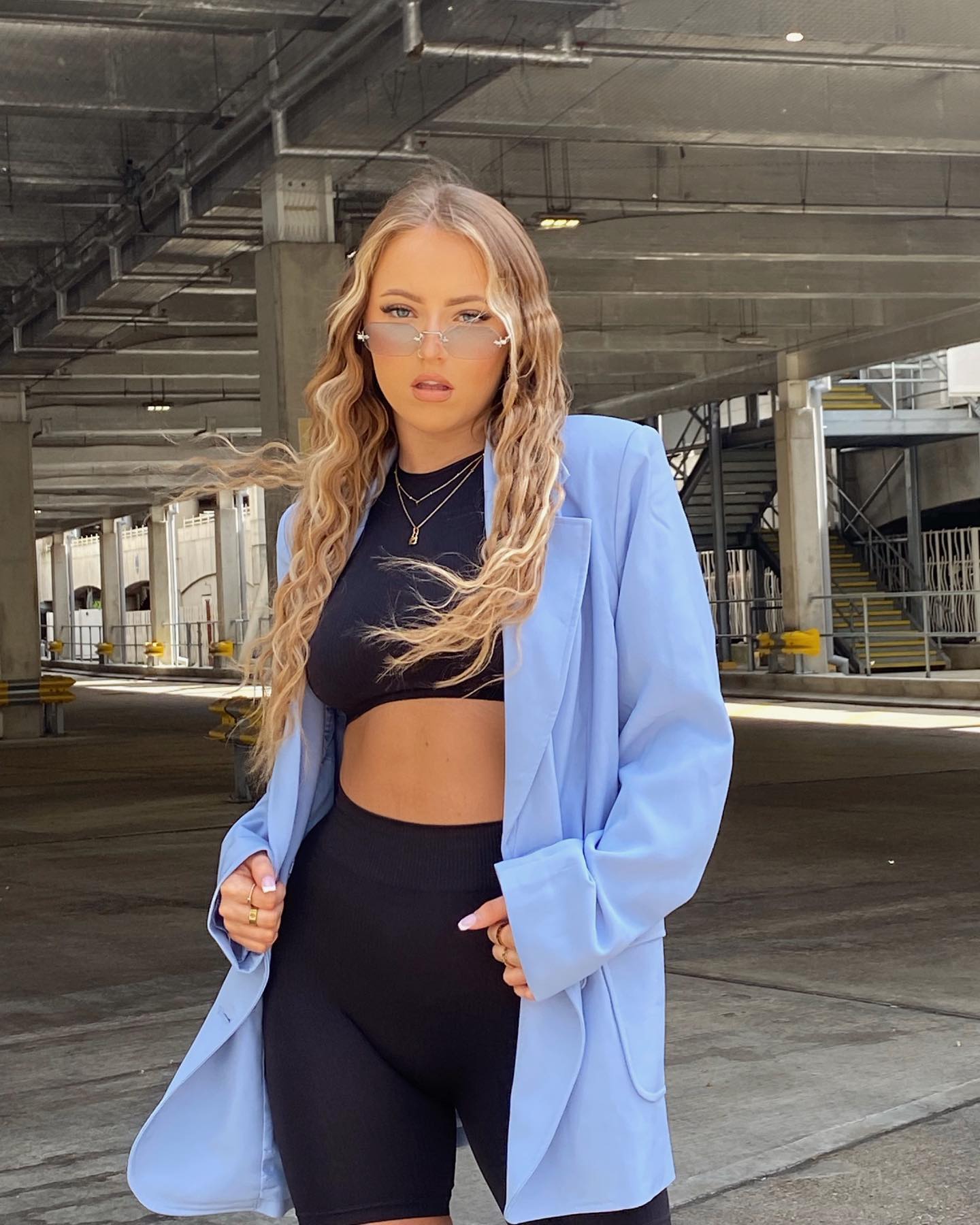 How to Dress a Blazer with Athleisure
We hear it in your voice – athleisure and tailoring? Hear us out. As @kirrafarrowx showcases so perfectly, an oversized Nasty Gal blazer can be the ultimate companion to your workout wear, offering a cool contrast to figure-skimming leggings and a crop top. Hailey Bieber inspired, this track tailoring adds a different dimension to an everyday look, and can easily be adapted to suit daytime or date night plans. If casual's calling, pair a black crop top and legging set with a bright, colorful blazer, and style the look with sneakers. For something a little fancier, switch out the leggings for biker shorts, button up the blazer, and pair the look with strappy heels.