Anais Gallagher–model, student, aspiring photographer, and passionate PETA activist–is as normal as you get for an 18-year-old Londoner. Or at least as normal as you get if you're an 18-year-old Londoner with an iconic fashion pedigree (John Galliano is her godfather, and her mom is legendary London babe Meg Matthews), or someone who's been brought up around music her whole life (her dad is Oasis' Noel Gallagher). Naturally, those worlds tend to collide around festival season–and our latest Nasty Gal Studio collection–so who better to get to know than someone who's so entrenched in both? We sat down with Anais in Los Angeles to talk dinosaurs, festival etiquette, her love of animals, and the best tofu dessert you'll ever try.
What's your profession?
I'm a student and I do lots of fun things (like modeling!) on the side—but I'd mostly say I'm a student since I'm still at school. I'm in my last year at school but I'll be going to university in autumn to study photography.
How fitting that you're also a model!
I prefer being behind the camera but I feel like I'm a sympathetic photographer because I can empathize with the models and know how they're feeling.
You're a vegetarian and you're really passionate about it—why is it so important to you?
I am, but I like to say that I'm not like all the vegetarians that force it down everyone's throats. I'm not new to it—I've been a vegetarian since I was 11. It's something I hold really close to my heart. When I first became a vegetarian, it was mainly because I love animals. I had animals my whole life, I've been horse riding my whole life, and I grew up with horses, cats, dogs, guinea pigs, and fish. I could never understand the difference from cows to pigs and horses to dogs.  At first, it started with what was a really innocent idea—I just loved animals. Now, I've learned how much the environment is really harmed by meat consumption. Now, society's image around meat and fur just seems really wrong.
Any good tips for a veggie snack?
The Whole Foods by my house make these smoked tofu bars—it's kind of like a chocolate bar!
Tell us how you first into modeling? Was it a love of fashion, or something else?
When I was younger, I would always do little things like make my mom film me and put on performances. I was obsessed with being in front of the camera. I always wanted to be the center of attention—ha!–it was something always enjoyed doing. Initially, got into modeling because I enjoyed the creative process behind it. There are so many people coming together—stylists, makeup artists, creative directors, and photographers all working towards an end goal. I think that's really cool.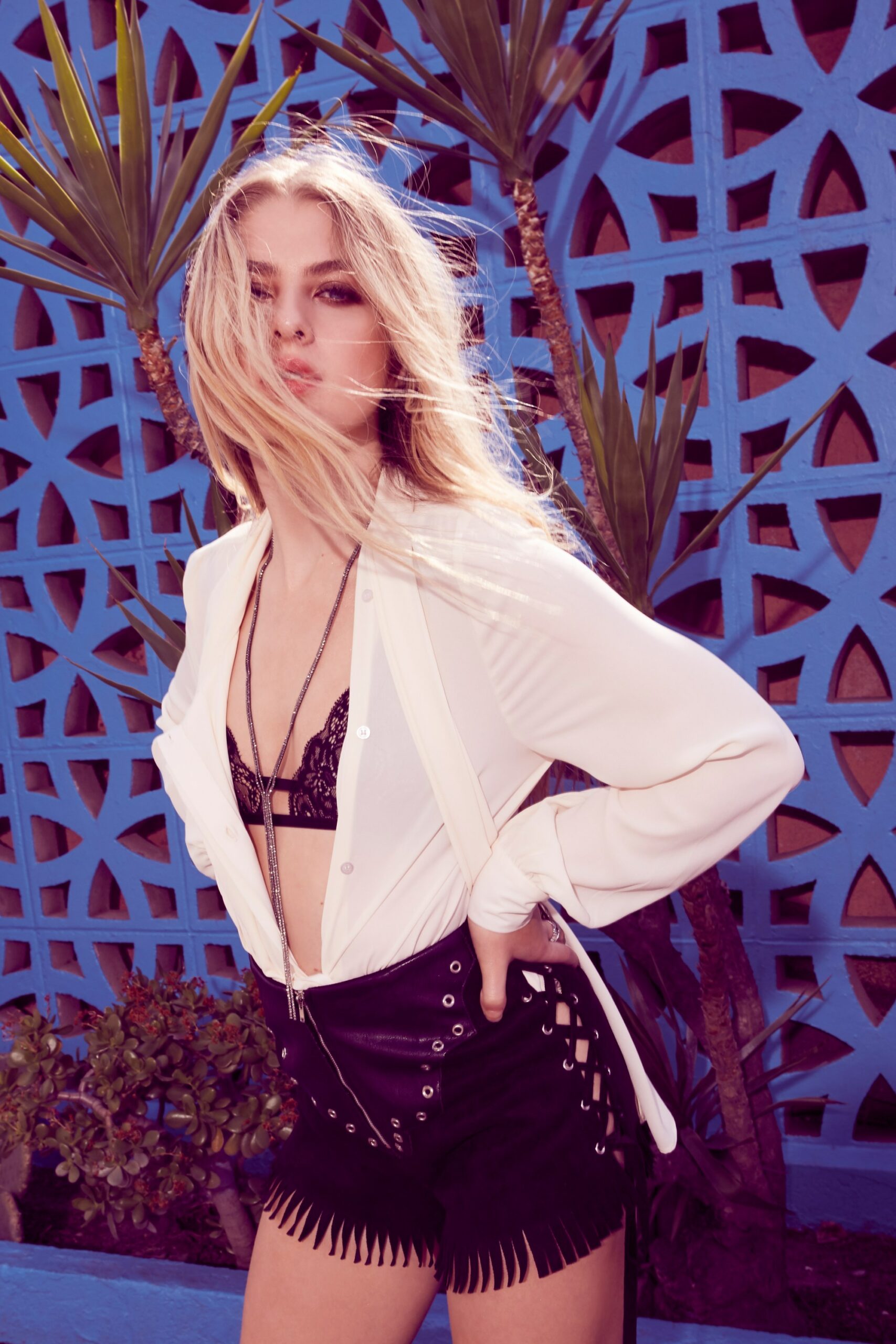 Even though you're so young, you've checked off a lot of modeling life goals already (fronting our campaign, among a few others). What else are you super proud of?
I wrote an article for Vogue online about the general election in England, which was such a highlight for me. That was a personal achievement because when I was growing up, I had learning difficulties when it came to writing and my teachers were just not having it. It's something I was really proud of because it took me a lot of effort, and I was determined.  Seeing it published with my name–I was like yep, that's me!
What was the article about?
At the time I wrote it, I wasn't able to vote so it was about how you can get involved, while educating young people about the general election in a not boring way. It's hard when you're younger and you're not allowed to have a say because you're not of age. The article tells you what you can do to get involved despite all of that.
You had a super musical upbringing—did you ever want to actually pick up an instrument?
Oh yes, I played the violin, cello, piano, guitar—all of which I quit in a matter of six months. One thing I kind of stuck with was the bass. I was in a band and somewhere on YouTube there is a video of me playing some awful 80s music. Music was never going to be my thing—I always knew that. I just wanted to exhaust all of my options to see if they would work. I don't think I have the concentration for it!
In your ideal festival situation, what is your go-to outfit: a jumpsuit, a dress, or shorts?
I'd say a jumpsuit. I don't like shorts and I don't like dresses. I love overalls—it's a one-piece situation.
What's your porta potty etiquette?
Just go for it. The porta potties in England are probably a lot worse than the ones in the States.  Everyone is in the same boat as you—apart from the ones making a mess, they're clearly having a brilliant time. And you know, you're there, that's the whole point isn't it? You have to be a part of the community, enjoying music together meaning you have to enjoy the company of others in the toilet as well.
Three words to describe your style?
Eclectic, laid-back, legendary.
What's the weirdest thing in your purse?
I'm a bit of a bag addict—I've got so many. I ditched all my hand bags recently and have a small Chanel now. I've got a roll of film for a camera that I've been meaning to get developed for ages that I keep forgetting about.
Oooh, love that. What was the last photo on that film?
I had just came back from Florence—it's a picture of Donatello's statue of David with my friend getting told off by a security guard because she was squeezing his bum!
Ok, flash round question time—which month is your favorite month and why?
This is going to sound really narcissistic, but January because that's when my birthday is–so like, lots of presents.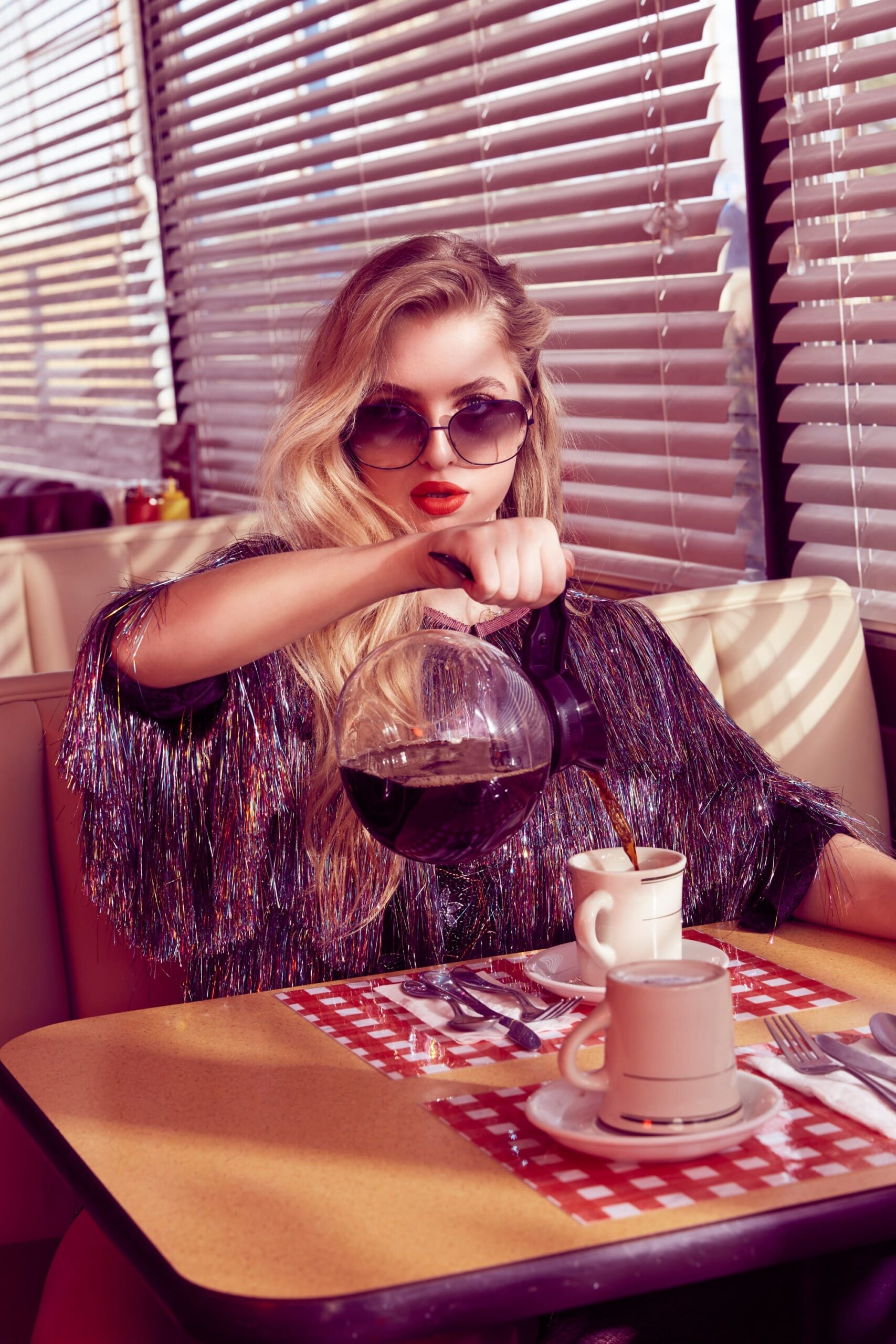 Do you believe that dreams have hidden meanings in them?
Yes and no. I've been having a dream recently where my teeth keep falling out, which means you're in grave danger–but I don't think thats true. I think I read it somewhere that you can have dreams about your teeth falling out so subsequently I'm having these dreams. I'd like to think that the stuff you dream about has a correlation with your life. That'd be quite nice.
Do you believe in dinosaurs?
Hahah. Obviously—is there not evidence? Go to the bloody National History Museum in London and see the skeletons.
Is it okay to answer your phone while out on a date?
No! It's such a pet-hate of mine when I'm having a conversation with somebody and they're on the phone. If you're on a date with me, you've sat opposite from me, and you go on your phone, it's like no no no—I'm giving you my time.  So no, I don't think it's okay.