Girls just wanna have sun. (And really cute swim.) Now it may not be the summer of '69, but MAN have we missed those long days, warmer temps, fresh tan lines, and last minute hangouts. Everything close to our <3. This year your summer plans might be a little different to usual – will you be sippin' tequila sunrises on the beach? Partying up a tropical storm at your staycation hideout? Or simply firing up the BBQ in your backyard? Who-the-fuck-knows. Whatever you end up doing, our collection of summer-approved swimwear has totally got you covered (well partially, anyway). So what are you waitin' for? Let's dive right in to our trending swimwear…
The Gingham Swimsuit: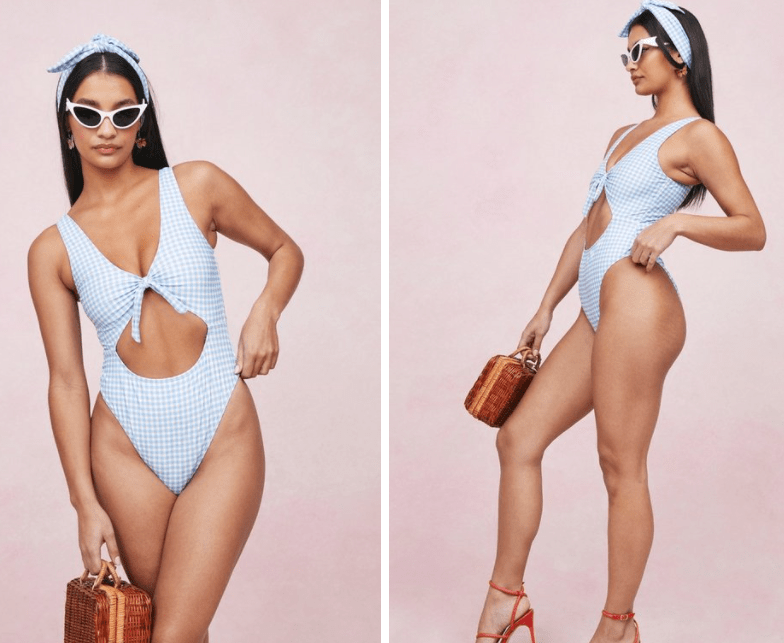 Shop the blue cut-out gingham swimsuit
Not reserved for only picnic dates and al fresco dining, gingham prints are causing some serious waves on this year's summer scene. Whether you're rockin' up to your BFF's beach party, or simply cooling off from the summer sun, gingham print swimsuits are giving us LIFE. We're talkin' statement-making one pieces, badass beach cover-up sets, and ofc, bandeau bikinis that leave very little to the imagination. Hey, no judgement here. For a totally retro vibe, style a high-leg gingham swimsuit with strappy heels, cat-eye sunglasses, and a woven basket bag. Oh, and FYI, matching hair accessories are also now a thing— need we say anymore? Nope, we'll let the facts do the talkin'…In the last 3 months, searches for gingham swimsuits have increased by 316.67%. Damn.
Wet 'n Wild Animal Print Swimwear: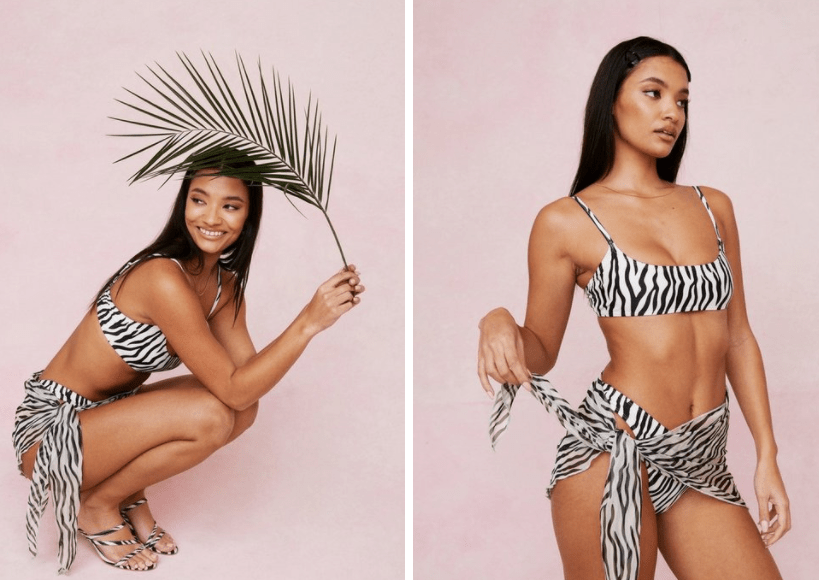 Shop the zebra bikini and beach skirt set
Introducing your swimwear wild card. Here at NG HQ, we understand that being a badass is a full time job, and that sure as hell ain't gonna stop even when your out-of-office is switched ON. The solution? Bold animal prints (yasss). We've got everything from tiger print bikinis to snake print swimsuits, and all the swoon-worthy beach cover-up pieces your summer closet could ever need. Last-minute staycation? Rock a zebra print bikini set with oversized sunglasses, stiletto mules, wavy hair, and a whole lotta attitude. Urm, did we forget to mention that searches for animal print swimwear have soared by 108.33%? Talk 'bout finding your spirit animal.
Bright on Time Colorful Swimsuits: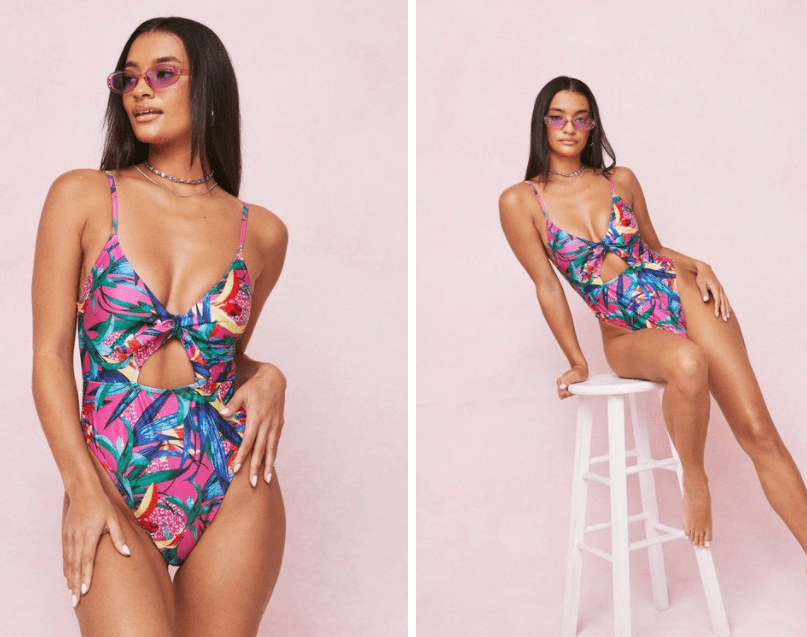 Shop the tropical high-leg swimsuit
Suns out; swimwear color trends 2021 are IN. Yep, swimwear season is back AND brighter than ever. Featuring bold neon designs, dreamy pastel-hues, and all the eclectic colorways your Vacay closet could ever want— srsly, we'll take one in every color. Girls trip to Cabo? Show off your true colors and rock a strappy, vibrant pink bikini with a pair of kick ass flatform mules, oversized sunglasses, and a matching bucket hat. Or maybe a bright, tropical print swimsuit is more your thing? Whatever floats your boat, babe. Act fast, babe—colorful swimsuits are in HIGH demand with a 204.55% surge in searches.
Sweet Taste of Fruity Swimwear: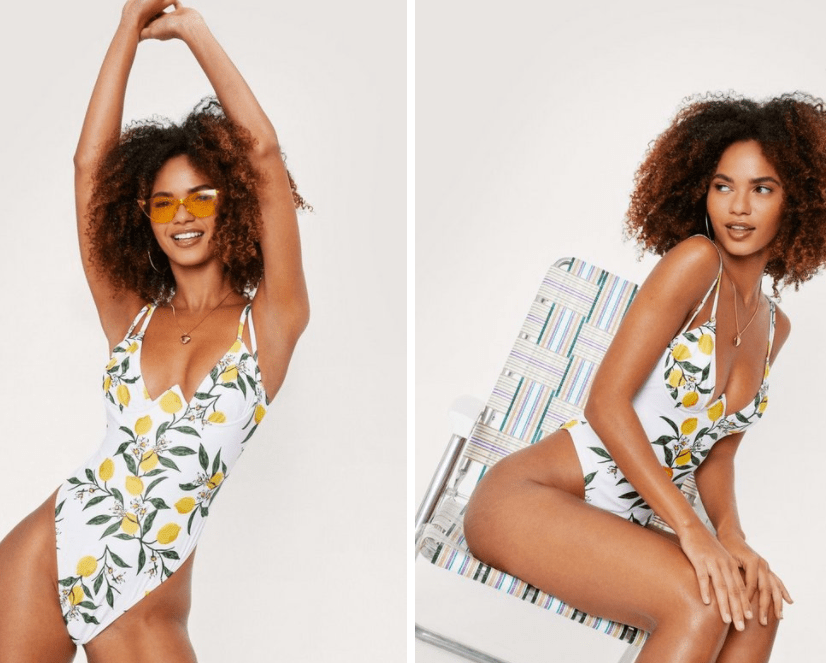 Shop the lemon cupped swimsuit
You work hard all year. It's time to enjoy the fruits of your labour (see what we did there?). 'Cause when life gives you lemons, what do we do? Throw 'em on a kickass swimsuit and head straight to the pool— duh. If you're lookin' to squeeze the day, style a strappy orange print bikini set with faux leather cleated sandals, tinted aviator sunglasses, and oversized hoop earrings. Or team an underwired lemon print bikini with cat-eye sunglasses, flatform mules, and your favorite cover-up shirt. Feelin' fruity? Searches for fruit bikinis have spiked by 105.88%. And yep, this SO counts as one of your five-a-day.
Hella Hot Cut Out Bikinis: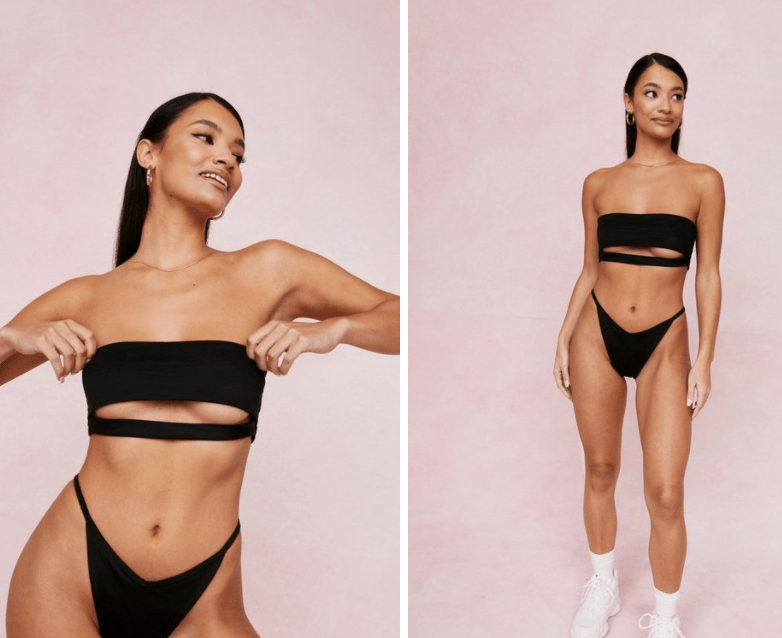 Shop the cut out bandeau bikini
Cut out swimsuits are a stand out bikini trend for summer, with a staggering 566.7% surge in search demand. Holy shit. Now, we all know we'd rather be sunning ourselves on a Caribbean island RN. But we won't let that stop of us from having fun. Introducing our ever-versatile cut-out swimwear pieces. Ideal for those all-important peek-a-boob moments. Think cute ass bandeau silhouettes, strappy styles, and all the eclectic prints you could ever imagine. Srsly, there's loads to choose from. Weekend at the lake house? Opt for a ribbed, cut-out bikini set and team with high-waisted denim shorts, chunky sneakers, tortoiseshell sunglasses, and your drink of choice. Just don't forget the sunscreen, k?
Rad High Leg One Piece Swimsuits: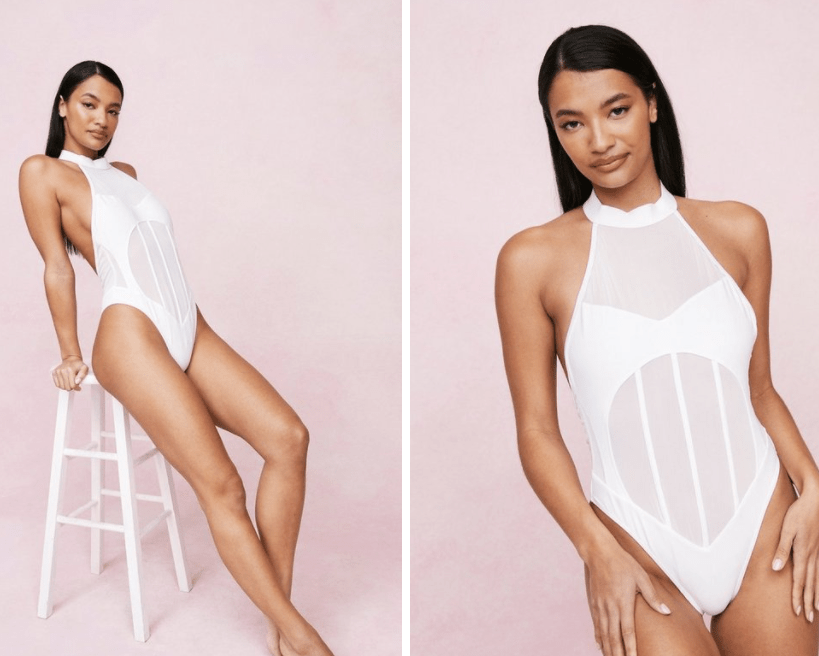 Shop the white mesh one-piece swimsuit
Now it wouldn't be a swim round-up without callin' out one of our fave swimsuit trends 2021— the high-leg cut. Or as we like to call 'em—the one-piece wonders. Yep, and the facts agree; high leg swimsuit searches have soared by 310%. The style that started it all, choose from plunging silhouettes, tie-dye hues, halter necklines, super low backs, sheer detailing, one-shoulders, and floral prints. Doing your thing but worried about a nip-slip? Pick a mesh, high-neck suit and team with a chiffon cover-up skirt, flatform sandals, and sun-kissed skin. FYI, they double up as awesome bodysuits too.