Illustrator Sofie Birkin—who's worked with Apple, Nike, and Playboy to name a few—uses her work to shine a light on queer narratives and to challenge preconceptions of women in art. Whether it's a woman having solo sex, two female lovers scowling at the viewer for interrupting their make-out session, or naked witches soaring through a moonlight sky, her pieces depict multifaceted, diverse and distinctly powerful characters in a sex-positive world, reflected via contemporary line work and playful color palettes. Below, we talk about her career trajectory, the performative nature of femininity and visibility in art and media.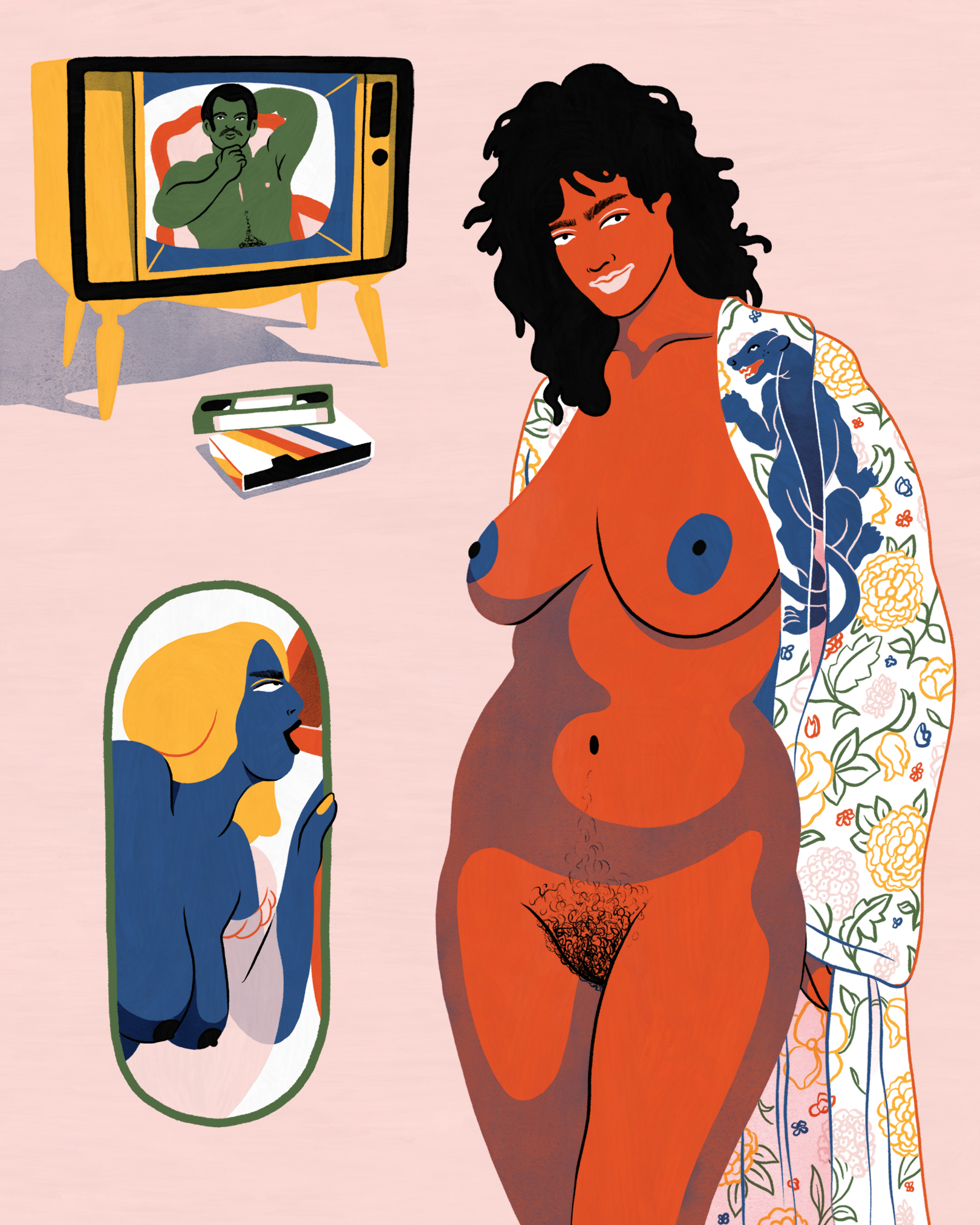 How would you describe your work?
Bold, playful, empowering and queer.
Do you remember your first ever drawing?
Not at all but I do remember starting a new school when I was about six, showing my classmates how to draw a nose the way my dad had shown me, and being like, "I have cracked the secret to making friends".
How did you first get into art?
My parents are both really creative and I was kind of an indoor child so I was always drawing or making some kind of horrifying craft. I actually went to school for footwear design but I got into illustration about 5 years ago. I have a different hobby every week but thankfully this one stuck more than cookie decorating.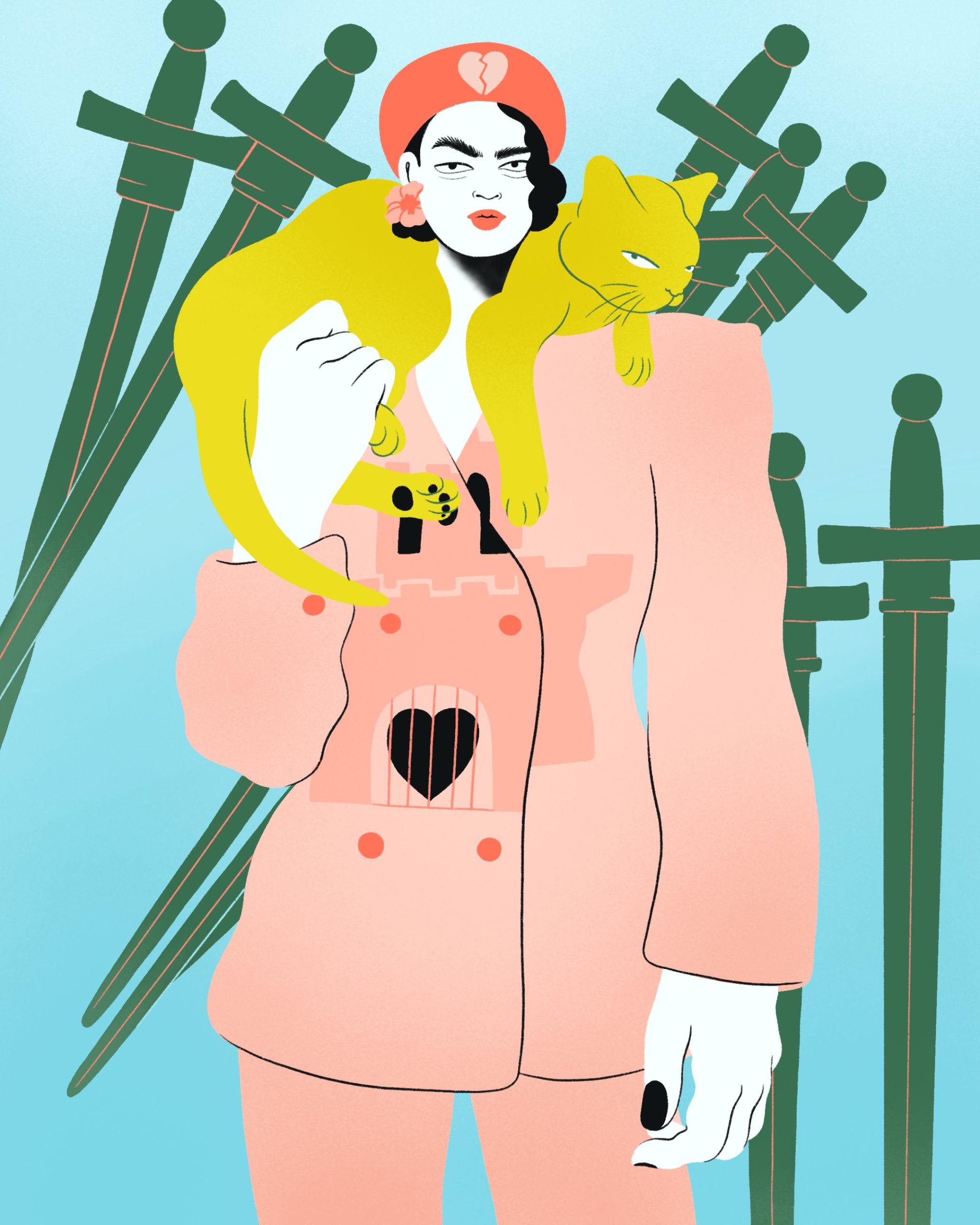 Subverting conventional ideas around femininity is a central theme within your work. Could you talk more about this?
As a queer person who most often presents as femme I really enjoy considering the performative nature of femininity, especially its potential for camp and subversion. I felt bored by homogenous and cliched depictions of femininity that didn't ring true to the experiences of myself or my community. I'm really interested in celebratory, tongue in cheek hyper-femininity and also an empowered rejection of traditional feminine ideals because I think those can exist together in a way that's really powerful.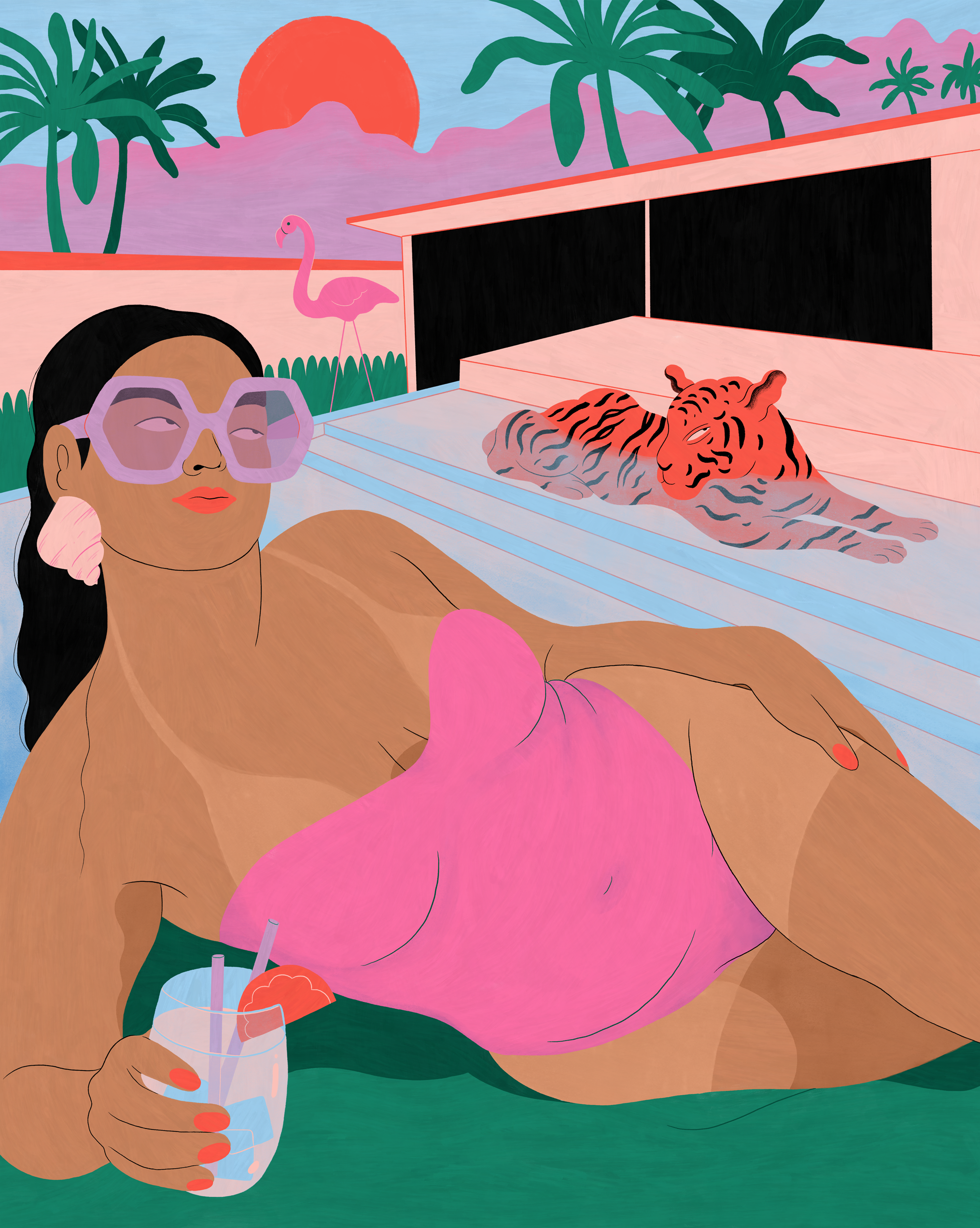 You also champion diversity and queer representation throughout your pieces. Is it important to you to represent the community?
I think it's essential. I think sometimes it's seen as the defining feature of my work, but I could be exploring any genre and I would still want it to be as diverse and inclusive as possible because that's the reality of my community and the world we live in in general. Representation isn't a powerful enough agent of structural change by itself, but positive visibility in art and media is still invaluable.
I love the fact that at one point you worked as Cosmopolitan's sex illustrator, designing queer and trans-inclusive sex positions. How was that experience?
So much fun! Cosmopolitan was really my first major commercial gig as a freelancer. They specified from the outset that they wanted the illustrations to be queer and trans inclusive, so it was a really fulfilling experience to work with a team of people who were enthusiastic and supportive about something that's also really important to me.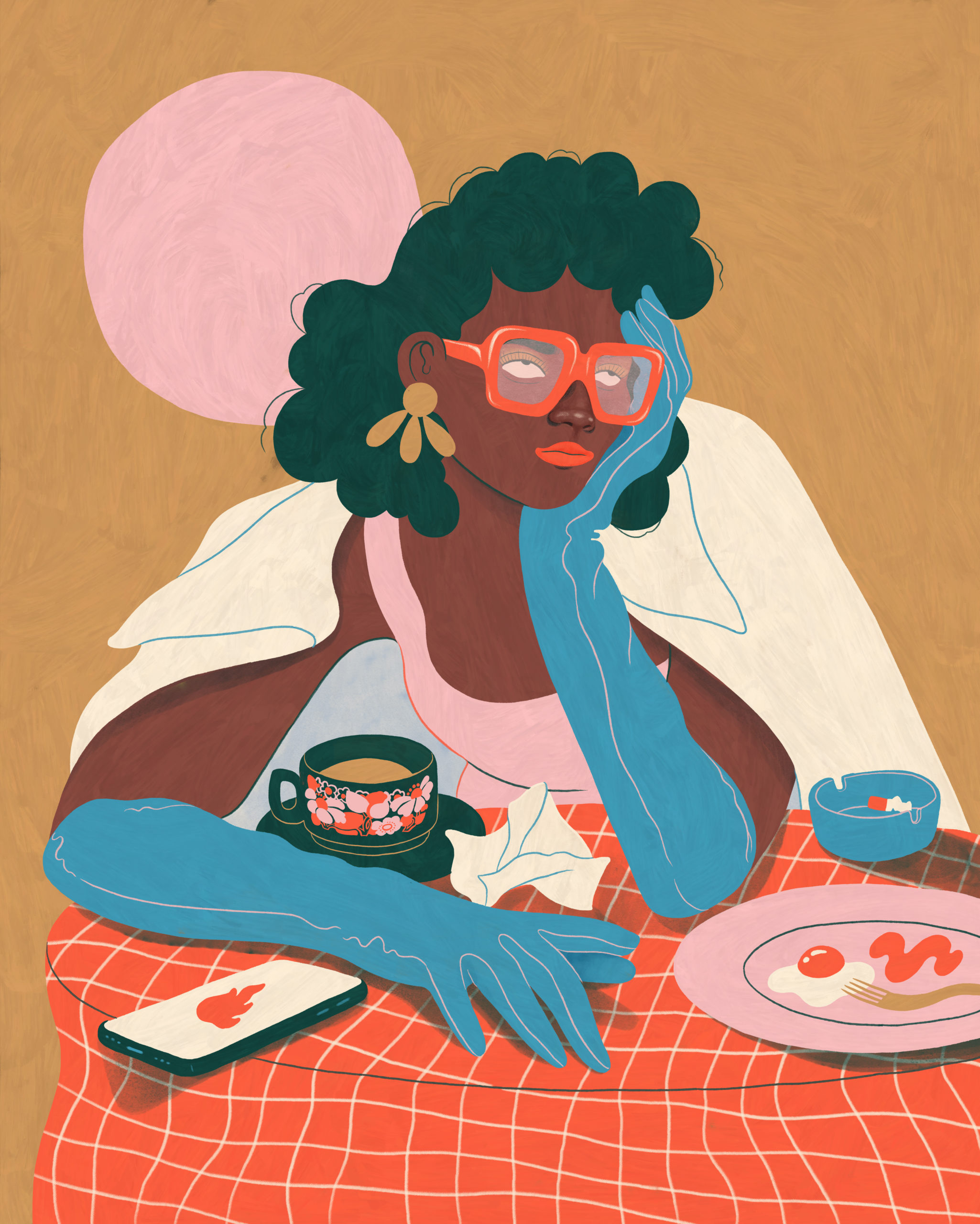 How would you describe the characters you draw? Are they inspired by friends, people you know?
Sometimes they're inspired by real people, usually they develop as I'm working. To my mind the one thing they all have in common is that they have agency beyond being objects of beauty.
What is your favorite piece of your own, and why?
It's actually a small quilt I made of the goddess Artemis, which I have totally neglected to share online yet. As much as I love digital illustration, my background is in fashion and product design, so the experience of working with fabric again and creating something textural was really cathartic. I am trying to find time to make a full collection soon as well as developing some textile designs.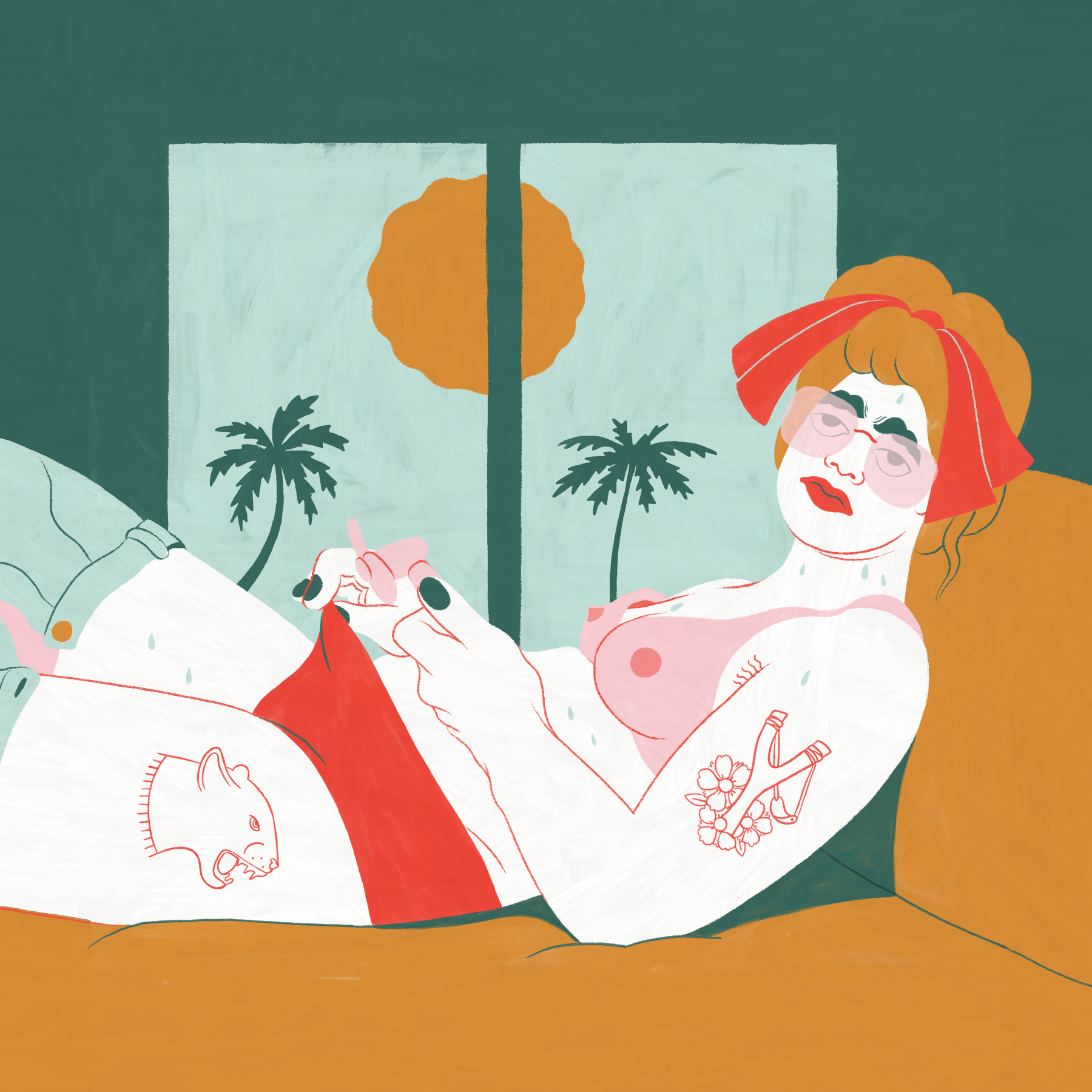 Tell us about your creative process. Do you have any weird rituals?
I have ADHD so I can't maintain a ritual to save my life! I work from home full time, but I'm a huge extrovert so I try to work with friends, in the garden with my neighbors or at a coffee shop if possible. I need people to keep me accountable so I actually work and don't spend three hours reading about Victorian ice cream molds or something.
Where do you pull inspiration from?
A lot of portrait and fashion photographers, such as Nadia Lee Cohen, Cindy Sherman, Miles Aldridge and Kourtney Roy. I try to learn from the way they create characters through expressive pose and color. There are also so many contemporary illustrators whose work I love, like Mary Lou Faure, Egle Zvirblyte, Anshika Khullar, Peter McAteer and Clemence Gouy. I love anachronisms so I spend a lot of time trawling through archives and public domain images and take inspiration from everything from kitschy Americana and vintage pornography to medieval marginalia and ancient Greek and Roman art.
What are you working on right now?
Right now I'm working on a commission for Apple and then I'm taking a break from commercial work for a little while to focus on my personal art. I recently completed my first major installation for Meow Wolf Denver, a multi sensory experience in a 450sq ft room, which I'm really excited to share.
What do you want people to take away from your art?
I hope that at least once in a while someone who doesn't often see themselves represented in art and media sees themselves in mine and feels buoyed up by it. I get messages occasionally from people who say I've drawn someone with their body type and its made them feel good about themselves, and it always absolutely makes my day.